Trump Just Called Kirsten Gillibrand A Whore. Wonkagenda For Tues., Dec. 12, 2017
Elections
December 12, 2017 09:16 AM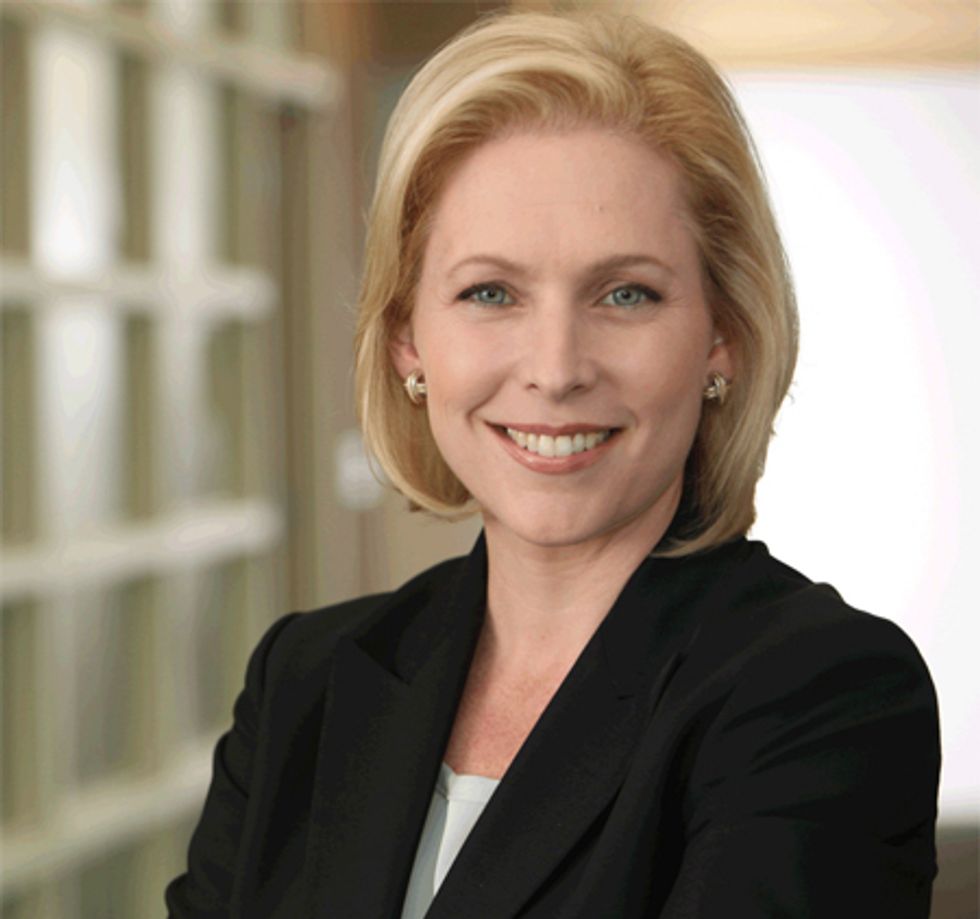 By Jove, we like the cut of her jib.
---
Morning Wonketariat! Here's some of the things we may be talking about today.
New York Democratic Senator Kirsten Gillibrand has called for Trump to resign over multiple allegations of sexual harassment, prompting Trump to tweet this morning that she "begged" him for campaign contributions and "would do anything for them."
Three women accusing Trump of sexual harassment held a press conference yesterday to call for a congressional investigation into Trump's history of grab-ass.
Former White House aides are saying it's only a matter of time before Steve Bannon has a chat with Trump-Russia investigators as he always seems to fly towards the biggest pieces of shit.
Instead of going to jail without passing "GO," a US District Court judge slapped Paul Manafort on the wrist for violating his gag order by publishing a mind-fucking op-ed in a Ukrainian newspaper.
A former business associate of Mike Flynn's is calling bullshit on the whistle blower who says he was texting Flynn during the inauguration, prompting Rep. Elijah Cummings to demand interviews as there's dozens of ways a crazy ex-spy could text to other spies in Not America.
Trump is buying into the cranks mulling over appointing a special counsel to the special counsel to investigate Robert Mueller while Robert Mueller investigates Trump-Russia fuckery. This is dumber than "Inception."
As the wingnut-o-sphere spins around the flat Earth accusing the FBI of bias, Democrats are asking about the anti-Clinton bias during the 2016 election.
The legal team of Donald Trump is tasked with jerking him off and lying every time there's a new Trump-Russia story so that Trump doesn't throw another self-incriminating tantrum on Twitter.
Politifact has named Trump's denunciation of Russian election fuckery as its Lie of the Year, making this the second time Trump has won the prestigious award.
Republicans are so desperate to pass the Trump/Ryan tax cuts (for the super rich) that they're trying to "sweeten the SALT problem," and add/strip tax schemes like pass throughs, loopholes, and the corporate tax relief in order to keep support of wealthy donors.
Ohio Democratic Senator Sherrod Brown is warning that a failure to fund pensions for hundreds of thousands of Teamsters, miners and food services works could result in a government shutdown.
Senate Republicans just can't seem to agree on which parts of the social safety nut to gut and cut, so they're setting their sights on Medicare in order to appease their masters.
The Trump administration filed an emergency stay after a US District Court ruled the administration couldn't ban trans troops, which then prompted the Pentagon to say that openly trans individuals can begin signing up Jan. 1.
Betsy DeVos and a bunch of rich, old ladies will begin dismantling Obama-era legislation that protects college students from predatory for-profit schools, as well as the concept of "credit hours," potentially fucking up students and schools across the country.
When Susan Collins was caught calling Texas Rep. Blake Farenthold unfuckably ugly she was clearly referring to the not-so-secret frat house that was Farenthold's office where staffers talked about which Fox News anchor had breast implants, sent lobbyists dick pics, "beer-thirty," and "redhead patrol." Happy birthday, Farenthold, ya fugly, boozed-out hick.
With that in mind, it's no wonder Farenthold hired private investigators to spy on his staffers in an effort to ferret out women accusing him of sexual harassment last year.
During the rally last night, a man named Bill Sailing introduced the racist, sexist, homophobic and ALLEGED pedophile, Alabama Republican Senate candidate Roy Moore by telling a story about how they "accidentally" went to a brothel during the Vietnam war and left when they found "really young" girls. [Video]
While attempting to defend her husband against charges that he's an awful bigot, Roy Moore's wife said, "Fake news would tell you that we don't care for Jews...One of our attorneys is a Jew." She went on to read from her prepared statement about their Jew friends from Jew-erusalem, with their funny little Jew hats, Jew hair, and silly Jew stars.
Tucking his whiskey dick between his legs, Steve Bannon waddled his ass down to Alabama to rail against the liberal elites like Joe Scarborough (before admitting he went to Georgetown and Harvard), and damning people condemning Roy Moore's ALLEGED pedophilia to hell (like Ivanka).
Sad Time: A grief-stricken Alabama farmer was protesting the Roy Moore rally by holding up a photo of his daughter with a sign that read, "Judge Roy Moore called my daughter Patti Sue Mathis a pervert because she was gay." His daughter killed herself after doctors told her that "conversion therapy" was nonsense. The man admitted to reporters, "I said bad things to my daughter myself, which I regret, but I can't take back what happened to my daughter."
Democrats are looking at avocado-toast-eating millennials to save them
from obscurity in the coming elections, so they're trying to woo them to polls with sexy things like free healthcare and student debt relief.
The Thomas Fire in California has now destroyed over 1,000 structures, while only being 20 percent contained.
Steve Bannon will headline a fancy fundraiser for New York Tea Party crank Rep. Lee Zeldin in midtown Manhattan; Bannon is expected to rail against the rich global elitists (like Zeldin's constituents) against fierce protests from Jewish groups.
An Aussie MP finally "You're Fired" himself over allegations that he warned a Chinese businessman he was under surveillance, and was summarily rewarded with lots of dollary-doos.
Ryan Lizza, best known for being on the receiving end of The Mooch's temper tantrum, was let go from the New Yorker over allegations of sexual harassment.
Trump is super mad at UN ambassador Nikki Haley for saying people need to listen to ladies accusing Trump of sexual harassment, likening the accusations to those of ALLEGED pedophile Roy Moore.
Women in political positions are concerned that the #MeToo movement may become so over publicized and politicized that it could backfire.
Here's a nice reminder about "Russian disinformation campaigns" of the last few decades, from AIDS to Trump.
While paying tribute to Hannity last night, Sean Spicer said he's writing a book about the White House,period.
And here's your late night wrap-up! Stephen Colbert talked Trump hating all those "C-Words" accusing him of grab-ass; James Corden talked about Trump's teevee tantrums; Jimmy KimmelBEGGED Congress to continue funding CHIP before Friday, Dec. 15; Seth Meyers took A Closer Look at Trump going all into ALLEGED pedophile, racist, homophobe, and truther Roy Moore; The Daily Show thinks birds of a feather molest together; Jordan Kleppersent Tim Baltz to Alabama to find when the red tide rolls back.
And here's your morning Nice Time! SEA OTTER PUPS!
If you want more newses, 'splainers and snarkings, send us some money!
Follow Dominic on Twitter and send him adorable fuzzy water critters!
Dominic Gwinn
Dominic is a broke journalist in Chicago. You can find him in a dirty bar talking to weirdos, or in a gutter taking photos.