Trump Lawyer 'Deep Throat' Gives TED Talk About Russia Scandal To All Restaurant Patrons In Earshot
Elections
September 18, 2017 12:11 PM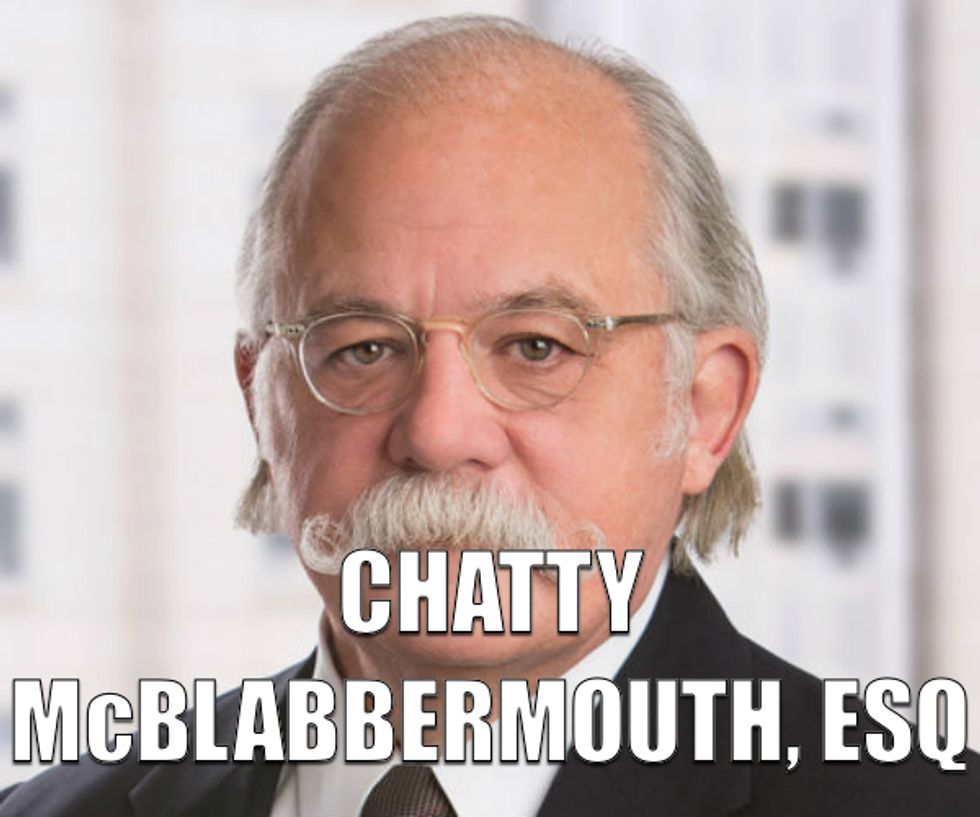 It is a day that ends in "Y," so it's time for another episode of White House Lawyers: LOL!!OMG!!WTF!! In today's installment, two members of Donald Trump's crack legal team sat down for a detailed discussion of their client's confidential strategy within earshot of well-known New York Times reporter Ken Vogel. Oh, but how could they have known he'd be there eating lunch that day? It's not like BLT Steakhouse is 171 feet from the New York Times's DC office.
---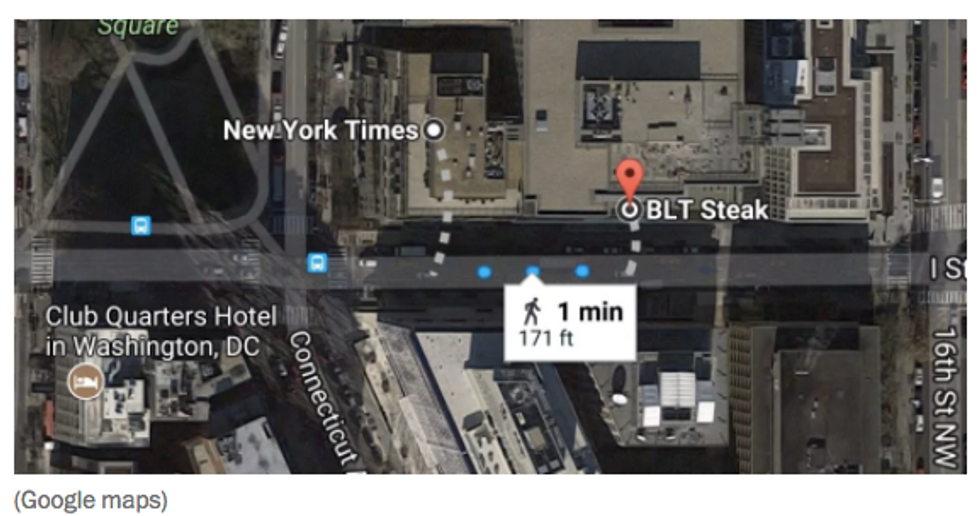 OH. Hmmmmmm. Well, it's not like Cobb has a giant, curlicued mustache that makes him easy to spot in a crowd or anything.
Here's a photo of Ty Cobb & John Dowd casually & loudly discussing details of Russia investigation at @BLTSteakDC while I sat at next table. pic.twitter.com/RfX9JLJ0Te

— Kenneth P. Vogel (@kenvogel) September 18, 2017
Now before you get all, "It's a set up, these guys are playing nine dimensional chess!" on us, let's remember that John Dowd, Donald Trump's private attorney, is the guy who forwarded an email to all his contacts saying that Robert E. Lee and George Washington are the same person because both owned slaves, ipso facto propter hoc Donald Trump is not a racist THE END. And Ty Cobb, Trump's chief White House lawyer on the Russia investigation, is the genius who got baited into a discussion of his legal strategy by some random guy on the internet who emailed to say,
I wish you nothing but joy when his hairy testicles get caught up in your throat.
These guys can barely manage to play checkers without choking on their graham crackers and juice boxes. NFW they happened to find themselves seated next to a Times reporter and johnny-on-the-spot hatched a plan to fool him by pretending to be morons. Nope, these two are the genuine article.
So, what were John Dowd and Ty Cobb bloviating about in the middle of a crowded restaurant? They were bitching about White House Counsel Don McGahn, of course. Seems that McGahn and Cobb have a wee disagreement on strategy for the Russia investigation.
Cobb is 100% certain that Donald Trump is pure as the driven snow, so he wants to get the Mueller business over with by giving the special counsel anything he asks for. The Times was unable to confirm whether Cobb also believes in the Tooth Fairy, the Easter Bunny and Santa Claus. But they did report Cobb as saying that McGahn has "a couple documents locked in a safe." Cobb would presumably like to turn these over to Mueller and thus prove that Trump is a boy scout and a virgin who did not have sex with that woman Vladimir Putin.
McGahn prefers to assert executive privilege and protect the President by fighting disclosure to Mueller and the House and Senate investigative committees.
Mr. Cobb argues that the best strategy is to be as forthcoming as possible, even erring on the side of inclusion when it comes to producing documents, because he maintains the evidence will show Mr. Trump did nothing wrong. Mr. McGahn has told colleagues that he is concerned that Mr. Cobb's liberal approach could limit any later assertion of executive privilege. He has also blamed Mr. Cobb for the slow collection of documents.
When The Times contacted the White House to verify the story before publication, McGahn lost his shit and Chief of Staff John Kelly dragged Cobb into the woodshed to scream at him for being a goddamn idiot. Conveniently, the entire drama leaked to the Times before their deadline.
After The Times contacted the White House about the situation, Mr. McGahn privately erupted at Mr. Cobb, according to people informed about the confrontation who asked not to be named describing internal matters. John F. Kelly, the White House chief of staff, sharply reprimanded Mr. Cobb for his indiscretion, the people said.
Yep, with John Kelly in charge, that White House is running like a well-oiled machine. No dis, all function!
Now if your Wonkette were on trial and these two guys were the last two attorneys on earth, we'd probably represent ourselves pro se. But if that weren't an option, we'd go with McGahn. Because McGahn appears to understand that a Mack truck is headed straight for them, and the time for evasive maneuvers is NOW. While Cobb seems to think that if everyone just takes off all their clothes and adopts a policy of radical honesty, the truck will only hit Paul Manafort and Michael Flynn.
And if Wonkette were a betting woman, we'd guess that the documents in McGahn's safe include his own mark up of the memo Trump cooked up with Javanka and rancid weenus Stephen Miller to justify firing James Comey. Did Trump and Miller come out and say, "You suck, James Comey! We need to fire you and get us an FBI Director who will kill this dang Russia investigation"? PROBABLY. Whatever they said, Don McGahn lost his shit and told them they needed to get Rosenstein and Sessions to write a memo with some NOT-illegal reasons to fire Comey. Per NYTimes,
Mr. Trump was back in Washington on Monday, May 8, when copies of the letter were handed out in the Oval Office to senior officials, including Mr. McGahn and Vice President Mike Pence. Mr. Trump announced that he had decided to fire Mr. Comey, and read aloud from Mr. Miller's memo.

Some present at the meeting, including Mr. McGahn, were alarmed that the president had decided to fire the F.B.I. director after consulting only Ms. Trump, Mr. Kushner and Mr. Miller. Mr. McGahn began an effort to stop the letter or at least pare it back.
Then they sent Mike Pence out to tell a bunch of lies on teevee about how Comey had to go because he was so mean to poor Hillary. Because they are hilariously fucking incompetent.
But why would McGahn be desperate to keep that mark-up of Miller's memo in a locked safe? Well! Either the memo says that it would be illegal to fire Comey over the Russia investigation, OR it doesn't. In the first scenario, the memo says something like, "Jesus Christ, you idiot! You can't shitcan Comey over this Russia thing! That would be blatant obstruction of justice!" That would prove that Trump knew it was illegal, and that the letters from Rosenstein and Sessions were just a cover-up. Paging Bob Mueller!
But maybe the memo says some mealymouthed shit like, "Sir, I respectfully suggest that you seek input from Messrs. Rosenstein and Sessions before you take any further action." In which case, Donald Trump is going to throw Don McGahn's ass under the bus and say that he relied on his lawyer's lousy advice when he fired Comey. Former prosecutor Renato Mariotti explained in detail at Twitter and Politico,
McGahn's comments could be extremely important. If McGahn counseled Trump that firing Comey for the reasons he originally stated could create legal liability for the president, that could be powerful evidence for Mueller. Alternatively, if McGahn's concerns were focused solely on the tone or language used by Miller, Trump would have an "advice of counsel" defense—he could say that the fact that his lawyer did not raise these concerns led him to believe there was no legal jeopardy associated with firing Comey.
McGahn has no intention of giving that up without a fight! He'll assert executive privilege or attorney client privilege or anything he can think of to keep that document under wraps. And the same goes for deposing the people who were in the room when they discussed the memo, including Pence, Kushner, and Miller. Ty Cobb may think that Donald Trump farts roses, but Don McGahn knows where the bodies are buried.
Dowd and Cobb spent the weekend furiously backpedaling. Last week, Cobb complained that another lawyer was a "McGahn spy." But today the Times reports,
In the interview over the weekend, Mr. Cobb emphasized respect for Mr. McGahn. "Don McGahn is an exceptional professional," he said. "He's done a superior job of building and managing a White House counsel's office that deals with a wide variety of issues effectively every day. He works hard and is highly regarded, and his lawyering skills are excellent."
Whatever you say, Mustache Man. Keep up the good work!
[NYTimes / Renato Mariotti Twitter/ Politico / NYTimes, again]
Wonkette Lawsplainers are made possible by good people such as yourself who support us! Please click!
Liz Dye
Liz Dye lives in Baltimore with her wonderful husband and a houseful of teenagers. When she isn't being mad about a thing on the internet, she's hiding in plain sight in the carpool line. She's the one wearing yoga pants glaring at her phone.