Trump Lawyer Says Stormy Daniels Owes Him $20 Million For Not Shutting Up About Banging Trump
Trump
March 17, 2018 11:48 AM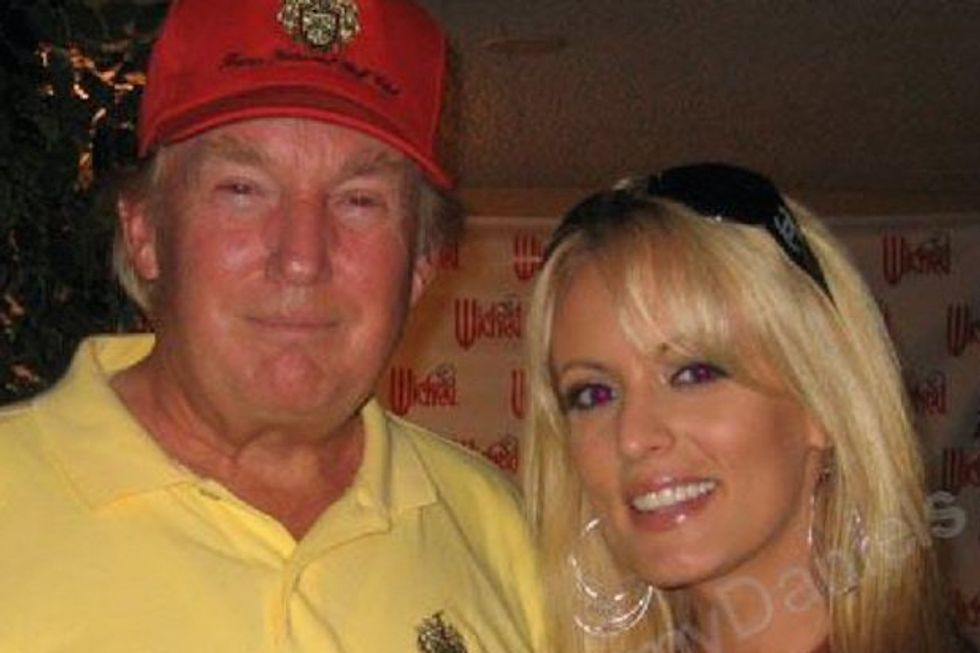 Lawyers representing Michael Cohen, Donald Trump's personal lawyer, filed papers in federal court on Friday claiming the right to seek $20 million in damages from Stormy Daniels for multiple violations of their non-disclosure agreement. You know, the one that he invalidated himself by admitting that it exists in order to claim that he made the agreement himself and Trump didn't know anything about it?
---
Since Cohen's slip-up, Daniels has embarked on a media tour, telling anyone and everyone all about how she banged Trump a bunch in 2006 and 2007. Which...ew.
In addition to claiming Daniels owes him $20 million, Cohen is also looking to move the dispute out of the public eye and into private arbitration. A lawyer representing Trump also filed documents saying that he, too, would like to push the dispute back to private arbitration. Because of course they would!
In an email to the Washington Post, Michael Avenatti, one of the lawyers representing Stormy Daniels, decried the Trump administration for seeking the damages and trying to keep this information from the American people.
"To put it simply — they want to hide the truth from the American people. We will oppose this effort at every turn," Avenatti wrote in an email. "The fact that a sitting president is pursuing over $20 million in bogus 'damages' against a private citizen, who is only trying to tell the public what really happened, is truly remarkable. Likely unprecedented in our history. We are not going away and we will not be intimidated by these threats."
Good for them!
The grand irony here is that this means that Trump is de facto admitting to the affair. While the NDA signed by Daniels is not explicitly about the affair (though it does reference an "intimate relationship," it is about certain "certain still images and/or text messages which were authored by or relate to" Trump. You know, dick pics. Daniels would not be violating the NDA if the NDA had nothing to do with them having an affair. Whoops!
Wonkette is fully funded by readers like you! Please consider dropping some change in our tip jar!
Correction: This post initially said that Daniels slept with Trump in 2016, which is incorrect.
Robyn Pennacchia
Robyn Pennacchia is a brilliant, fabulously talented and visually stunning angel of a human being, who shrugged off what she is pretty sure would have been a Tony Award-winning career in musical theater in order to write about stuff on the internet. Follow her on Twitter at @RobynElyse