Trump Lawyers' Chickenshit Game Over Robert Mueller Interview Enters Eighth Chickenshit Month
Russia
August 09, 2018 08:43 AM
You bored with the back and forth over whether Donald Trump will be allowed by his lawyers to sit in front of special counsel Robert Mueller's team and lie to their faces before they've even asked a question? YOU'RE NOT? WHAT IS WRONG WITH YOU? IT'S ALL A BULLSHIT GAME OF CHICKEN, AND MUELLER ISN'T EVEN PLAYING!
Also, didn't we just do this a week ago? We did.
Anyway, feast your eyes on this mendacious horseshit from Maggie Haberman's latest hot scoop:
---
President Trump's lawyers rejected the special counsel's latest terms for an interview in the Russia investigation, countering on Wednesday with an offer that suggested a narrow path for answering questions, people familiar with the matter said. [...]

The president's lead lawyer in the case, Rudolph W. Giuliani, noted the documents that the White House has already provided and said, "We're restating what we have been saying for months: It is time for the Office of Special Counsel to conclude its inquiry without further delay."
BLAH BLAH BLAH BLAH BLAH BLAH BLAH BLAH FUCK YOU.
Eight months! This "negotiation" has been going on for eight months! And it's not even a real "negotiation"!
Oh hey look, Robert Mueller just sent Wonkette a selfie to express how he feels upon reading Rudy Giuliani's latest mash note: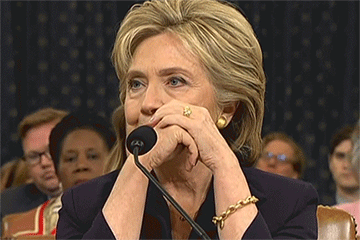 LOL, our bad, that is not Robert Mueller. That is the literal devil incarnate, who runs the Deep State with her emails. In other words, that is Robert Mueller's boss.
HAHA JOKES.
Um, anyway, funny quote from the Mags Haberville scoop article:
By making another counterproposal after months of promises that they were just weeks away from deciding about an interview, Mr. Trump's lawyers run the risk that Mr. Mueller could conclude they are negotiating in bad faith to prolong the investigation.
YA THINK?
Trump's lawyers continue to say they don't want Trump answering questions about obstruction of justice, and their stated reason is that they subscribe to the Nixonian belief that the president is allowed to murder babies in the middle of 5th Avenue, because he is president. The real reason is that they know their client is a fool and a fucking pathological liar who's only partially tethered to reality, and we say "partially" because we're being generous. Mueller, of course, would like to ask Trump questions on all his crimes, including obstruction, conspiracy with the Russian government, and whatever else Mueller has uncovered that we don't yet know about.
But doggone it, Trump really wants to talk to Mueller! Because Trump has spent so many decades huffing his own farts, he literally thinks he is so smart he can go in front of Mueller and convince him that he's innocent, and moreover that this is all a witch hunt. He thinks he can just weasel out of it the way he used to weasel out of crimes in his business. He has no fucking clue what he's dealing with here.
Look, maybe Mueller actually needs an interview with Trump to determine his intent, and if that is the case, there will be a subpoena fight and it will go all the way to the Supreme Court. But we doubt that. Donald Trump manages to confess his crimes on Twitter fifty times a week, and Mueller has ALL THESE RECEIPTS and ALL THESE INTERVIEWS and ALL THESE DOCUMENTS. We have a feeling his case is fully formed, and any Trump interview will just add a whole bunch of perjury to all the rest of Trump's crimes, like icing on the most disgusting cake you've ever been forced to eat.
In other words, Mueller has Trump dead to rights, and these negotiations are just him showing that he plays ball. Maybe he'd like to trick Trump and his stable of stable genius lawyers into letting the president be interviewed. Hell, if Mueller does ultimately decide to subpoena Trump, it might just be for sport at this point!
Meanwhile, Trump's fuckmouth lawyers will continue engaging in these VERY LOUD NEGOTIATIONS, which are VERY LOUD BECAUSE RUDY GIULIANI WON'T STOP TALKING ABOUT THEM, so that they have deniability when they ultimately say, "Turns out we can't do it! We tried, but that Robert Mueller character is just too unreasonable! He even says the president can be held accountable for obvious crimes, like have you ever heard something so crazy?"
Then Giuliani went on Hannity and said this:
HANNITY: "My sources are telling me that when the American people get to the bottom of all of this, it will shock t… https://t.co/HIRdAA575l

— Aaron Rupar (@Aaron Rupar) 1533780592.0
Nobody tell him how Watergate ends! Okay thank you goodbye.
Follow Evan Hurst on Twitter RIGHT NOW, DO IT RIGHT NOW!
Help Wonkette LIVE FOREVER! Seriously, if you can, please hit the tip jar below and make a donation of MONEY. Or click this link to become a monthly subscriber!
Evan Hurst
Evan Hurst is the managing editor of Wonkette, which means he is the boss of you, unless you are Rebecca, who is boss of him. His dog Lula is judging you right now.
Follow him on Twitter RIGHT HERE.