Lawyers Noping Out Of Trump's Pathetic Losing Election Cases? Blame 'Cancel Culture'!
Legal
November 13, 2020 03:40 PM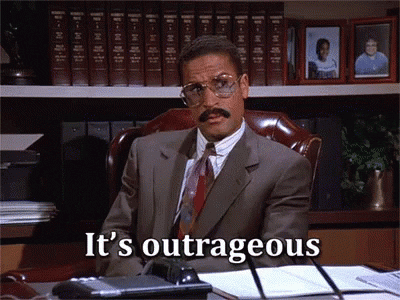 To lose one law firm may be regarded as a misfortune. To lose two inside a week looks like carelessness. But no one ever accused Republicans of caring about anything but cutting taxes and gutting the social safety net. So it stands to reason that both Arizona firm Snell & Wilmer and the campaign's Pennsylvania counsel, Porter Wright Morris & Arthur, totted up the reputational cost of sticking with Team Trump and noped right out.
Snell was first to run for the hills over the weekend, withdrawing its appearance in the Trump campaign's suit to get the count stopped in Maricopa County based on internet rumors that poll workers were deliberately causing in-person voters to damage their ballots by handing them felt tip pens. After a disastrous hearing yesterday in which the plaintiffs counsel was forced to admit there were only 191 "overvoted" ballots, that is 0.002 percent of the total, the Sharpiegate v. Objective Reality case was withdrawn this afternoon. (Okay, okay, that's not the real case caption.)
---
The Arizona Republican Party filed another pesky lawsuit about the recount procedure this morning, but it was not represented by Snell, which has netted upwards of $770,000 from the RNC and the party's congressional and senate campaign committees in the past two years.
After Snell withdrew, the New York Timesreported on Monday that there was huge dissension within the ranks at Porter Wright and Cleveland-based Jones Day about affixing their shops' names to a bunch of pointless lawsuits whose only purpose is to delegitimize the results of the election, with at least one attorney resigning in protest. Before the election, the firms spearheaded the effort to get the Supreme Court to throw out ballots postmarked by November 3 but permitted to arrive in Pennsylvania and North Carolina in the few days after the election — an exercise in vote suppression that couldn't be hidden behind the figleaf of purported vote fraud prevention. But the gazillion small-bore lawsuits alleging fraud and impropriety since the election, based on totally spurious claims, have sparked a major backlash.
In recent days, two Jones Day lawyers said they had faced heckling from friends and others on social media about working at a firm that is supporting Mr. Trump's efforts.

A lawyer in Jones Day's Washington office felt that the firm risked hurting itself by taking on work that undermined the rule of law. "To me, it seems extremely shortsighted," the lawyer said.
And that was before the Lincoln Project announced it was going to spend $500,000 attacking Jones Day and its clients. As usual, the Meiselas brothers got in the first punch.
Shame on Jones Daywww.youtube.com
Porter Wright knew its time in the barrel was coming, so yesterday it filed a motion to withdraw the Trump campaign's case alleging "irregularities" in Pennsylvania, a case which was filed Tuesday, November 9. And, NO, it is not normal for the plaintiff's attorney to run screaming for the hills 48 hours after an appearance.
"Plaintiffs and Porter Wright have reached a mutual agreement that Plaintiffs will be best served if Porter Wright withdraws, and current co-counsel and such other counsel as Plaintiffs may choose to engage represent Plaintiffs in this case," Porter Wright lawyers Ronald Hicks and Carolyn McGee wrote in the filing.
The firm issued an anodyne statement about its "long history of election law work during which we have represented Democratic, Republican and independent campaigns and issues." But Trump campaign comms flack Tim Murtaugh was less discreet.
"Cancel Culture has finally reached the courtroom. Leftist mobs descended upon some of the lawyers representing the President's campaign and they buckled," he said, whining later that "The President's team is undeterred and will move forward with rock-solid attorneys to ensure free and fair elections for all Americans."
Naturally Ted "Nike Boycott" Cruz was there to play that violin.
They will boycott you. They will try to get you fired from your job. They will harass your family and threaten your… https://t.co/RXRJF3cPjv

— Ted Cruz (@Ted Cruz) 1605284471.0
Boo. Fucking. Hoo.
Legal Twitter is now chasing itself around and around about the propriety of going after the law firms, as if the entire GOP hasn't been using Perkins Coie as a slur for years. Not to mention the right wing trying to make hay about Hillary Clinton being involuntarily assigned to represent a rapist in 1975.
Your Wonkette will fight to the death for the right of every civil and criminal defendant to competent counsel. Jeffrey Epstein and Jeffrey Dahmer and Enron all "deserve" lawyers. But the Trump campaign isn't engaged in litigation, not really. This is a public relations campaign aimed at convincing Trump's base that this election was stolen by Democrats. And highly compensated lawyers who rent their reputations and skills out to clients who are weaponizing the legal system to erode American's faith in democracy can't claim to be protecting our vaunted civic institutions. In English we call that "selling your ass."
The internal pressure seems to be building at Jones Day. The Timesreports that Kevyn D. Orr, the partner in charge of Jones Day's Washington office, promised on an internal call that the firm would not take on any more Trump electoral work.
Some lawyers at the firm remained unsatisfied.

"I believe the question is whether this firm should lend its prestige and credibility to the project of an administration bent on undermining our democracy and our rule of law," Parker A. Rider-Longmaid, a Jones Day lawyer in Washington, wrote to colleagues in an email reviewed by The New York Times. "We as lawyers choose our clients and our causes. We choose what we stand for. And this project, I submit, should not be one of those things." Mr. Rider-Longmaid did not immediately respond to requests for comment.
Yes, exactly! If you're going to prostitute your skills so that a wannabe despot can take his best shot at the American body politic, you don't get to complain when people call you a whore.
Follow Liz Dye on Twitter RIGHT HERE!
Please click here to support your Wonkette. And if you're ordering your quarantine goods on Amazon, this is the link to do it.
Liz Dye
Liz Dye lives in Baltimore with her wonderful husband and a houseful of teenagers. When she isn't being mad about a thing on the internet, she's hiding in plain sight in the carpool line. She's the one wearing yoga pants glaring at her phone.