Trump Lawyers Say No Robert Mueller Interview, Because Their Client Is BIGLY FUCKING LIAR
Russia
February 06, 2018 12:33 PM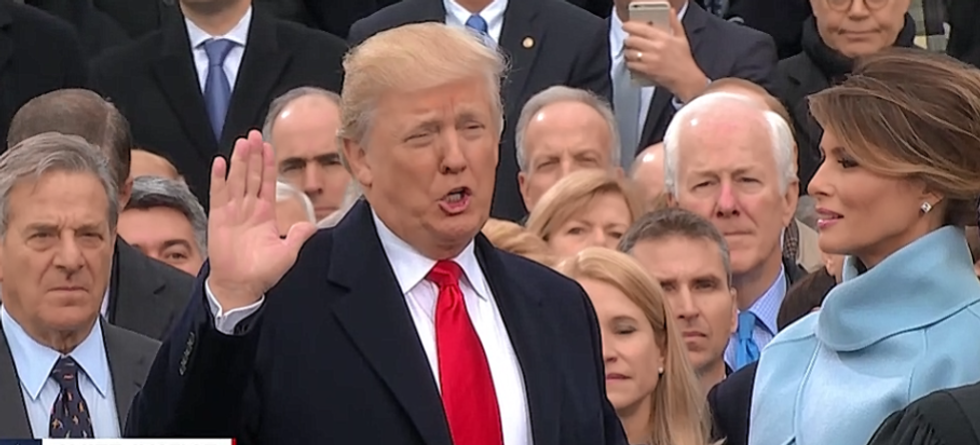 if his mouth is moving ...
---
The saga of whether Donald Trump will sit down with Robert Mueller and pathologically lie to cover up whatever crimes he's committed, thereby catching perjury charges on top of whatever else Mueller has for him, continues! Trump's very smart legal team had been hoping maybe Mueller would let Trump do some of his interview as a take home test, or maybe a "Wheel Of Fortune"-style puzzle, where the solution is "NO COLLUSION! EVERYBODY SAYS THERE IS NO COLLUSION, EVEN THE DEMOCRATS."
Trump, for his part, has been very enthusiastic about doing an interview, because he has the best brain and the best words, which will lead Robert Mueller to exonerate him on the spot. (Except one time, Trump stated proudly that Mueller probably won't even want an interview because no collusion no collusion, everybody agrees that oh god Donald Trump, please shut the fuck up.)
But the New York Times reports that actually, come to think of it, everybody Donald Trump has ever met, including his lawyers, wants him to take the 5th without actually taking the 5th, and refuse an interview. This is because they have met Trump, and they know the man cannot go 60 seconds without lying for the sake of lying, because he's a pathological liar. For real, that is what Maggie Haberman's four sources say:
His lawyers are concerned that the president, who has a history of making false statements and contradicting himself, could be charged with lying to investigators.
Know a good way to avoid whatever "perjury trap" Robert Mueller is allegedly (but not actually) setting for Trump? BY NOT BEING A LIARFUCKINGLIAR.
Of course, as NYT notes, Trump refusing to do an interview could be kinda bad. First of all, Mueller could subpoena Trump's ass to a grand jury! NYT reports, though, that Trump's lawyers think Mueller might not have the balls to do that, to which Wonkette replies HAHAHAHAHAHAHALOLOMGYOUGUYS. So, once subpoenaed, Trump would have to sit in a room all by himself, without his lawyer, and lie to a bunch of strangers. (Many of whom are BLACK PEOPLE strangers, according to an anonymous witness Mueller has already dragged into the jury room. Uh oh, Mr. President! BLACKS!) If Trump ignored the subpoena, it would likely end up at the Supreme Court, and Trump would almost surely lose that battle, despite the scent of Gorsuch now stinking up that place.
Oh, and there is that little part about how people who refuse to talk to special counsels and grand juries tend to look GUILTYFUCKINGGUILTY. Of course, Trump has looked guilty from day one, so that's not new.
The Trump idiot lawyers advocating for no interview include John Dowd and Jay Sekulow, but not Ty Cobb, who is a REAL DUMB IDIOT (entirelypossible) if he doesn't realize Trump will lie to Mueller about his inauguration crowd size before they even get to the questioning. On the other hand, known Twitter user Seth Abramson has a different theory, that Cobb is telling Trump to do an interview and telling him it will go great and that Mueller definitely won't catch him lying, because Cobb knows Trump is lying to his lawyers too. In essence, Abramson is saying Cobb is pushing for an interview in order to jujitsu his client into telling him the fucking truth.
Is Abramson right? Could happen we guess.
Regardless, the Trump legal team has some real novel excuses for why Trump shouldn't have to sit for an interview:
They are convinced that Mr. Mueller lacks the legal standing to question Mr. Trump about some of the matters he is investigating, like the president's role in providing a misleading response last summer to a New York Times article about a meeting Mr. Trump's son Donald Trump Jr. had with Russians offering dirt on Hillary Clinton. The advisers have also argued that on other matters — like the allegations that the president asked James B. Comey, then the F.B.I. director, to end the investigation into the former national security adviser Michael T. Flynn — the president acted within his constitutional authority and cannot be questioned about acts that were legal.
That's right, it's illegal to ask the president whether he obstructed justice, because the president is obviously above the law. Have the lawyers offered to let Trump answer questions, but only if they're asked by a deaf senator who's almost dead? Because that would be a good play on a strategy that worked out awesome for Richard Nixon.
Keep stalling, assholes. You're just giving Mueller time to make his case against Trump even more BIGLY YOOGE.
Follow Evan Hurst on Twitter RIGHT HERE.
Wonkette salaries and servers are fully paid for by YOU! Please pay our salaries.
Evan Hurst
Evan Hurst is the managing editor of Wonkette, which means he is the boss of you, unless you are Rebecca, who is boss of him. His dog Lula is judging you right now.
Follow him on Twitter RIGHT HERE.