Trump Lawyers Seek Alternatives To Robert Mueller Interviewing Trump, Like Maybe Mueller NOT Interviewing Trump?
Russia
January 08, 2018 02:53 PM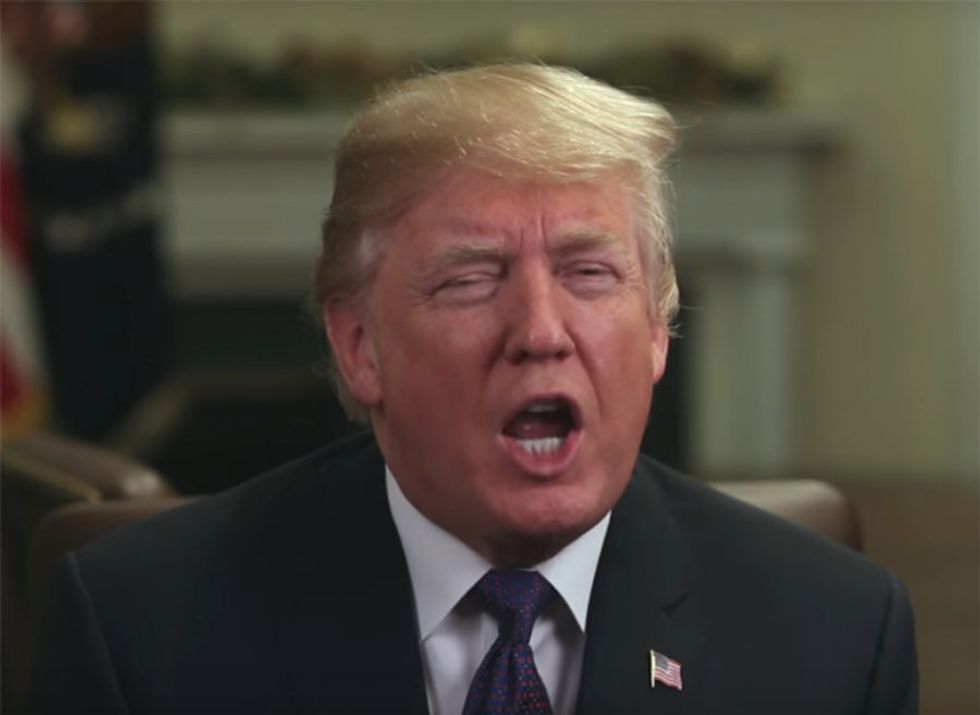 would this guy commit perjury? lol already has
---
BIG SCOOP FROM NBC THAT DEFINITELY WAS NOT LEAKED BY DONALD TRUMP'S LAWYERS TO MAKE IT LOOK LIKE THEY ARE BEING VERY GOOD BOYS AND COOPERATING WITH SPECIAL COUNSEL ROBERT MUELLER'S INVESTIGATION! ALL CAPS DRUDGE SIREN!
The scoop is that Trump's very dumb team of legal beagles is "negotiating" with Mueller's team over whether Trump will sit for interviews with Mueller's team, and if so, what that would look like. Or maybe, they say, it would be a better idea to just scratch the idea of an interview entirely and Mueller could send Trump a Tinder message that says "swipe right for guilty," and Trump will totally be about to swipe left, but sneaky Mueller will have attached a picture of some Grade A Pussy to his message, and Trump will swipe right and OH FIDDLESTICKS, FOOLED TRUMP AGAIN.
Wonkette cannot be serious for one second, so here is NBC:
Anticipating that Special Counsel Robert Mueller will ask to interview President Donald Trump, the president's legal team is discussing a range of potential options for the format, including written responses to questions in lieu of a formal sit-down, according to three people familiar with the matter. [...]

Trump's legal team is seeking clarification on whether the president would be interviewed directly by Mueller, as well as the legal standard for when a president can be interviewed, the location of a possible interview, the topics and the duration. But the president's team is also seeking potential compromises that could avoid an interview altogether, two of those interviewed told NBC News.
Um, well, better not ask him for an interview during EXECUTIVE TIME, by which we mean TV TIME, which is most of the hours of the day apparently. Probably shouldn't ask him for any kind of interview, since the man is a sputtering faucet that tells the same lie over and over and over, and we reckon Robert Mueller would really get off on that.
NBC reports that "compromises" allegedly being "considered" are the president signing an affidavit that says "NO RUSSIA, NO RUSSIA, YOU ARE THE RUSSIA." Barring that, he could use his stable genius brain to fill out the answers to a questionnaire. Wonkette suggests Mueller come up with a coloring book version too, to keep the president entertained. "Color some pretty pants on everybody you tried to use to obstruct the Russia investigation, Mr. President! Here is a nice green crayon that would look nice on James Comey, don't you think?"
For real, though, is any of this actually going to happen? Let's see what NBC's expert says:
"Prosecutors want to see and hear folks in person," said Chuck Rosenberg, former U.S. attorney for the Eastern District of Virginia and chief of staff to FBI Director Comey. "They want to probe and follow up. Body language and tone are important," said Rosenberg, now an NBC News analyst. "And they want answers directly from witnesses, not from their lawyers. The odds of prosecutors agreeing to written responses are somewhere between infinitesimally small and zero."
In other words, Robert Mueller will tell Trump's lawyers to fuck right off with alla this.
We hate to do you this, but we're going to make you go read a Seth Abramson thread now. (We know. But sometimes he is correct about stuff.) Abramson argues this is all a PR stunt for Trump's lawyers to make it look like they are cooperating, so when they come up with a plausible reason for why even though Trump REALLY WANTS to be interviewed -- he promised he would months ago! -- his lawyers can say it's a real bad idea and sound halfway reasonable when they do. Because really, his lawyers have to know that if Trump so much as opens his mouth without parental supervision, he will immediately fall into all the traps Mueller has so nicely laid out for him and add perjury charges ON TOP OF whatever other criminal acts he's uncovered, and we can't have that, now can we?
Surely not.
Follow Evan Hurst on Twitter RIGHT HERE.
Wonkette is fully paid for by YOU! Please click here to pay Wonkette's salary.
[NBC]
Evan Hurst
Evan Hurst is the managing editor of Wonkette, which means he is the boss of you, unless you are Rebecca, who is boss of him. His dog Lula is judging you right now.
Follow him on Twitter RIGHT HERE.