Trump Misplaces Naval Strike Group. Like You Haven't! Wonkagenda, April 19, 2017
Elections
April 19, 2017 09:25 AM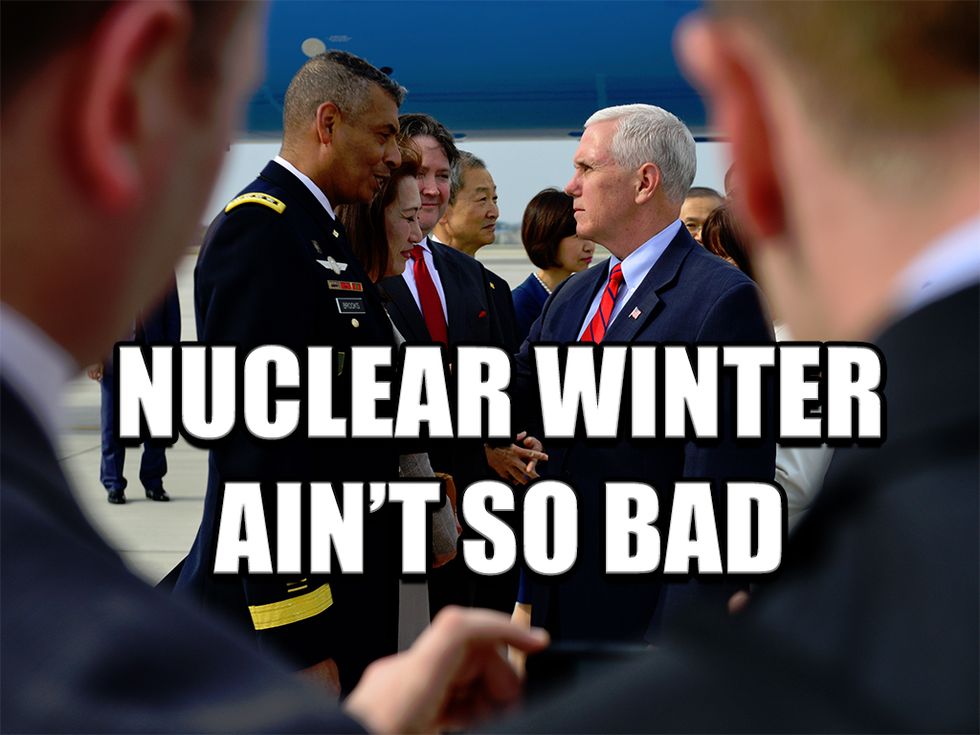 Morning Wonketariat! Here's some of the things we may be talking about today.
---
Hey, you remember how the military was sending a carrier strike group to North Korea and attempting to start World War III? LOL, psych, it's actually heading to Australia to play games. WHHOOOOOPS
Homeland Security Secretary John Kelly told Congress critters to "shut up" or change the laws they don't like. HA, that would require actually legislating all the things.
Trump was speaking in Wisconsin about his new (old) worker ban and talked about all the TrumpCare/WealthCare/RyanCare he's going to do (again), and the tax reform he's going to do (again), with that Ryan guy, 'ol what's his name.
People around Washington are leaking that Trump is the only one who showers Russia with praise, and they don't know why he treats them like gold.
Jon Ossoff will compete in a grueling 2-month runoff, which should be interesting seeing as how his Republican opponent has trying to keep Trump's hands off her campaign.
Jeff Sessions thinks El Salvadorian gang MS-13 could be labeled a terrorist organization, so I guess we'll start dropping MOAB's on the D.C. suburbs.
Jeff Sessions's Justice Department has failed to install even ONE U.S. attorney, nor does he have any leadership within the civil rights, criminal and national security divisions, thank heavens he has an armed militia of god fearing men in white uniforms.
The Trump administration's job recruiter has one of the worst jobs in Washington right now because most people don't want to work in this White House, and those who do are unqualified crazy people.
Sen. Jim Lankford wants Trump to release his tax returns now that his Oklahoma constituents have cornered him at a town hall where they politely threatened to crucify him (with votes).
Joni Ernst strapped on her bread bags, saddled up a pig, and rode out to a town hall to say she had some concerns about Trump's trips to Mar-a-Lago, and wished more of "those State Department visits were in Washington D.C."
A DREAMer with active DACA status was deported after Customs and Border Patrol decided to racially profile target the 23-year-old for routine questioning about his immigration status.
MSNBC aired live footage of an ICE stakeout in L.A. and no, Geraldo and his mustache were not involved.
Chris Christie is clinging to hope in a sad, and desperate attempt to stay relevant as his political career nose dives like a drunk Jersey Shore greaseball after a long night of clubbing.
UN ambassador Nikki Haley wants the U.N. to investigate reports of human rights violations in Chechnya after gay men were reportedly rounded up, violated, tortured, and disappeared, but Chechnya's Russian-appointed president is saying it's total fake news.
'Alt-Right' white nationalist Richard Spencer has some problems this morning. Yesterday, Spencer spoke at Auburn University, which naturally led to violent protests and Nazi punching.
Speaking of Nazis, The Daily Stormer's Andrew Anglin GOT SERVED a lawsuit alleging that he commanded his minions to harass a Jewish woman, her husband and her 12 year-old son with hundreds of rape and death threats after she spoke with Richard Spencer's mom about some property.
The same California courthouse that slapped Brock Turner on the wrist decided to lightly tap the face of a Silicon Valley CEO for repeated domestic abuse against his wife despite hard evidence because the judge couldn't be bothered to cancel a vacation.
A Florida state senator accidentally used THAT N-word, but it's cool because it was a Freudian slip, he meant to add an "as" instead of "ers."
GOOD NEWS! Maryland changed the state's definition of rape, so now sexual assault survivors don't have to prove they fought an attacker in order to bring charges.
Ivanka Trump's globetrotting might have landed her an ethics violation or two, but it's cool because her daddy's, like, the president.
BREAKING NEWS: Did Fox actually just "You're Fired" Bill O'Reilly for grabbing heaping handfuls of sexual harassment lawsuits?
And here's your late night wrap-up! Trevor Noah took a look at whether or not Alex Jones is a nutball;Conan O'Brian intercepted more phone calls between Trump and Obama; Jimmy Fallon had some talky time with Elizabeth Warren; Colbertreminded us that we're all still alive, then had some Shakespeare funtime with Alec Baldwin; Jimmy Kimmel tried to help explain all the different Kim Jungs for Trump, and asked some Trumpkins about White House visitor logs.
And here's your morning Nice Time! PANDA cubs!
Hey! Wonkette is supported by readers like you, so donate/subscribe and we'll keep giving you all the hard-hitting and independent 'splainerings, dick jokes, and mommy blogging you already love!
Dominic Gwinn
Dominic is a broke journalist in Chicago. You can find him in a dirty bar talking to weirdos, or in a gutter taking photos.