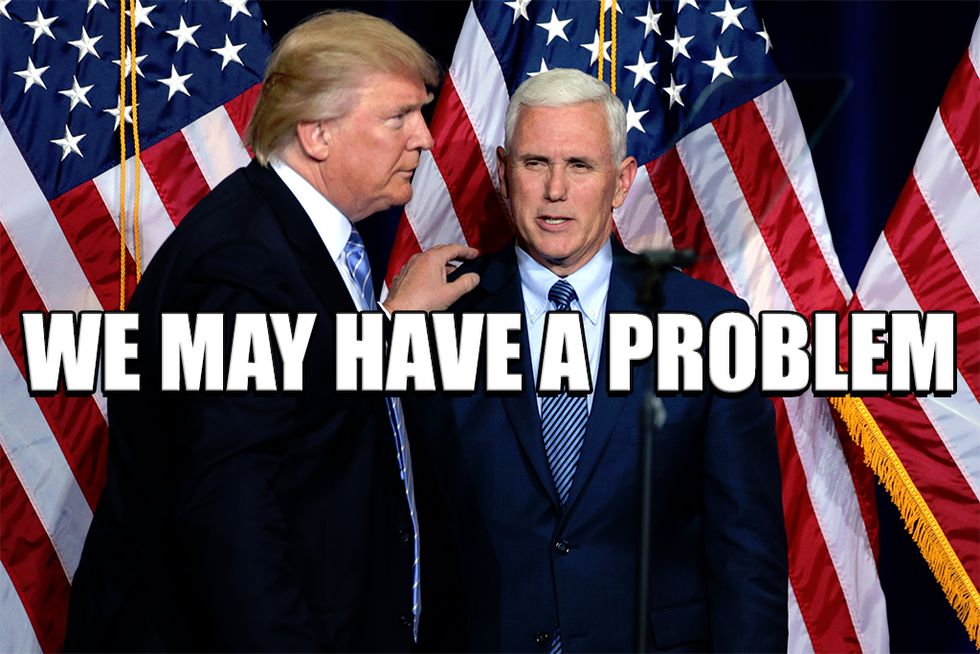 Morning Wonketariat! Here's some of the things we may be talking about today.
---
Louisiana Rep. Steve Scalise is still in critical condition after being shot in the hip during practice for the annual Congressional baseball game yesterday.
Robert Mueller has opened an investigation into whether or not Trump committed obstruction of justice when he fired James Comey. It makes sense, seeing as how he's literally admitted on national television to firing Comey over the investigation of Trump-Russia.
Senators Richard Burr and Mark Warner of the Senate Intel Committee met with Special Counsel Robert Mueller to trade some notes about their respective investigations, but they don't want to share with the rest of the class. :(
Trump has been up and tweeting this morning about the "phony collusion with the Russians story" that he keeps making worse and worse every time he tweets.
The Senate Judiciary Committee is opening its own investigation into the firing of former FBI Director James Comey to see if there was any obstruction of justice, or if any FBI brainmeats were meddled with during the investigation into Hillary Clinton's murderous email machine.
Former Homeland Security Secretary Jeh Johnson will publicly testify in the House Trump-Russia investigation next Wednesday, so get your coffee and snacks ready!
Paul Manafort's still touting his presidential connections as he trots around the globe selling his services to would-be dictators while the FBI lurks in the shadows.
Trump is expected to appoint Jessica Rosenworcel and Brendan Carr as Commissioners for the FCC's Democratic and Republican seats, respectively, but it's a little weird that it hasn't been announced yet.
The Senate overwhelmingly passed a bill imposing sanctions on Russia and Trump's White House is already trying to "stop it, slow it, weaken it, dilute it," and I can't imagine why.
Democratic Sen. Dianne Feinstein is using "blue slips" to block judicial nominees, and Republicans are super mad that she would even dare to hold open a judicial seat that should have already been filled by an Obama appointee.
Some ungrateful youths are suing the Trump administration for enacting climate policies that deny them their constitutional right to life, liberty and the pursuit of happiness. Kids these days say the darnedest things!
Georgia's special election may be technologically unreliable as the state has routinely failed to update its vulnerable electronic voting systems after serious flaws were reported. Good thing Republican candidate Karen Handel ignored those reports as Secretary of State.
Comedian-type personSteve Harvey tried to crack an insensitive joke about the Flint water crisis after a sportsball thing, prompting Little Miss Flint to issue a response that is both wonderful and sassy.
Chris Christie has a 15 percent approval rating, according to a new Quinnipiac poll, making him the most unpopular governor in New Jersey EVER. Congratulations!
A UN panel has found that American-led coalition airstrikes in Raqqa, Syria, against ISIS/IS/ISL/Whatever have displaced 160,000 people, and that 300 civilians have been killed since March 21. Sadly, the details are even worse.
John McCain and Tim Kaine wrote a nice letter asking for money to spend in Not America, arguing the importance helping poors with blighted soil find Jesus through airdrops of MREs and Pop-Tarts.
Two of the guards of Turkish president Recep Tayyip Erdogan have been arrested for beating protesters in D.C. during Erdogan's visit last month, and police are expected to announce charges against additional members of the security detail. GOOD.
Homeland Security and the FBI have issued a report detailing North Korea's army of hackers and their efforts to steal and harass businesses, banks and governments around the world.
GOOD NEWS EVERYONE! Ireland elected its first openly gay Prime Minister, Leo Varadkar! Hurray!
Dennis Rodman gave North Korean Sports Minister Kimm Il Guk a copy of The Art of the Deal because he's a savvy diplomat who knows how to grease the palms of dictators across the world.
Sportsballer Steph Curry says he still doesn't want to meet Donald Trump, but he's a loser anyway, and golden God-Emperor only meets with winners.
A Youtube celebrity has been busted for child porn after he repeatedly asked underage fans to send naked selfies. Do you know where your children are?
Megyn Kelly is defending her interview with Alex Jones by saying she's being a good journalist and getting her hands dirty. I guess the light Megyn Kelly shines on her stories is the flash from selfies.
Rachel Maddow is on the cover of Rolling Stone! It's good, and thinky. Treat yo' self!
And here's your late night wrap-up! Samantha Bee called out Jeff Sessions's "folksy bullshit" and 'splainered child marriage; Trevor Noah took a long look at Uber; Stephen Colbert had some talky time with Trevor Noah; Jimmy Kimmel found Trump's birthday message to himself; James Corden has some new names for Fox and Friends.
And here's your morning Nice Time! BABY GOATS!
Hey! Yer Wonkette is ad-free and supported only by readers like you! Give us moneys! Please, k, thanks, bye!
Dominic Gwinn
Dominic is a broke journalist in Chicago. You can find him in a dirty bar talking to weirdos, or in a gutter taking photos.