Trump Pisses On US Allies Like Russian Pee Hookers. Wonkagenda for Fri. May 26, 2017
Elections
May 26, 2017 09:28 AM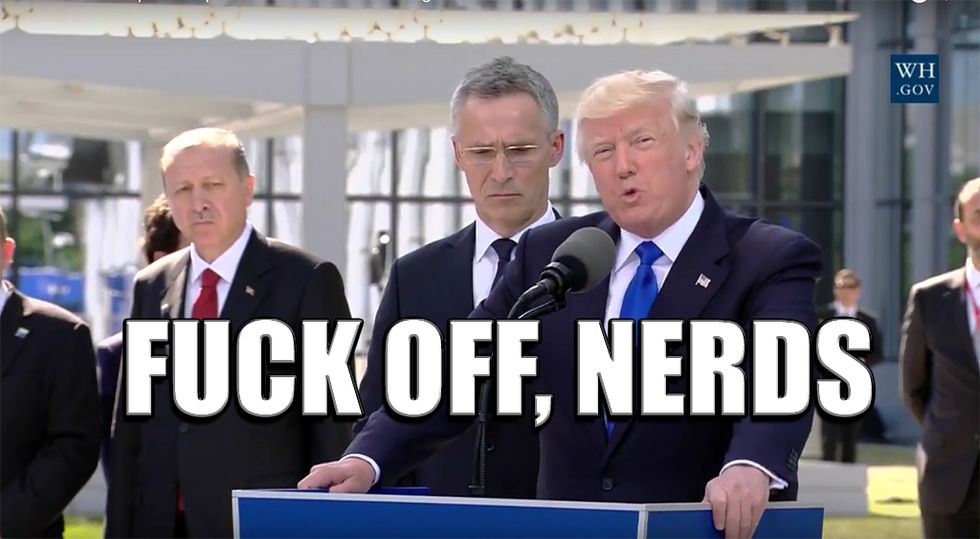 Morning Wonketariat! Here's some of the things we may be talking about today.
---
The FBI is not going to turn over James Comey's memos right now because it's right in the middle of a really important thing and it kind of needs them.
Just before the inauguration Paul Manafort called Trump's team to diss THE DOSSIER and suggested running their own investigation (without pee hookers) in order to smear Hillary Clinton and distract everyone from Trump-Russia (because it has Trump's pee hookers).
The FBI is asking Ukrainian parliamentarians and government officials about what Paul Manafort was doing when he helped elect their now deposed pro-Putin President Viktor Yanukovych in 2010, considering his track record of helping dictators and assholes for shitloads of questionable Ameros.
It turns out ALLEGED Russian military intelligence hacker(s) "Guccifer 2.0" sent stolen DNC information to a right-wing blogger, who then contacted Roger Stone. Also, the blogger asked the Rooshians for data that would help target specific voters. [Archive]
Trump's Muslim Bantravel restrictions on people from Muslim majority countries 2.0 was beat down in the 4th Circuit Court of Appeals, setting up a SCOTUS showdown that Jeff Sessions will undoubtedly lead in his white robe and wizard hat.
Senate Republicans have started to scribble their version of TrumpCare/RyanCare/McConnellCare/WealthCare, except they're not quite sure how to properly kill Medicaid without offending anyone, so they're going to Memorial Day recess to think about how they can screw all the old people who usually vote for them.
Ted Cruz is being slapped by the FEC for failing to report over a million Ameros in loans he received from Goldman Sachs and Citigroup during his 2012 Senate run, which is funny since he spent that whole year bitching about Obama and Goldman Sachs.
Trump went to Not America and embarrassed the shit out of of the United States by acting like a chauvinist dickhead and treating some of our most important allies like needy tenants in some shitty apartment building
Due to his increasingly painful butthurt, Trump called German cars "evil, very evil" because "Germans are "bad, very bad" and is threatening to stop German car imports, because he still doesn't understand the US doesn't have trade deals with individual EU countries.
Trump met with Japanese Prime Minister Shinzo Abe and promised to discuss "many things" about the "North Korea problem" because, "it's a big problem," and "a world problem," adding, "it will be solved at some point," concluding, "It will be solved, you can bet on that."
LOL Fareed Zakaria's new column says Trump got on his knees and gargled the Saudi's balls because he is A Idiot.
Former President Obama met German Chancellor Angela Merkel yesterday and behaved like a dignified statesman who understands the importance of allies in the world, just before Trump stomped around the NATO summit like a fat, ignorant bully.
How much do you think rich, Not American Trumpkins in Sicily will pay for secret pee-pee parties with Trump when he's not disturbing the delicate balancing act of global peace during the G-7 meeting?
Milwaukee County Sheriff David Clarke reportedly ordered police to harass an airline passenger for insulting him over wearing a sportsball shirt, which is almost as illegal as Clarke posting a meme that literally says, "Cheer Up, Snowflake, If sheriff Clarke were to really harass you, you wouldn't be around to whine about it." AHAHAHAHA! It's funny because David Clarke is a murderer.
Bernie Sanders ripped Mick Mulvaney's rich people tax breaks apart during a Senate Budget Committee hearing yesterday after wondering why the wealthiest family in America needs a $52 billion tax break.
Goldman Sachs is worried that rising wages are cutting into the profit margins of companies, but considering how Trump takes Trickle Down to a whole new level, they shouldn't worry too much.
George Nesterczuk is your new Office of Personnel Management chief, and considering he created a previously abandoned favoritism system within the federal government, federal workers could see great rewards for bending over and removing the whistles from their mouths.
Trump's bragging about his bad poll numbers from conservative pollsters, but if you math the numbers, carry the 1, and dot the lower-case j's, it's actually pretty bigly bad. Sad. Low ratings.
Sorry ladies, but you're probably about to lose your copay-free birth control, but the good news is that you won't need slut pills once you let Jesus into your lives.
The RNC is backing a petition to let political campaigns and businesses robocall your cellphone because there's money to be made, and because the FCC is run by an obnoxious troll named Ajit Pai.
Democrats want to start defending net-neutrality like Obamacare and the Clean Air Act, while Republicans are literally using cable industry talking points to shill bullshit arguments in order to fuck up the internet so you can't access sites like Wonkette.
Self-aggrandizing toddler Tucker Carlson finally offered a half-assed apology to Teen Vogue writer Lauren Duca for an exchange that happened almost six months ago, then proceeded to insult her half-a-dozen times.
Yesterday, Rush Limbaugh went on the air professing his love for the "manly, studly" Greg Gianforte. Unfortunately, Rush isn't a reporter so he'll never know what it's like to be slammed by Gianforte.
Mike Cernovich went on comedian Moshe Kasher's show to talk all about cucks, a sexual fetish he's devoted his life to, and said, "I had sex with Bill Clinton with a strap-on."
And here's your late night wrap-up! Seth Meyers took A Closer Look at how Greg Gianforte will give us all pre-existing conditions; Stephen Colbert wondered why is Reince Preibus so worried about Comey's memos; than had some talky time with April Ryan; James Cordonjumped on top of Jared Kushner like the FBI
And here's your morning Nice Time! River otters!

Hey! If you give us your money, we'll write funny things about the news. Deal?
Dominic Gwinn
Dominic is a broke journalist in Chicago. You can find him in a dirty bar talking to weirdos, or in a gutter taking photos.