Trump Pussgrabbing All Over Paris. Wonkagenda For Fri., July 14, 2017
Cops
July 14, 2017 09:24 AM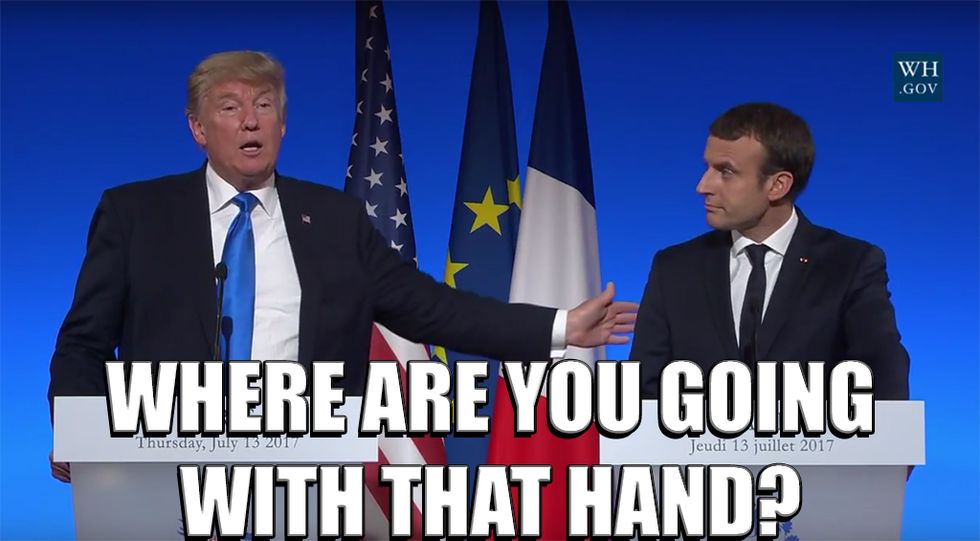 Happy Friday, Wonketariat! We're just a little bit closer to happy hour, so here's some of the things we may be talking about while waiting for cocktails! (Just kidding, "waiting.")
---
The Russian mob lawyer lady brought a "former Soviet counter intelligence officer" (THAT MEANS SPY) to her meeting with Trump Jr, Prince Kushner and Paul Manafort, but NBC isn't publicly naming him (probably because he'd be disappeared by Putin).
A group of Democrats have filed suit against the 2016 Trump campaign and Republican ratfucker Roger Stone for plotting to steal private documents and personal information. If a judge gives the go-ahead, just IMAGINE the discovery. [Morning Maddow!]
White House aides may be exposed to Trump-Russia after Trump & Co. brought them to strategize about how to respond to Trump-Russia THREE WEEKS AGO. Remember guys, snitches won't get stitches in a federal penal colony.
The DHS is denying Trump's idiotic claim that former AG Loretta Lynch gave the Russian mob lawyer lady a visa seeing as how her visa would have been handled by the Russian consulate and the State Department. Because that's how visas work.
The stupid bastard who ran around the dark and dangerous alleyways of the Internet screaming for hackers to help him find Hillary's murder mail, Peter Smith, apparently committed suicide, so don't be surprised if "alt-right" crazies to turn this into another conspiracy involving Killinton ninja assassins.
ICYMI: The Senate released its healthcare bill and it's a big steaming shit pile.
Senate Republicans can't afford to lose another vote on TrumpCare/McConnellCare now that Susan Collins and Rand Paul have passed. Make sure you're staying in touch with your Senators, even if they're Democrats, and giving them a piece of your mind!
Trump is putting pressure on Senate Republicans and tweeting some stupid bullshit instead of behaving like a rational person.
Trump didn't push Putin because he was afraid of getting "into a fist fight." I have to be honest, I'm pretty sure Putin would have split his wig.
The CBO projects Trump's budget will grow the economy by ONLY 1.9 percent, and that Trump's cuts to the social safety net would actually INCREASE the defect by $720 billion Ameros.
A federal judge has stopped the Muslim bantravel restrictions on Muslim majority countries(again), allowing extended nuclear families to glow a little brighter.
The House is set to vote on a GOP proposal to identify "Islamic religious doctrines, concepts or schools of thought," that way we can pick all the secret spooky brown people out of a crowd and charge them with terrorism, just like the founding fathers always wanted.
Interior Secretary Ryan Zinke is spinning in circles about what to do with national monuments that have no oil or uranium, saying two national monuments in Idaho and Washington are no long being considered for "You're Fired" status.
Trump's White House released a transcript of an off the record meeting and it's just full of gems like an invisible Tortilla Curtain, and Chinese hacking, and North Korean hacking. It is NOT full of some stuff he told reporters, which then didn't get onto the transcript, for reasons.
The co-founder of Fusion GPS will not testify before Congress next week. Unfortunately, this means we won't learn anymore about THE DOSSIER.
Nerds at NASA can't math their way to Mars because there isn't enough money, so they're going (back) to the moon instead...maybe.
Mike Pence has hired David Ayers as a political consultant to help mitigate the damage of his involvement in Trump-Russia. You think he's trying to hide something?
Kid Rock's Senate run is a bunch of PR bullshit and just another excuse for this miserable failure to remake his image for the umpteenth time. Or maybe it's to try and gloss over the DildoGate feud with the Insane Clown Posse. Whichever, we are definitely not writing about Kid Rock today, you're welcome.
The DOJ is indicting two former House staffers for sharing "private, nude images and videos" of a House member and their spouse. Seriously, revenge porn isn't funny, it's stalking.
DEAD Breitbart suddenly has a hard-on for Milo Yiannopo-whatever now that he has a new book out. Hey, remember how Milo, the favorite gay sexist, racist, anti-semite of the "alt-right," thought it was cool to fuck little kids? I know I do.
Babies are being born addicted to opioids; now doctors are struggling to help patients and their infants. You can thank the pharmaceutical industry.
A Chicago police sergeant accused of beating a handcuffed woman operated at least two racist websites according to A FUCKING GOOGLE SEARCH, as well as having three sustained complaints, one of which includes beating the living shit out of a minor.
Trump held a "lengthy" presser with French President Macron and he only managed to embarrass himself half a dozen times.
WaPo has a longform piece about Princess Ivanka's stupid crap. And nobody is saying whether or not they use child or slave labor to make her Not American junk, but her company sure as hell has a lot of secrets.
And here's your late night wrap-up! Stephen Colbert finds that Trump's America measures morality a little differently; The Daily Show sat down with Trump's Not American translators; Conan O'Brien spilled the beans on a made-for-TV movie version of Trump-Russia; Jimmy Kimmel had some thoughts on Trump's invisible border wall.
And here's your morning Nice Time! Asian Small-Clawed Otter Pups!
Freedom isn't free, but 'Yr Wonkette is! Throw us some Ameros so things stay that way!
Dominic Gwinn
Dominic is a broke journalist in Chicago. You can find him in a dirty bar talking to weirdos, or in a gutter taking photos.