Trump Quit-Fires Last Grown-Up In White House. Wonkagenda For Fri., March 23, 2018
Guns
March 23, 2018 09:03 AM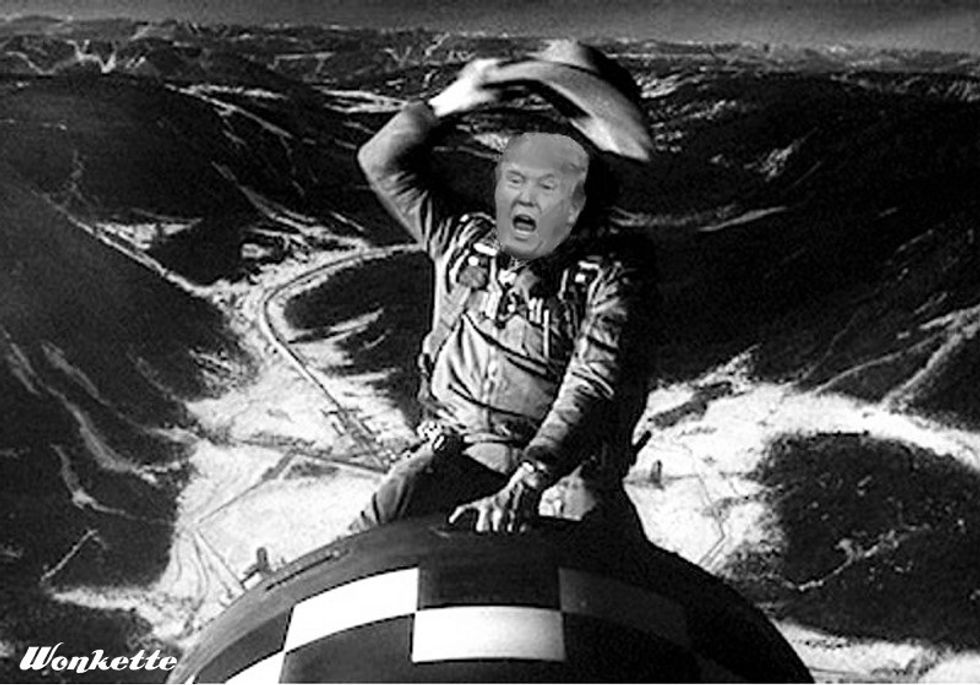 more or less
---
DC Wonkers! Join us tonight at Pi Pizzeria, 910 F Street NW, 6 to 8 p.m., the editrix is buying you SO MUCH pizza and beer! Tomorrow morning, we will meet for the March for Our Lives in front of Rosa Mexicano, 575 Seventh St. NW, across the street from the Gallery Place Chinatown Metro Station. We (or you!) will be waiting there from 10:30 a.m. to 12:15, because — and this is important — last time we were an hour late to our own meeting spot because it took 90 minutes to get out of the subway. So we might all be late together! Now here's some of the things we may be talking about today!
National Security Adviser HR McMaster has been quit-fired, and will be replaced with Bush-era warhawk John Bolton. You may remember Bolton from such classic hits as "When A Man Bombs A Mad Man," and "Ain't Got Nothin' If You Ain't Got Bombs To Give."
Deputy Attorney General Rod Rosenstein will hold a press conference on a "major cyber law enforcement announcement." Grab some popcorn, this is gonna be good!
The Daily Beast is reporting that the DNC hacker Guccifer 2.0 was actually the Russian GRU, and they were caught when someone forgot to engage their Internet invisibility cloak.
The Center for American Progress's Moscow Project released a report criticizing the House Intel Committee, pointing out that HPSCI's report makes no mention of Mike Flynn, Paul Manafort, and at least 70 contacts between Trump's team and Russian-linked creepos. Maybe they just forgot?
Apparently Donald Trump can't find any REAL lawyers, so his new legal team of TV talking heads is really more of a PR group designed to sex-splain various scandals on Fox News. [Morning Maddow]
Former Playboy model Karen McDougal sat down with Anderson Cooper and claimed that Trump actually tried to pay her for sex after they had been "intimate," and that over the course of their 10-month affair she never knew he was banging pee hookers. McDougal also says that she kept a diary.
The lawyer for Stormy Daniels, Michael Avenatti, tweeted out a cryptic photo of a disc ahead of her 60 Minutes interview this Sunday. HHMMMM!
With HR McMaster being quit-fired, John Kelly is pissed he can't fire David Shulkin or Ben Carson. The optics might make the administration look chaotic.
Steve Bannon was ranting to a bunch of global elitists and suggested that if John Kelly is quit-fired, Trump would just do the job himself. Later, Bannon noted that he doesn't remember buying Facebook data for Cambridge Analytica, and pivoted to blame everything on Obama's secret cabal of Kenyan socialists.
Trump officially started his trade war yesterday, and imposed $60 billion in tariffs against China. As usual, global markets have been tumbling while nerds frantically wave their calculators, warning about the death of rural Trump Country. [Infographic]
Congress passed the $1.3 trillion omnibus spending bill late last night after Mitch McConnell started "begging, pleading and cajoling" with Republican holdouts Rand Paul and Jim Risch.
Republican Senator Jim Risch was SO MAD that the omnibus had a provision to rename Idaho's White Cloud Wilderness in honor the late, four-term Democratic governor of Idaho and former interior secretary, Cecil D. Andrus. What a prick.
Interestingly enough, the omnibus bill also includes new Russian sanctions that tie the hands of Uncle Sam from "enter[ing] into new contracts with, or new agreements for Federal assistance to, the Russian Federation" and dumps $250 million into the Countering Russian Influence Fund. Even more interesting, nobody knows who inserted the amendment into the bill.
The House Judiciary has subpoenaed the DOJ for Andy McCabe's emails in an apparent effort to discredit him as a Trump-Russia witness, AND recover the lost nuclear-powered murder mail from Hillary Clinton. They call that "synergy."
Sorry, bartenders, now that Mick Mulvaney has given the go-ahead to change the Fair Labor Standards Act, your boss can pool your tips if you're making minimum wage.
Oakland's mayor is calling out conservatives who keep shitting on her immigrant-friendly city. Maybe some people actually want a taco truck on every corner?
Protesters ruined a sportsball game over the shooting of an unarmed black man, Stephon Clark, who was shot by police in his grandmother's backyard for the crime of holding a cell phone.
Politico found the source of "alt-right" conspiracy videos accusing the Broward County Sheriff of sex crimes and crooked fuckery, revealing her to be a young actress who "was paid to say these things."
In a new interview with the BBC, US Army Gen. John Nicholson is accusing Russia of arming the Taliban on the Tajik border.
In a desperate bid to remain relevant, Hannity has taken to calling CNN's Jeff Zucker "The Porn King" of cable news over their wall-to-wall coverage of Trump's sexual shenanigans. Jealous much?
Facebook COO Sheryl Sandberg is spearheading Facebook's apology tour and attempting to come out in front of regulatory threats, telling reporters that they were sorry for dragging their collective asses over the past week (give or take two years).
Google has announced a ban on gun fetish videos; now the gun lobbyists are bitching about the educational aspects of assault rifle assembly films.
And here's your morning Nice Time! Easter Otters!
We're ad-free and reader-supported, so we need your help to pay the bills!
Follow Dominic on Twitter for live updates on the ground from the March for Our Lives!
Dominic Gwinn
Dominic is a broke journalist in Chicago. You can find him in a dirty bar talking to weirdos, or in a gutter taking photos.