Trump Reckons NFL Owners Are Pussies Scared Of Big Black Dudes, Just Like Him!
Post-Racial America
September 28, 2017 12:32 PM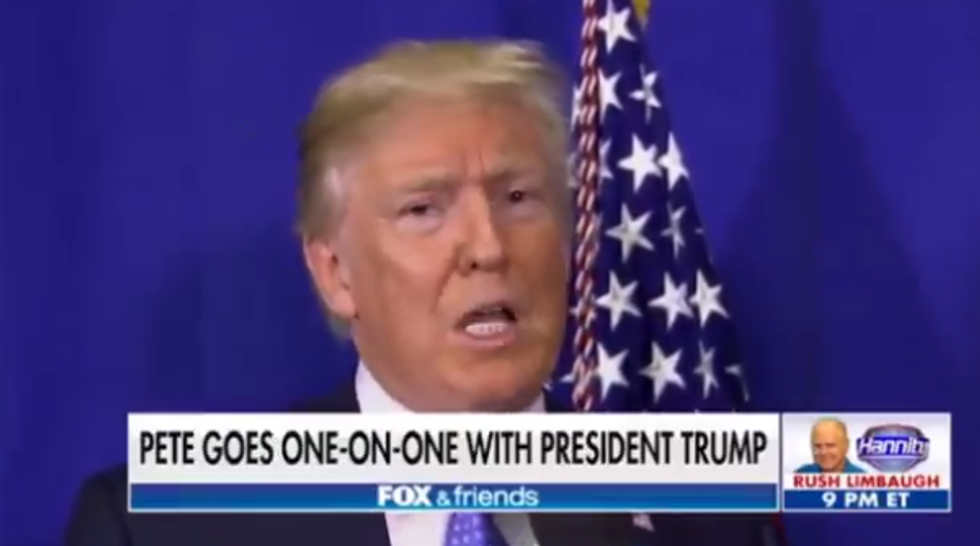 Look at this motherfucking pussy.
---
One of the saddest things in the world is watching old white racists show everybody what pussies they really are, and thinking everybody secretly agrees with them. You see it with gun humpers who absolutely MUST be allowed to carry their penis guns everywhere they go, because of all the #THREATS. Personally, we see it in our hometown of Memphis (a majority black city) all the time, in the comments section of our local newspaper, where scared rednecks who long ago decamped to the exurbs hick-splain to us how they had to get away from the city (where we live) because you couldn't even go Kroger-ing without having your dick shot off no more. (SPOILER: Faithful Kroger shopper, dick doing just fine thankyew.)
These things came to mind when we saw Donald Trump, white supremacist pussy-in-chief, tell Fox News that NFL owners are probably "afraid" of their black players who are protesting. They'd do something about the protests, Trump guesses, but if they did, THE BIG BURLY BLACKITY BLACK GUYS WOULD GIT THEM, we guess.
EXCLUSIVE: @PeteHegseth interviewed @POTUS on national anthem protests pic.twitter.com/LJhOK9nTmw

— FOX & friends (@foxandfriends) September 28, 2017
"I have so many friends [Factcheck: Donald Trump does not actually have friends. - ed.] that are owners and they're in a box. I've spoken to couple of them and they say, 'we are in a situation where we have to do something.' I think they're afraid of their players, you want to know the truth. And I think it's disgraceful and they've got to be tough and they've got to be smart because you look at the ratings, the ratings are going way down."
That's right. NFL owners and coaches are just SHITTING THE BED IN FEAR, because some of their players are black. Hey, know who else shits the bed over things like that? Trump's base. Fox News viewers. Those people in our local newspaper's comments section. As Daily Kos notes, if everything Trump has been saying the past week, from his initial comments at the Alabama white pride GOP rally to his comments about how (white) NASCAR is good and patriotic and American, has been a dogwhistle for his sister-diddling supporters, this comment about NFL owners being "afraid" to discipline their black players is BLOW, GABRIEL, BLOW!
We imagine Trump really is afraid of black people, especially black men. You see it when he talks about the "carnage" of the inner cities. Some of it is just home-fried racism, the kind his Klan-lovin' daddy instilled in him long ago. But with Trump, for whom ego is everything, we're going to guess he's also feeling very intimidated right now.
You can almost imagine him looking down at his own tiny hands and feeling, ahem, "less than," and pining for the days when The Blacks knew their place.
Trump also told the Fox idiot that "most people" agree with him about this. He imagines all of white America and all these NFL owners are secretly nodding their heads along in agreement with the orange pussy loser who loses a lot, and simultaneously losing control of their wee-wee bladders, because BOO! BLACK GUYS! It's part of the pathology we started out with, the sick belief among old white racist men that everybody secretly knows what they're talkin' about, but they're just too afraid/oppressed by P.C. culture to speak out. Sadly for Trump and his fellow white supremacists, that's just not true.
To be clear, we're not Pollyanna-ing about how America isn't on Trump's side because racism is over. There's still ONE METRIC FUCKTON of racism in this country. Otherwise, even fewer than 29% of Americans would agree with the president that "fuck those guys." But the particular type of overt, pathetic racism Trump is revealing, that he imagines NFL owners are "afraid" of their black players, simply because Donald Trump is afraid of them?
America prefers presidents who aren't pussies like that.
Follow Evan Hurst on Twitter RIGHT HERE.
Wonkette is ad-free! Our salaries, servers, and all of the things are fully funded by readers like you! If you love us, click here to fund us!
Evan Hurst
Evan Hurst is the managing editor of Wonkette, which means he is the boss of you, unless you are Rebecca, who is boss of him. His dog Lula is judging you right now.
Follow him on Twitter RIGHT HERE.