Trump Spokesmoron Katrina Pierson Really Mad Obama Took Us To Afghanistan, Not Disneyland
News
August 15, 2016 09:39 AM
Trump campaign spokeswoman Katrina Pierson says "Barack Obama went into Afghanistan" https://t.co/6OZtrfIwim https://t.co/K1Sa9ViwmW

---

— CNN Politics (@CNNPolitics) August 13, 2016
God's Gift to Bloggers and inexplicable Donald Trump spokeswoman Katrina Pierson explored new depths of Freeform Stupid in a CNN interview Saturday, explaining it was Barack Obama who began the war in Afghanistan. We are happy to see that almost all news organizations carefully explained the accusation was false. Maybe she was just being sarcastic. Yes, she really said that. Kudos to CNN's Victor Blackwell for doing journalism for a change and following up on the nonsense she was spouting.
When asked on CNN about Trump saying Obama was the "founder" of Islamic State, spokeswoman Katrina Pierson delivered a lengthy response in which she proclaimed it was Obama who "went into Afghanistan," where U.S. troops had begun fighting in 2001 under former President George W. Bush.

"Remember, we weren't even in Afghanistan by this time," she said of Obama taking office in 2009. "Barack Obama went into Afghanistan creating another problem."

The visibly surprised CNN anchor pressed Pierson to confirm that she was saying that Obama took the country into Afghanistan.

"What I'm saying is the policies of Barack Obama and Hillary Clinton — that was Obama's war, yes," Pierson said.
Well of COURSE it was. If you wanted to be extremely charitable, you could, maybe, agree that after becoming president, Obama shifted the military's focus from Iraq to Afghanistan, but that's not really anything close to what Pierson said.
It took Pierson a while, but she eventually came up with a perfectly reasonable explanation for the completely inaccurate statement she made in the first place: it was an "audio distortion" that forced her to say the U.S. wasn't even in Afghanistan until Obama came along: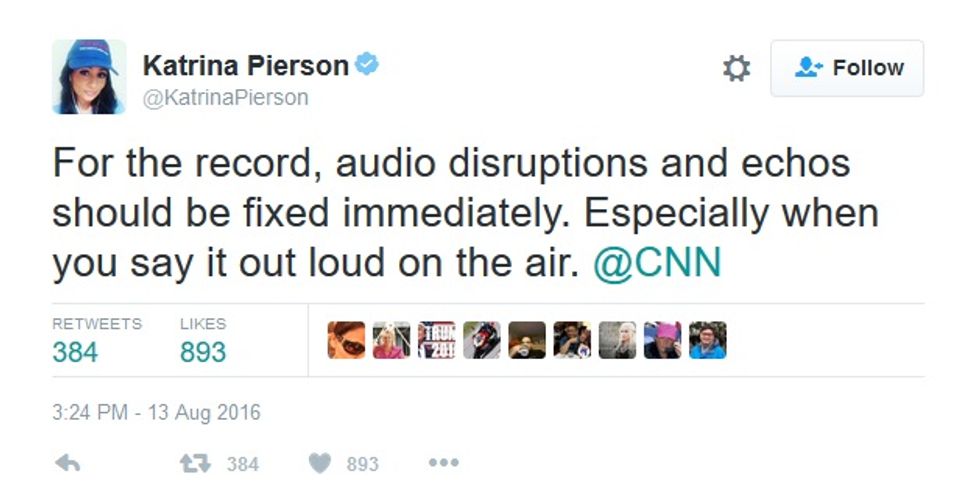 in 2006
when it first began using the name "Islamic State." That must have been a hell of a lot of echo and distortion -- several years' worth. Thank goodness Blackwell didn't ask her something really hard, like
whether the KKK is bad.
In any case, Pierson later explained, the REAL sarcastic founder of Iraq was Bill Clinton: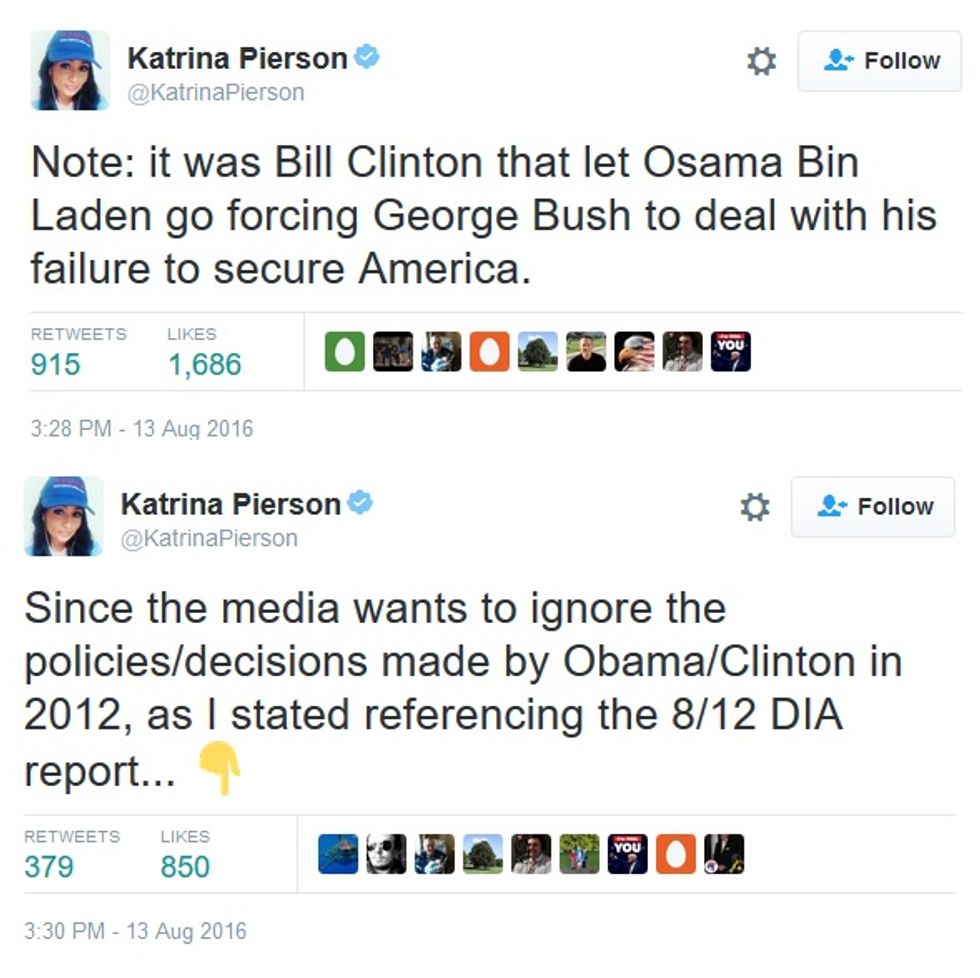 Nothing that happened during the eight years George W. Bush spent cleaning up Bill Clinton's mistakes counts, and then it was all Obama's fault. Also, history is hard, although not as hard as trying to explain Donald Trump's idiotic statements when you are yourself A Idiot as well. Add in the absolute refusal to ever admit you were mistaken, and you've got a recipe for Katrina Pierson.