Trump Starts A Trade War Because He Can. Wonkagenda For Fri., March 9, 2018
Russia
March 09, 2018 09:01 AM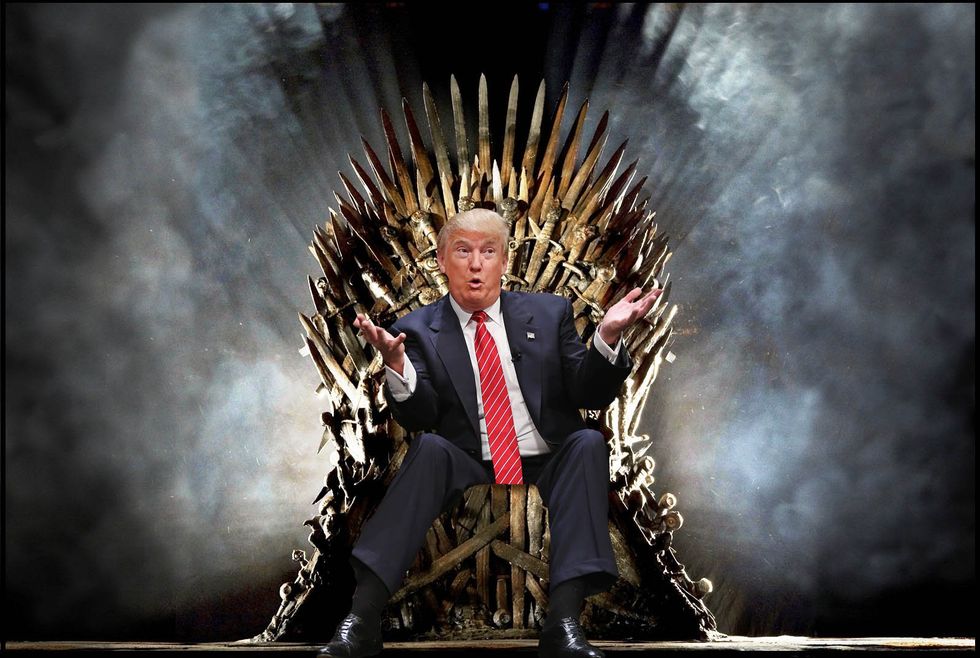 Morning Wonketariat! Here's some of the things we may be talking about today, but first, an EXTREME close-up of a hungry baby sloth!
---
Trump has accepted an invitation from Kim Jong Un
to talk about the denuclearization of the DPRK in person within the next few months. Maybe they can trade fat jokes before starting a nuclear holocaust?
Here's part two of David Corn and Michael Isikoff Trump-Russia excerpts. This one's about the Obama administration's response to Russian fuckery.
A number of congressional Republicans don't see any problem with witnesses committing perjury. It's not like Devin Nunes can afford to take an Uber to the White House every day.
As he started his trade war with Not America, Trump whined about defending 'Murica from the Chineses and shithole countries, but many US allies are pissed they're being punished just because Trump saw some crank on TV.
Republicans are denouncing Trump's tariffs, and in a blistering statement Paul Ryan stood on his soap box and said, "I disagree with this action and fear its unintended consequences." Stunning AND brave.
A White House official is telling CNN that Sarah Huckabee Sanders "gave the Stormy Daniels storyline steroids," and now Trump is pissed. Poor Poot Lips.
As the government approaches ANOTHER spending deadline, House Majority Leader Kevin McCarthy is optimistic that he can pass another omnibus jam packed with poison pills.
Paul Ryan wants to break up infrastructure reform into "five or six" bills so that it's easier to sneak in garbage amendments while doling out money for roads and schools.
The Trump tax cuts (for the super rich) have some weird provisions that bar certain people from claiming a tax credit, but the rules are so vague that the IRS isn't sure they're supposed to do.
A bitter fight in the VA has pitted VA Secretary David Shulkin against a couple of Trump-appointed cronies who want Shulkin's head for not bowing to the private insurance industry.
A constant flood of legislators from coastal states are pressing Ryan Zinke to reconsider offshore drilling after seeing how easily Florida got oil-free pass.
A leaked copy of the DOJ's 5-year strategic plan is a conservative wet dream, and calls for a focus on four things: deporting filthy Not American poors and punishing their collaborators, hunting terrorists in your backyard, looking at Facebook, and making government great again.
One of Stephen Miller's anti-immigrant lackeys has been promoted to the State Department's Bureau of Population, Refugees and Migration, where he's expected to help Lady Liberty turn her back on people from "shithole countries."
Ryan Zinke's office needs new doors, so they spent $139,000 to get a curious upgrade to keep them from leaking when it rains in the swamp. How does Zinke even know the doors leak when he's constantly fucking off on flights to God knows where?
Kellyanne Conway may have violated the Hatch Act, and she may have talked to Trump about it, but she won't talk about what she talked about because she's not here to talk about herself.
The Mississippi legislature is about to pass a ban on abortions after 15 weeks, unless your baby is all fugly, and/or filicidal.
Meanwhile, over in Utah, state legislators want to criminalize doctors for performing abortions if the fetus has Down syndrome, but some godless heathens are trying to drown the bill in legislative hell.
Trump officials have begrudgingly told Idaho that it can't dump Obamacare provisions and sell junk insurance to poors as it would be kind of illegal. Huh.
Trump threw a tantrum over not getting his stupid wall, and now he's threatening to kill a major transportation project between New York and New Jersey unless someone gives him money to build his Tortilla Curtain.
Now that people know about the Pentagon's secret war in Africa, the brass has decided soldiers stationed in Niger, Mali and portions of Cameroon are eligible for "danger pay," which works out to about an extra $7.50 a day. Hey, big spender!
Canadian doctors are bitching about getting pay raises while nurses and hospital staff continue to get screwed. In response, Quebec Health Minister Gaétan Barrette has said, "If they feel they are overpaid, they can leave the money on the table." FRENCH Canadians, go figure!
The Obamas are reportedly in talks with Netflix to host a quasi-talk show. Details are scant, but it will be nice to hear an American president speaks rationally, and in complete sentences.
And here's your morning Nice Time! BABY GOATS!
We're 100% ad-free and reader-supported, and we could definitely use some danger pay.  
Dominic Gwinn
Dominic is a broke journalist in Chicago. You can find him in a dirty bar talking to weirdos, or in a gutter taking photos.