Trump Supporters Waste $46 Million On Genuine, Pre-Owned Impeached President
Trump
January 02, 2020 03:37 PM
Donald Trump has impeachment FEVER, and the only cure is free money from fools. The freshly impeached president's re-election campaign announced today that it raised $46 million in the last quarter of 2019 and is sitting on $103 million in cash. That seems like a staggering number, but keep in mind that Trump has to use the funds to convince people of relative mental competence that he's fit to hold office. The producers of Cats had a marketing budget of $113 million and look where that got them.
"Democrats and the media have been in a sham impeachment frenzy and the president's campaign only got bigger and stronger with our best fundraising quarter this cycle," Trump campaign manager Brad Parscale said in a statement.
Republicans have spent the past few months actively fundraising because Democrats were set to impeach Trump after he extorted a foreign country for his own personal gain. It's both ghoulish and lucrative. Trump is hosting fundraisers at the "southern White House," Mar-a-Lago, where rich assholes will pay $250,000 and strap on Big-Mac-catered feedbags. This is the level of sacrifice the wealthy will make to protect their bank accounts from Elizabeth Warren.
---
Trump is a true working class hero, so he's willing to shake down people he'd once use simply as a rhetorical device to explain "debt" to his idiot daughter. The Trump campaign grabs small donors by the wallet with appeals to their cultural grievances that insults whatever intelligence they might possess. Nancy Pelosi and her flying monkeys didn't just impeach Trump. They impeached every coal worker in the heartland.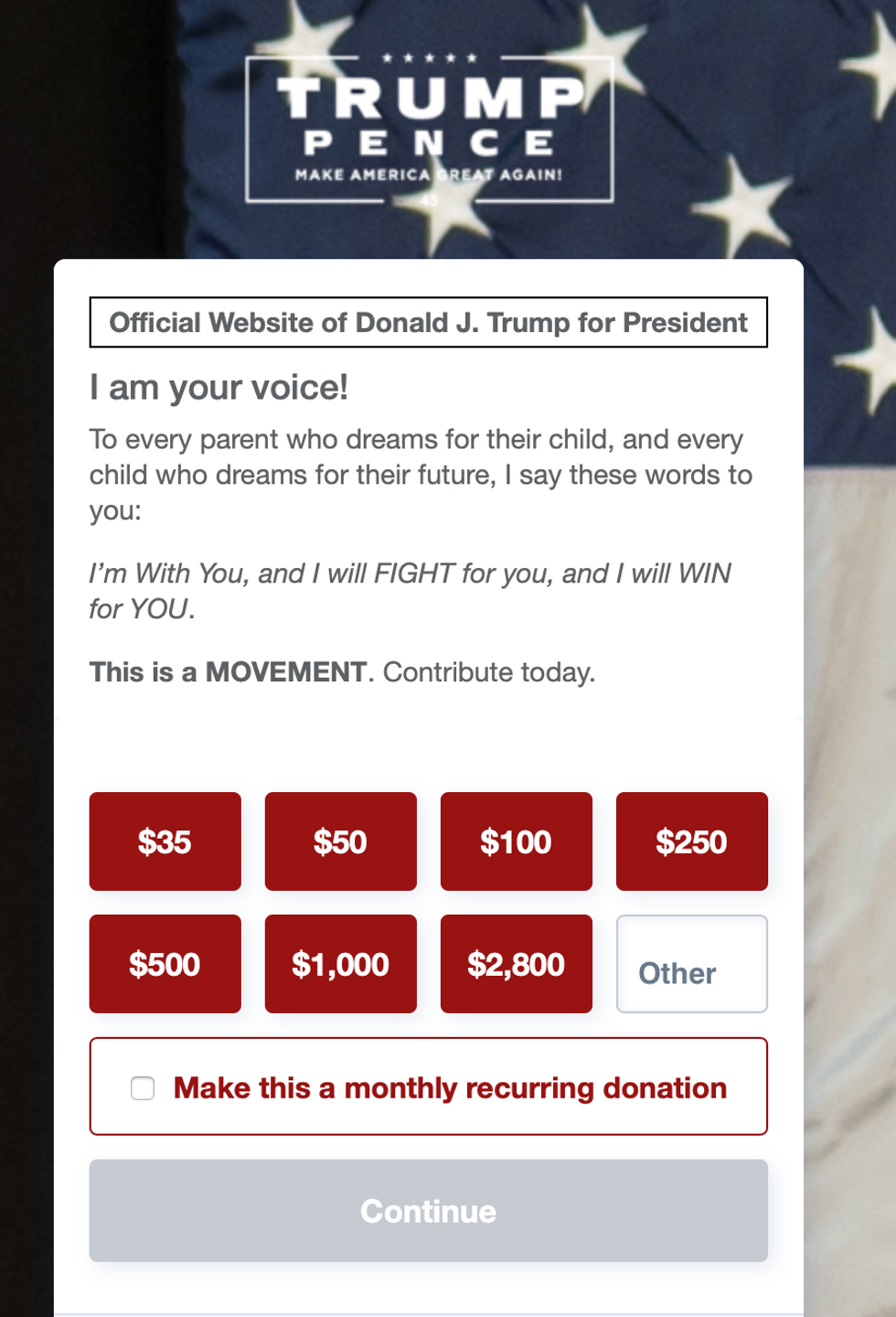 FFSTrump 2020
It's a canny, though absurd, move for Trump to present himself as the "voice"of his supporters. His Twitter feed and non-scripted public statements are an ongoing correspondence course in the psychology of narcissism. He only cares about himself; his political supporters, personal staff, and what passes for his family only exist to fill his pathological need for attention and admiration.
Trump's online shop has an assortment of garbage trinkets that'll embarrass family members. There are Trump/Pence 2020 mugs for only the worst coffee beverages. Supporters can also spend $60 for hat-shaped "Keep America Great" Christmas (and only Christmas) ornaments. They can wrap their crappy gifts in Trump/Pence "snowflake" paper, which we think references actual snowflakes and not the half of the country Trump fans despise. The shop also sells T-shirts designed to melt political snowflakes. The most annoying boasts the phrase "Trump Ain't No Mistake, Snowflake" against a misleading electoral map.
Trump starts the year and the general election campaign he'll somehow legally still participate in with a tremendous financial advantage. He narrowly outperformed Barack Obama's fundraising numbers from 2011, but Obama never bothered to get impeached. The Washington Post's Dave Wiegel points out, though, that Trump's Democratic competitors will collectively double Trump's haul. That's unusual. Neither the 2012 GOP field nor the 2004 Democratic one outraised incumbent presidents George W. Bush and Obama. Bernie Sanders raised an astonishing $34.5 million, which speaks to the enthusiasm on the Democratic side. Let's hope this time next year, Trump supporters are left crying in their overpriced Trump mugs.
[Politico]

Follow Stephen Robinson on Twitter.
Yr Wonkette is funded entirely by reader donations. Why yes, that means YOU! :D
Stephen Robinson
Stephen Robinson is a writer and social kibbitzer based in Portland, Oregon. He's on the board of the Portland Playhouse theater and writes for the immersive theater Cafe Nordo in Seattle. Tickets are on sale now for his latest Nordo collaboration, "Curiouser and Curiouser," an adaptation of "Alice's Adventures in Wonderland" and "Through the Looking Glass." It promises to feel like an actual evening with SER (for good or for ill).