Trump Thinks Puerto Rico Has Been Mollycoddled Enough. Wonkagenda For Thurs., Oct 12, 2017
Elections
October 12, 2017 09:31 AM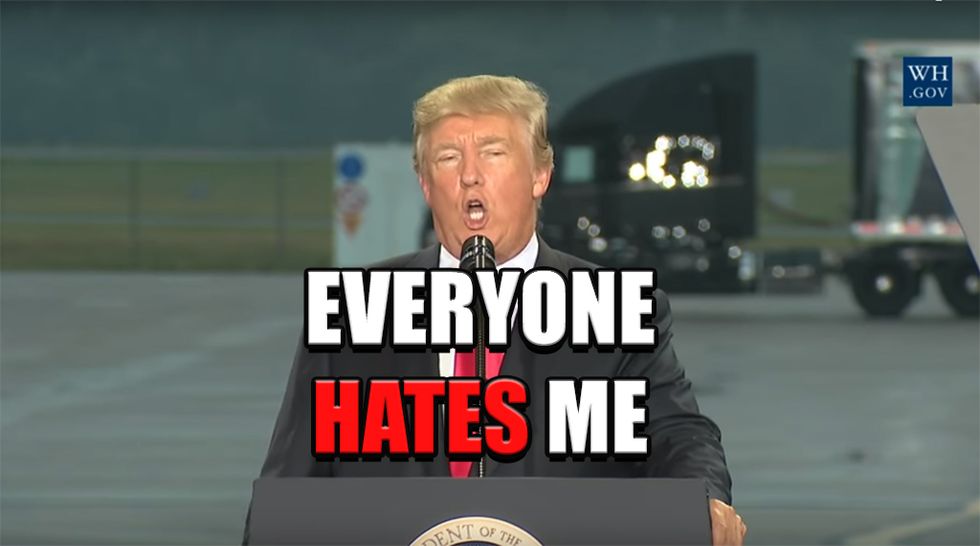 Hey, Wonketariat! We've got some newses for you today, so grab some coffee, or some booze, or pour some booze in your coffee, and take a peek at some of the things we may be talking about today.
---
Firestorms in California continue to grow as towns are evacuated, leaving 23 people dead and 285 missing, with "fires burning faster than firefighters can run." Seriously, guys, keep checking in (WE CARE A LOT!), but remember to GTFO if you're anywhere near the the flames.
Trump is threatening to pull FEMA out of Puerto Rico. That's not a joke. This is a federal government that has, through its own incompetence and inaction, allowed American citizens to die on American soil. Here's your Morning Maddow.
Mark Zuckerberg went to Puerto Rico to "tour" what was left and thought it would be a good idea to live stream the whole thing. As a cartoon. Ari Melber noticed too, and put him in his place.
Facebook CEO Sheryl Sandberg met with Congressional investigators and House members; apparently we'll see some of the Russian fuckery that was aimed are our dumb, drunk uncles, or mad Jill Stein voting bros.
Frustrated that Congress can't kill anyone, Trump is about to sign an executive order that will allow insurance markets to cannibalize themselves, spiking costs for the sick and elderly, and giving healthy people cheap, half-assed choices.
Trump wants to drag some Democrats down with his Trump Tax Cuts (For Rich People Only), so he's hurling insults and promising to shower them in gold.
Senators John McCain and Ben Cardin are PISSED that Trump skipped the deadline for implementing sanctions on Russia, and they're waiting by the phone for him to call.
Mitch McConnell wants to make it easier to ram through judicial nominees by bailing on the blue-slip rule, but the Senate Judiciary Committee is standing in his way. For now.
Trump's new best friend is Sean Hannity, now that he can't stop engaging in "shouting matches" with John Kelly, and running to "his people" on Twitter when nobody is watching him rub his naked ass all over the White House furniture.
Just 24 hours after sucking Steve Bannon's cock, Hannity sucked Trump's cock (AGAIN) during an "interview" that touched on such hard-hitting issues as Hannity's ratings, and how the Islamo-Democratic cities are ruining America with all their Messicans and black people.
Trump thinks that all the black people "want" and "need" more cops to keep them from ruining sportsball with the whole #TakeAKnee thing, and that the black communities aren't letting cops do their jobs. Aww, hell no, mother fucker!
BUT WAIT, it gets worse! Trump thinks we should subsidize states like New York, New Jersey, California, Iowa and Indiana, and deduct the taxes from those states so that politicians pay for it? Don't worry, we're confused too.
All those "gays for Trump" are full of sads now that they realize their big papa Trump has grabbed them by the pussy and moved on them like a bitch.
The 2018 vulnerable Republicans are caught between a rock and a hard place trying to woo potential Latino voters with support for dreamers, and still maintain the "Fuck Mexico" message their base loves.
Nobody in DC wants ex-con and congress critter Michael Grimm to run for office (AGAIN), and they're already throwing his crooked ass to the wolves.
The CEO of AccuWeather has been appointed to run NOAA by Trump. I wonder if the National Weather Service will start running MAGA ads?
Trump lawyers turned over some of the visitor logs from Mar-a-Lago in compliance with a FOIA request, but the federal judge is wondering how in the hell the list is ONLY two pages long.
Trump is absolutely FULL of butthurt that the LIBERAL media keeps being so mean to him that he wants to "You're Fired" their "license." Good thing broadcasting doesn't actually work like that, according to Democratic FCC commissioner Jessica Rosenworcel.
The reforming of the Iran deal is only happening after Trump "threw a fit," forcing HR McMaster to calm Trump's tits.
HEY EVERYONE! Come and see Rep. Greg Gianforte's mugshot! This is the face of a man who assaulted a reporter for asking him a question on public policy positions. And then got elected to Congress the next day. (THANKS MONTANA.)
Nobody bothered to tell homeowners around Houston's reservoirs that they bought houses in emergency flood zones, and science bozos are warning that those dams and reservoirs are at serious risk of future failure.
ISIL's crazy British lady known as the "White Widow" was apparently killed in a drone strike.
The United Kingdom is rolling up the red carpet and rolling out its middle fingers for Trump ahead of his "scaled back" visit to the UK, a signal that the Queen will be busy grouting her tiles.
East African countries are trying to build up their own textiles industry, but they're being smothered by the "clothes of dead white people."
Cambridge Analytica, the "psychographic data" company run by Steve Bannon and Trump's money honey, Robert Mercer, is being investigated by the House Permanent Select Committee on Intelligence as some believe they're hiding the smoking gun of Russian fuckery.
Advocacy groups are calling for the FCC to reinstate price caps on broadband providers; apparently they think that price-fucking small businesses is a BAD idea.
Believe it or not, the US government's cybersecurity procedures are worse than squished dog shit, and hackers are beginning to speak out about how bad it is.
An Afghan war vet with a prosthetic leg is fucking pissed that trolls are photoshopping anti-#TakeAKnee slogans on his chest and shitposting all over social media.
Rose McGowan was suspended from Twitter for calling out the board of the Weinstein Company, Ben Affleck, and everyone in Hollywood who thinks it's OK to play grab ass games. #ROSEARMY.
Watch Jake Tapper hold up a copy of his pocket Constitution and say mean words about questioning the First Amendment. OOHH, Jake Tapper, you so fancy hardbound edition! The rest of us proles have pocket constitution from the ACLU.
Don Lemon snitched on Ben Ferguson when he gave a "bullshit answer" about #TakeAKnee. Look at you, Lemon, gettin' all salty!
Here's a special penis PSA from Samantha Bee about...dicks.
And here's your late night wrap-up!Stephen Colbert looked into why we the people can say whatever the fuck we want; James Corden talked about everyone going nuclear on Trump; Jimmy Kimmeltweaked Trump tweets and had a great drunk Trump; Seth Meyers took A Closer Look at Trump's attacks on the First Amendment; Samantha Bee took a long look at the Republicans' new war on all women, some of the Russian fuckery in Finland, and delivered a BRUTAL takedown and PROMISE to come after sexual predators like Harvey Weinstein.
And here's your morning Nice Time! PEACOCK AND CHICKEN!
Help us out with your money! We're ad-free (the way it was meant to be!) but only so long as you keep donating your Ameros to pay our bills!
Dominic Gwinn
Dominic is a broke journalist in Chicago. You can find him in a dirty bar talking to weirdos, or in a gutter taking photos.