Trump To Bring Profound Misunderstanding Of Abortion Laws To State Of The Union Address
Trump
February 01, 2019 01:41 PM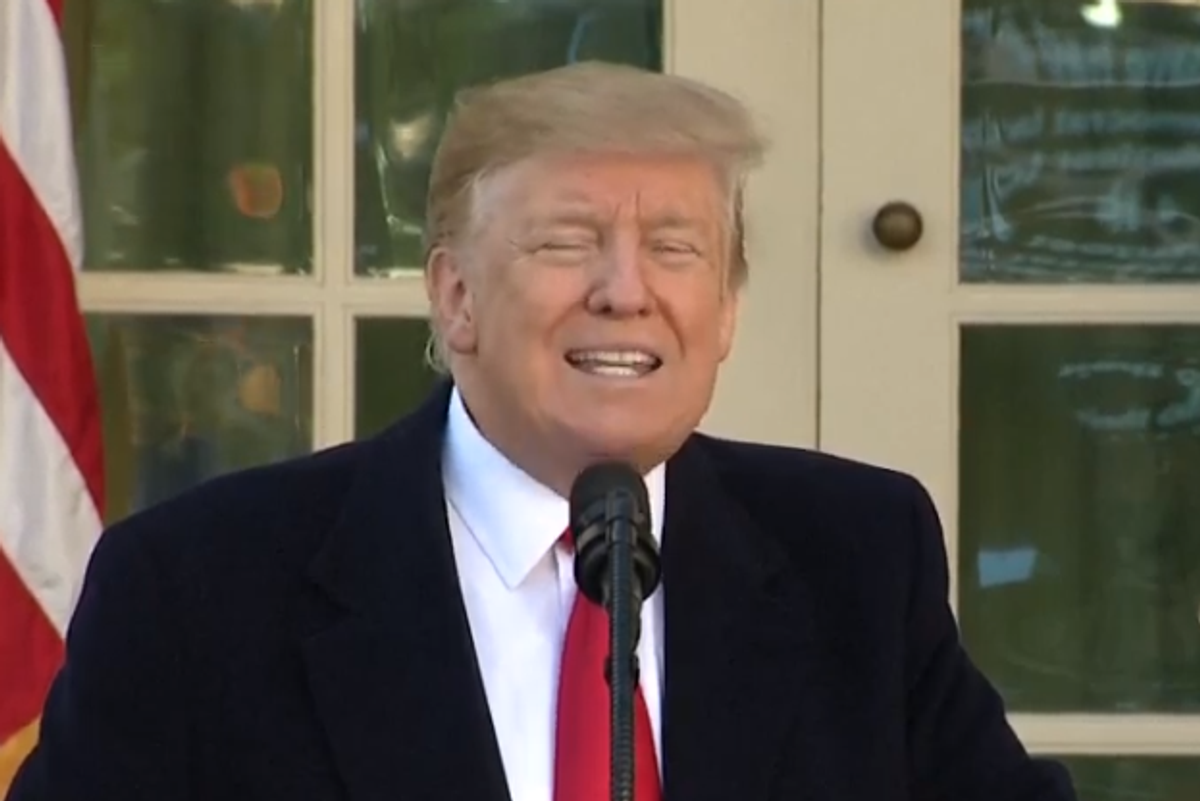 This Tuesday, Donald Trump will be giving his dumb State of the Union speech that no one cares about -- and according to Politico, he's going to be talking about abortion. Not like, actual abortion, mind you, but a kind of abortion conservatives have recently invented in which an expectant mother is having a bad day, gives birth, and then the doctor stabs a perfectly good baby in the head for no reason other than pure cruelty and blood thirst.

This is likely in response to two recent pieces of legislation in New York and Virginia that the Right has been super ginned up about the past week.
---
Last Tuesday, Governor Andrew Cuomo signed New York's Reproductive Health Act into law, which would preserve the right to abortion even if Roe v. Wade were overturned -- which it probably will be very soon, on account of the sex creep they put on the bench recently. The law removes abortion from the criminal code, allows medical professionals who are not doctors to perform abortions, and allows abortions after 24 weeks when the fetus is nonviable or the life of the mother is at stake. All of this is good!
Following that, legislators in Virginia attempted to pass their own, similar law, which was quickly rejected on account of people thinking that it meant you could just murder a perfectly good newborn as it was coming down the birth canal, for no reason other than the mother was having a bad day. Which it did not!
According to a Republican insider who spoke to Politico, "The president wants to reaffirm his commitment to pro-life things," which should go over well considering he has no idea what the fuck he is even talking about. Supposedly, he wants to sex up the evangelical voters by showing them just how excited he is about forcing women to give birth to dead babies, for Jesus.
In an interview with The Daily Caller, Trump demonstrated how very little he understands about any of this:
THE DAILY CALLER: Another thing, sir, Virginia Gov. [Ralph] Northam actually right before this, suggested a mother who wants to have an abortion while in labor should instead be allowed to let her baby die after delivery if that's her choice. Do you think that would be infanticide?

POTUS: I watched that this morning. I watched the person testifying and I felt it was terrible.

THE DAILY CALLER: The Virginia delegate?

POTUS: Yes. Do you remember during the debate I said Hillary Clinton was willing to rip the baby out of the womb just prior to birth? And I used the term 'rip'? That's what it is. That's what they're doing, it's terrible.

THE DAILY CALLER: Do you think this is an embrace by the Democrats of this type of abortion agenda?

POTUS: I think this is going to lift up the whole pro-life movement like maybe it's never been lifted before. And the pro-life movement is very much a 50-50, it's a very 50-50 issue. Actually it's gained a point or two over the years, but it's been very much 49-51 and vice-versa. I think this really will lift up the issue because people have never thought of it in those terms. Cause she actually said, you know, the day of, virtually the day of birth.

THE DAILY CALLER: Northam suggested that today too.

POTUS: Oh did he? So he confirmed that?

THE DAILY CALLER: And he's a pediatric neurosurgeon.

POTUS: I'm surprised that he did that. I've met him a number of times. I'm surprised that he said that. I saw the woman do it — who ever that was, was that the attorney general?

THE DAILY CALLER: She's a delegate. Kathy Tran, a delegate in Virginia.

POTUS: So I was very, very surprised that they would say that and allow that.
Now, I will be the first to say that I do not think Kathy Tran did a very good job of explaining what the "mental health" of the mother part of the legislation referred to -- and she also didn't explain that this was already the law in the state, and would be, whether her measure was passed or not. The "mental health" aspect refers to the mental toll it would take on a woman to go through labor and "give birth" to a nonviable infant that cannot survive birth. This is routinely ignored because Republicans are eager to present women as inherently cruel, as it justifies the "need" for a patriarchal society.
I don't blame her though, because I think a lot of people just don't understand how stupid and disingenuous Republicans actually are, how they act in bad faith, how likely they are to turn anything into a game of telephone. If people actually understood why these procedures are necessary in the first place, they'd have a much harder time trying to paint such incredibly difficult personal decisions as "infanticide." That being said, we need to be smart enough to assume bad faith interpretations of anything we say are going to be used as ammo, and that there are a whole lot of people out there who will buy those bad faith interpretations as the truth. This is no time to mince words.

Trump has no idea what he's talking about, and he's going to get up there on Tuesday and tell a bunch of people a bunch of lies, and many people are going to believe those lies because they want them to be true.
[Politico]
Robyn Pennacchia
Robyn Pennacchia is a brilliant, fabulously talented and visually stunning angel of a human being, who shrugged off what she is pretty sure would have been a Tony Award-winning career in musical theater in order to write about stuff on the internet. Follow her on Twitter at @RobynElyse