Trump To Practice Presidential Pardons. Wonkagenda For Tues., Nov. 21, 2017
Elections
November 21, 2017 09:16 AM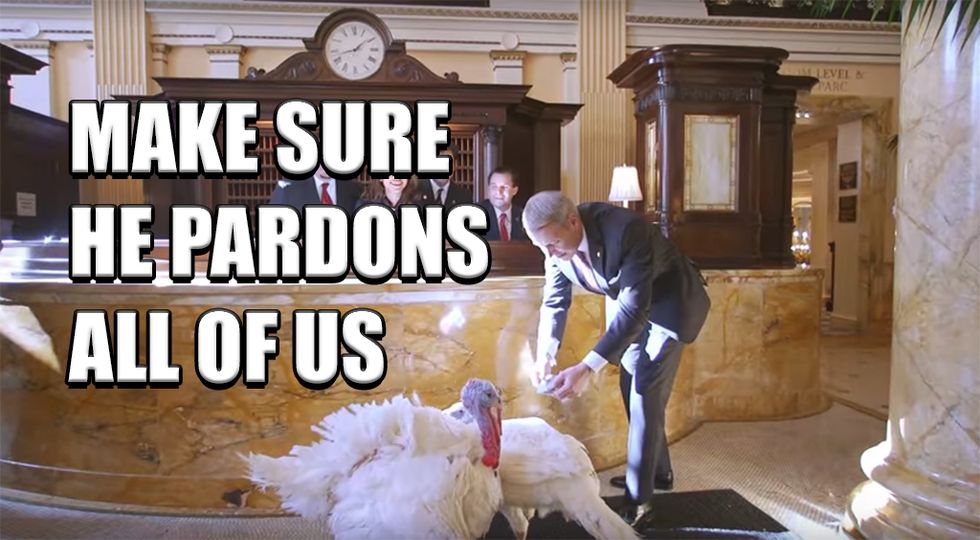 Morning Wonketariat! Here's some of the things we may be talking about today, but first here's some happy hippos being silly and derpy.
---
Veteran broadcaster
Charlie Rose is being accused of sexual misconduct by eight different women
with remarkably similar stories that include grab-ass, pervy phone calls, and indecent exposure. Rose's show was immediately suspended by PBS and Bloomberg, and CBS suspended him from its Sunday morning show.
In 2015, the longest-serving member of the House, Michigan Rep. John Conyers, settled a wrongful dismissal complaint with a former staffer who alleges she was fired for not going along with his sexual advances, allegations further corroborated by multiple female staffers who detail even worse situations.
The New York Times has suspended White House correspondent Glenn Thrush after three women came forward to accuse him of unwanted sexual advances towards younger colleagues (while drunk, apparently, which is a shitty excuse).
After being sued for its persistent culture of grab-ass, resulting in the loss of many millions of Ameros, Fox News will create a council to write and publish reports about its attempts to cover upclean up its persistent culture of grab-ass.
Robert Mueller is asking for a special hearing regarding Paul Manafort and his business partner Rick Gates, as Gates is currently being prosecuted for fraud in New York, but COULD become a witness for Mueller's Trump-Russia investigation.
Later today, Trump's big telecom stooge and FCC Chairman, Ajit Pai, plans to reveal its plans to kill net neutrality, a move that would undoubtedly reshape how EVERYONE accesses information by removing rules established under the Obama administration to treat all internet traffic equally.
Congress is deathly terrified of its base ahead of the budget showdown as Democrats are increasingly pushing DACA down the throats of Republicans.
Trump's Justice Department wants to block the merger between AT&T and Time-Warner, not because it runs the risk of becoming a major media monopoly, but because CNN hurt his feefees.
Janet Yellen has announced she's stepping down from the Fed's board in February instead of when her term ends in 2024. Now where can we find someone with five bankruptcies to run the Fed?
A US District Court judge has effectively shut down Trump's voter fraud commission for the rest of the year on account of its inability to follow federal rules on meetings -- and that's besides the child porn arrest, voter roll fuckery, and lawsuits.
The Inspector General's report on the results of Trump's Muslim bantravel restrictions on ethnic minorities is being buried by DHS, according to congressional legislators and the Inspector General, because it ALLEGEDLY shows how and why shocked and confused Customs and Border Protection agents reacted so aggressively to Not Americans.
Jeff Sessions's Justice Department is investigating Harvard University's admission practices, accusing it of a failure to cooperate and discrimi-hating against Asian-American students. [Archive]
Staffers inside the Interior Department can't stand dealing with Ryan Zinke's wife, as she repeatedly makes staffers book her on flights with her husband at the last minute, personally pick town hall invitees, and other obnoxious crap. They're one happily grifty couple.
People are sounding big fucking alarm bells about Trump's pick to run the Census Bureau because he wrote a book in 2008 called "Redistricting and Representation: Why Competitive Elections Are Bad for America." Yes, you CAN judge some books by their covers.
This Thursday Puerto Ricans will be thankful just to see what they're eating after Whitefish energy stopped working to restore power, with Whitefish CEO Andy Techmanski saying his company hadn't been paid, adding that Whitefish wasn't being "greedy," and that their "middle of the pack" pricing that some workers being paid the company charged up to $240 an hour (plus overtime) was exaggerated by "non-factual news."
The Trump administration is telling Haitians to fuck off back to Not America by ending their Temporary Protected Status. Apparently sending people back to conflict and cholera-ridden disaster areas is what makes America great.
Provided Orrin Hatch actually retires, Mitt Romney just cleared the field of potential contenders for his almost inevitable 2018 Senate run. It's best not to rub Mittens the wrong way.
The city of Chicago wants to sue US Steel for two toxic spills in northwest Indiana.
Russian President Vladimir Putin will reportedly call Donald Trump later today, now that he's finished his meeting with Syrian dictator Bashar al-Assad in a fabulous ski resort. It's been reported that the two talked about all the great progress they've made in murderingprotesters,journalists,Kurdish freedom fighters, "terrorists."
As the negotiations to form a coalition majority government in Germany collapsed yesterday, there are calls for new elections, leading the deputy head of Der Spiegel's Berlin bureau to remark, "This is Germany's Brexit moment, its Trump moment."
Donald Trump Jr. (DJTJ) has been cut off from his daddy's campaign, now DJTJ will have to start footing his own legal bills. Poor baby.
Trump is closing his charity, which is kind of funny considering it was finally just starting to make money. Maybe he needs the cash for his legal bills?
Fox News's Saturday night scream queen, Jeanine Pirro, was pulled over for doing 119 MPH in upstate New York. Pirro could see her driver's license suspended.
Trump will pardon some turkeys today, but there's no word on whether or not Paul Manafort and Mike Flynn will be in attendance.
Nice time! The wonderful Rev. William Barber II will head to the Vatican to have Thanksgiving dinner with Pope Francis where they'll talk about feeding all the wretched, and the poors, and the wretched poors.
And here's your late night wrap-up! Stephen Colbert had some talky time with Sen. Elizabeth Warren; James Cordendoesn't think Trump should be threatening anyone with jail; Seth Meyers took A Closer Look at who isn't kissing Trump's ring; The Daily Show can't believe even the Keystone XL is exposing itself; Jordan Klepper wants you to be that drunk uncle this holiday season.
And here's your morning Nice Time! Kangaroo Joey belly rubs!
Did you know that the best way to show how thankful you are is to give us money? It's True!
Follow Dominic on Twitter and send him pics of your rare puppers and kitties!
Dominic Gwinn
Dominic is a broke journalist in Chicago. You can find him in a dirty bar talking to weirdos, or in a gutter taking photos.