Trump Tries To Hide ANOTHER Putin Meeting. Wonkagenda For Wed., July 19, 2017
Elections
July 19, 2017 09:14 AM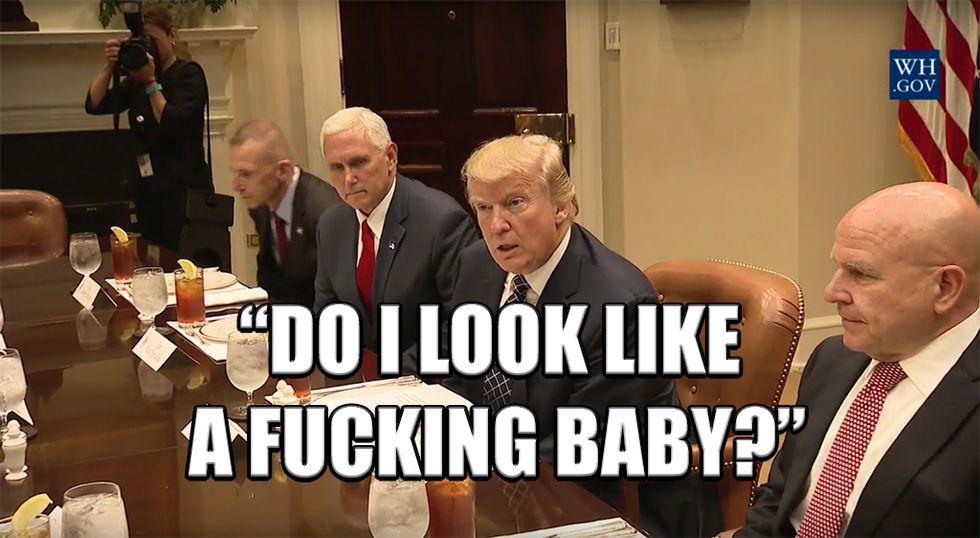 Morning Wonketariat! Here's some of the things we may be talking about today.
---
During the G20, Putin and Trump had private one-on-one snoggings for over an hour during a dinner with the other 18 member nations. I wonder what they talked about...for an hour...in private...with only a Russian translator. [Morning Maddow]
Mitch McConnell will still hold a vote to repeal Obamacare/the ACA next week even though it's expected to fail miserably.
Trump says he's willing to let insurance markets collapse to teach Democrats a lesson. Personally, we're not sure what that lesson is.
California Republican Rep. Dana Rohrabacher was given secret documents by Moscow officials and attempted to scuttle the Magnitsky Act. That's a hell of a story right there, you go read now.
The new GOP budget plan wants to reform "civil service pensions to put them on a better fiscal path," which is just legalese for "fuck you, your pension, and your retirement benefits."
A casino consultant tapped to work in the State Department's J-Bureau is listed as on leave by his former/current firm. It's not a conflict of interest, stop saying it's a conflict of interest!
A court has ruled that Trump's voter commission can start today as long as it's streamed online. It sounds like a hot ticket too as the cast of characters includes a bevy of anti-immigrant nutjobs and genuine morans.
Trump's White House wants a corporate tax rate of 20 to 25 percent, and they're quietly leaking out Trump's trickle down policies.
Behind the scenes, Princess Ivanka is working with international institutions, like the IMF and World Bank, to keep pulling the levers of soft power.
Trump's golf course in LA is doing REALLY badly as Los Angelenos don't want to be seen anywhere near Trump's trash palace.
Trump has four new hotels set to open in Mississippi and while they won't carry his name, they'll be founded on sketchy business ties and full of gaudy crap they're calling "flea-market chic."
Mark Zuckerberg was denied a meeting with the top climate researcher at Glacier National Park by the Interior Department, but he was cleared to meet with their mascot, Gracie the "bark ranger."
Trump's White House has nominated Jon Huntsman as the Russian ambassador, after getting his name wrong in the official press release.
Trump finds Afghanistan "hard," but the good news is that it looks like Mattis has scrapped Erik Prince's plans.
A group of moms in Baltimore are calling for a 72-hour ceasefire by walking into open-air drug markets and directly confronting dealers.
Disgraced former Republican Governor of Alabama Robert Bentley thinks he was their best governor ever, and he would have gotten so much done if people weren't so concerned about his sex times, his sexting, his sexy voicemails, and the sex money.
A BYU professor was ALLEGEDLY "You're Fired" for her refusal to delete a post about how she thinks God is cool with gay and trans people on her private Facebook page. Leave it to the LDS to condem someone to -- hello!
Several female robotics teams had problems getting visas, but that Afghani girls team stole the spotlight from all the other robots, even if they didn't finish in the top three.
A British advertising regulator has issued new rules to ban ads with gender stereotypes, that objectify women, or that promote unhealthy body images. First they ruin science fiction and robots, now they're coming for our sexually explicit advertising!
A South Korean human rights group wants to start looking for North Korean mass graves by using defectors and Interwebs, even if it seems like nobody cares. :(
Chris Cillizza held a disastrous Reddit AMA yesterday and redditors called him out for being a genuine piece of shit without ethics.
Tucker Carlson is hot on the trail of America's latest threat to Democracy: gypsies. They're pooping in the streets and kidnapping babby!
The NRA has a new video trashing the Washington Post and other media outlets as "violent," which is a little ironic as it comes across as a veiled death threat to reporters.
Former Republican Speaker, convicted fraudster, and pederast Dennis Hastert was released from prison early.
Yesterday, Fox's John Roberts bailed out in the middle of another off-camera press briefing and told Sarah Huckabee Sanders to fuck off when she tried to make a joke at his expense.
Breitbart's White House Reporter is actually taking his job seriously and asking legit policy questions during press briefings. Of course, this wouldn't even be a story if it weren't Breitbart.
Chris Christie tried dancing around Nicolle Wallace on teevee, but he carries so much baggage for Trump that it looked like the Truffle Shuffle.
Donald Trump Jr. is reportedly "miserable" and is just waiting out the next four years, or for his father to be impeached, whichever comes first.
GOOD NEWS, EVERYONE! Here's a heckin' good doggo who saved a deer from drowning off Long Island this past weekend.
And here's your late night wrap-up! The Daily Showwrapped up the life and death of zombie TrumpCare; Seth Meyers had talkytime with New York AG Eric Schneiderman about suing Trump; Stephen Colbert had Keegan-Michael Key bring Obama's anger translator out of retirement.
And here's your morning Nice Time! Lion cubs!
Hey, everyone! We need you (yes you!) to donate so we can keep giving you all the things! ALL THE THINGS!
Dominic Gwinn
Dominic is a broke journalist in Chicago. You can find him in a dirty bar talking to weirdos, or in a gutter taking photos.