Don't Look Now, But President Baby-Shits Is HAVING A GODDAMN CONNIPTION
Russia
August 01, 2018 12:55 PM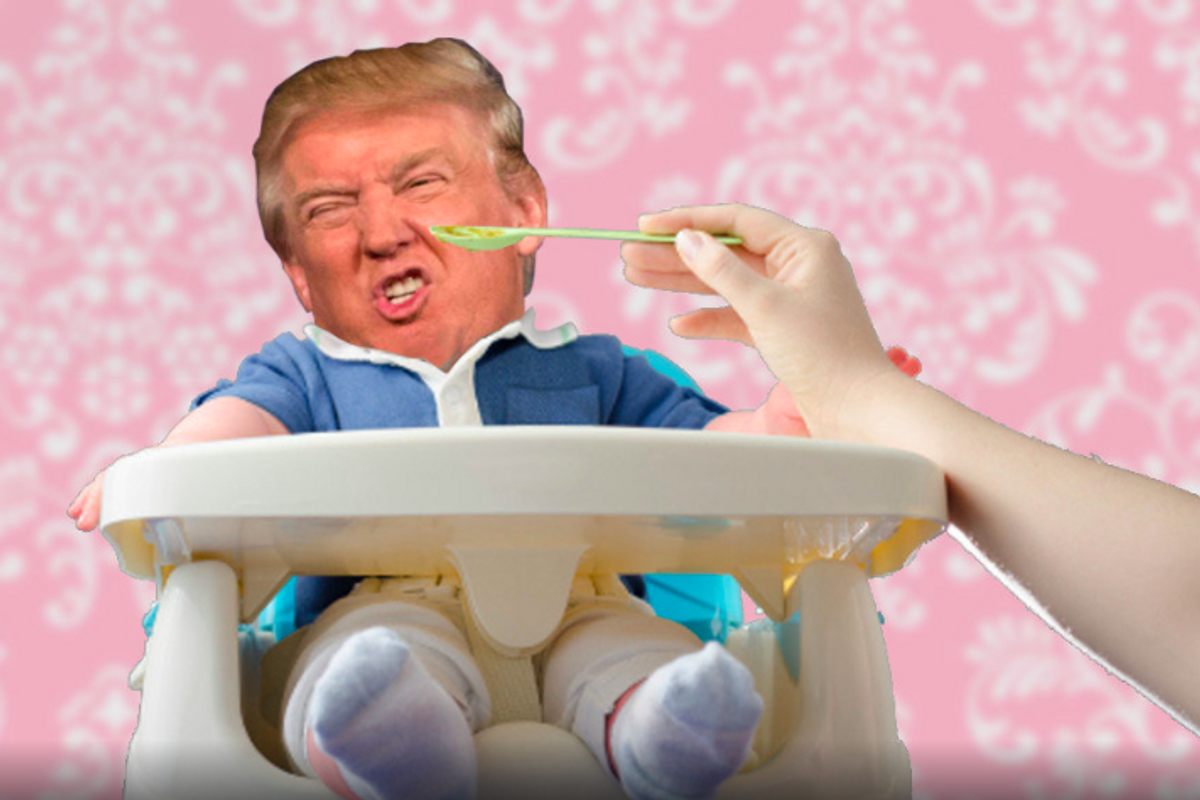 Wow! Just wow! Usually we don't focus too hard on President Idiot Mouth and his little Twitter Tantrums, except for on Monday mornings, when he's had a particularly batshit Sunday of tweeting the same 100 words over and over, because he only knows 100 English words (allegedly, but we dare you to prove otherwise, sir). But President Orange-Face McShitLoser is LOSING HIS ORANGE SHIT right now, in the middle of a Wednesday, and we don't know why!
Is something big about to drop? Maybe smoking gun evidence that Donald Trump was definitely in on the Russian conspiracy to defraud the United States by stealing the election for Donald Trump? Somebody got evidence that Trump was for sure told about his son's treason meeting with the Russians? Is it part of the conspiracy we don't even know about yet?
Is he just losing it because his campaign manager Paul Manafort is currently on trial, and shit is going hilariously badly?
What is it, Mister Stink Poots? Whatchu makin' Stinky Poots about?
AND ARE YOU PLANNING ON GOING TO WORK AT ANY POINT TODAY, OR IS THIS JUST ANOTHER "TRUMP PERSONAL DAY," LIKE MOST OF YOUR OTHER DAYS?
---
Here's where it started:
"FBI Agent Peter Strzok (on the Mueller team) should have recused himself on day one. He was out to STOP THE ELECTI… https://t.co/uAzDpT2o5o

— Donald J. Trump (@Donald J. Trump) 1533128588.0
.....remain in the FBI while he himself was being investigated. This is a real issue. It won't go into a Mueller Re… https://t.co/6PVaj5H5MB

— Donald J. Trump (@Donald J. Trump) 1533129324.0
Oh thank you, Alan Dershowitz, for telling the president you believe in his dumbfucking conspiracy theories about Peter Strzok, who by all reasonable accounts, including his own testimony to the GOP mental wizards who lead the House Judiciary and Oversight committees, is one of the finest FBI agents we have. But DON'T SAY ALAN DERSHOWITZ IS A DEFENDER OF THE PRESIDENT, IT MAKES HIM ANGRY IN HIS NAKED PARTS!
Next:
..This is a terrible situation and Attorney General Jeff Sessions should stop this Rigged Witch Hunt right now, bef… https://t.co/dI69iTTQOS

— Donald J. Trump (@Donald J. Trump) 1533129843.0
O RLY? First of all, nobody knows when the "13 Angry Democrats" became "17 Angry Democrats." We can only presume they've been having babies INSIDE THE PRESIDENT'S BRAIN.
But did Trump really just order his (recused) attorney general, Jeff Sessions, to kill the investigation in a tweet? Right now when we know special counsel Robert Mueller is literally analyzing Trump's tweets to help determine his intent to obstruct justice in the Russia investigation, particularly focused on his tweets directed at Jeff Sessions? Yes, he did! Hey, Mueller! We got you some evidence tied up with a bow, with cream and sugar on top! YOUR FAVORITE!
Will Jeff Sessions do anything about this? Will he un-recuse himself and do what the president says? Or will he just assume the baby has gas and go back to ripping Mexican babies apart with his bare teeth, or whatever it is he does all day? Guess we'll find out!
Next:
Paul Manafort worked for Ronald Reagan, Bob Dole and many other highly prominent and respected political leaders. H… https://t.co/9om7OoFhfP

— Donald J. Trump (@Donald J. Trump) 1533130443.0
Paul Manafort is wonderful! I never met Paul Manafort! The government should have told me he was bad! NO COLLUSION! FAKE!
Next:
Russian Collusion with the Trump Campaign, one of the most successful in history, is a TOTAL HOAX. The Democrats pa… https://t.co/BAyz1DuKKq

— Donald J. Trump (@Donald J. Trump) 1533132113.0
Hahahahahahahahahahahaha, OK, this one is just too stupid to make jokes about. What can you possibly say about this fact-free tweet, which he has sent approximately 5,000 times in his stupid, sad life?
The next tweet we cannot link to directly, because it has been deleted for Dumbass McSpellsBad purposes. But it is very fucking awesome and we took a picture of it: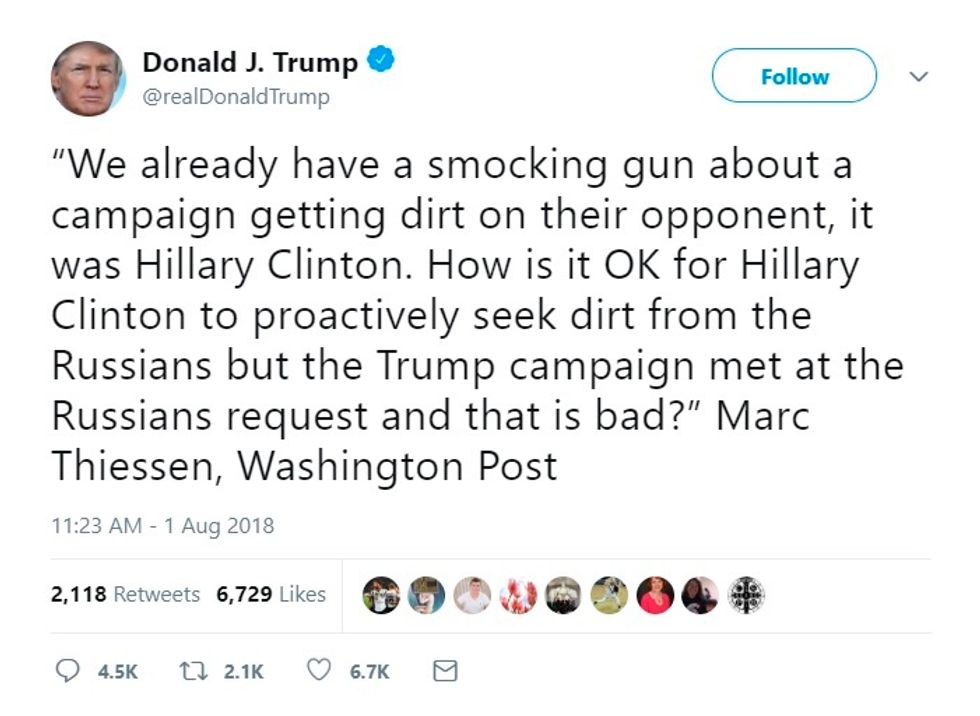 WE HAVE THE SMOCKING GUN! WE USE IT TO MAKE PRETTY JON MCNAUGHTON ART! IT IS A 3-D PRINTED SMOCKING GUN!
Anyway, pretty sure he also admitted to conspiracy to defraud the United States with Russia in that tweet, but when is he not doing that?
No, we're still not done:
Looking back on history, who was treated worse, Alfonse Capone, legendary mob boss, killer and "Public Enemy Number… https://t.co/oJProVNYVj

— Donald J. Trump (@Donald J. Trump) 1533137747.0
Mob analogies, Don Trump? Is that what you're really going for here? Because we're pretty sure the people doing the WITCH HUNT are investigating this like a mob investigation, because of what kind of low-class New York criminals they're dealing with here.
Also, Manafort is not serving, he is currently ON TRIAL, and he's in the nicest fucking solitary ever. He mighta not been put in jail before his trial, if he hadn't been blatantly tampering with witnesses. DOH, MORE MOBSTER BEHAVIOR, WHATCHA GONNA DO?
So right now, that's where we are! Dingleshits McOld replaced the SMOCKING GUN tweet with a more correctly spelled one, but he didn't delete the confession, because he's an absolute moron.
Will he send more tweets today? Bet your fuckin' ass! Will he obstruct more justice? It's the least he can do!
Will that lazy-ass ever go to work? Hahahahahahaha, let's not get too crazy with our wild speculating.
Guess we'll just have to wait 'n' see!
Follow Evan Hurst on Twitter RIGHT NOW, DO IT RIGHT NOW!

Help Wonkette LIVE FOREVER! Seriously, if you can, please help, by making a donation of MONEY.
Evan Hurst
Evan Hurst is the managing editor of Wonkette, which means he is the boss of you, unless you are Rebecca, who is boss of him. His dog Lula is judging you right now.
Follow him on Twitter RIGHT HERE.