Trump Was ALLEGEDLY Banging Porn Star While Wife Was Pregnant. Allegedly.
Media/Entertainment
January 13, 2018 02:34 PM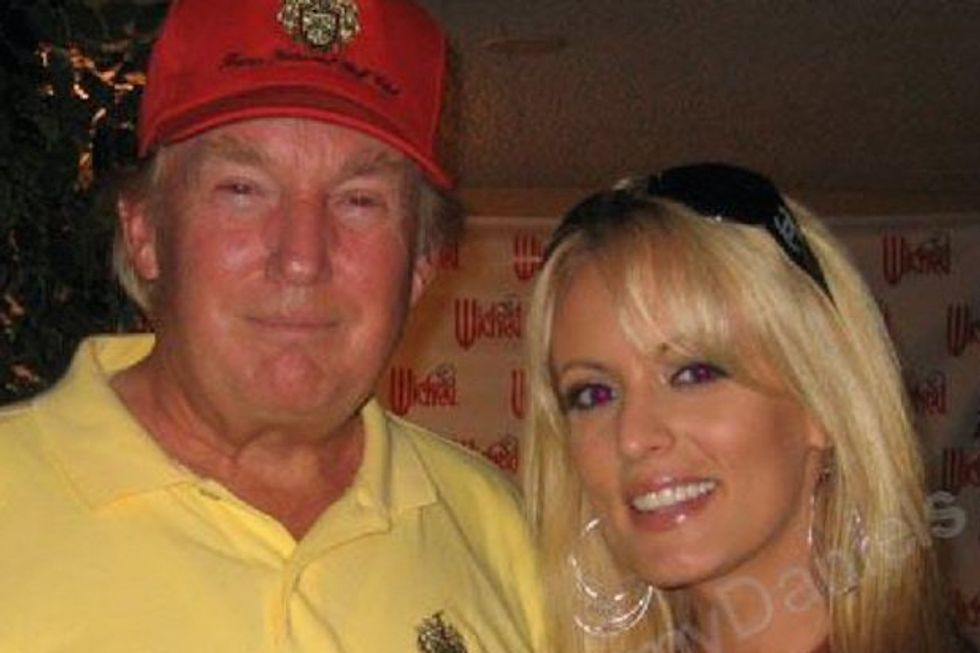 Photo by the liberal liars at the WSJ.
---
The WSJ reported yesterday that just before the election Trump's lawyer Michael Cohen paid a former porn star $130,000 not to talk about about an ALLEGED sex-capade back in 2006. Later, the Daily Beast dumped some more fuel on the ever-raging Trumpster fire, revealing that Daniels had been talking to them and several other media outlets about the story in October of 2016, but suddenly backed out.
According to the reports, Trump met Stormy Daniels, real name Stephanie Clifford, at a celebrity golf tournament at Lake Tahoe in July of 2006. Daniels was there posing for pictures and shilling merch for a porn company with her friend and fellow porn star, Alana Evans. At the time, Daniels was a well known porn star, so of course Trump knew exactly who she was, posed for a photo, and invited her to his no-pants party.
Later in the evening, Daniels allegedly called Evans and tried to convince her to come a party in Trump's room, but was skeeved out when she heard Trump begging, "Oh come on Alana, let's have some fun! Let's have some fun!" Evans says that she and Daniels met up the next day where Daniels dished a little too much dirt.
She tells me, 'All I'm going to say is: I ended up with Donald in his hotel room. Picture him chasing me around his hotel room in his tighty-whities...'
Trump supposedly promised Daniels a key to some fancy Florida condo and a spot on The Apprentice, and she began appearing with Trump at random Trump-branded events, like the launch of Trump Vodka and the Miss USA pageant. Daniels ex-husband says that Trump used to call her up a lot, saying "it would be surprising, but not shocking" if Daniels was banging President Puss-grab. Gross.
Cohen and Daniels deny that she was paid "hush money" over her ALLEGED "sexual and/or romantic affair." Cohen says that it's all just some rumor, like the time National Enquirer paid former Playboy model Karen McDougal $150,000 for a story about banging Trump from 2006 to 2007. Or that time another porn star, Jessica Drake, claimed Trump offered her for $10,000 to play with his little apprentice in 2006.
This wouldn't be the first time Trump has fucked around on his wife. He was famously banging his second wife while he was still married to his first, and he used to call up tabloids under fake names to brag about who he may or may not be currently screwing just to get people to pay attention to him.
If true, all these affairs would have taken place shortly after he married Melon Trump, and cocktail napkin math says that she would have been pregnant with their son, Barron, at the time. What a winner.
Trump's White House isn't talking about Trump ALLEGEDLY trying to screw models and porn stars (AGAIN), they're currently far too busy drowning in a sea "shithole countries" demanding apologies for being called "shithole countries." Trump did, however, take a moment to jump on Twitter this morning to shitpost about Democrats, Mexicans, and remind us that, when you're famous, you can do anything, like grab'em by the pussy.
[WSJ / WSJ Archive / Daily Beast]
We're ad-free and supported by readers like you who LOVE our educational 'splainerings and newses. Throw money money at us we stay that way!
Dominic Gwinn
Dominic is a broke journalist in Chicago. You can find him in a dirty bar talking to weirdos, or in a gutter taking photos.