Trump Will Be A Great Wartime President! The Best! Wonkagenda For Fri., March 17, 2017
Guns
March 17, 2017 09:47 AM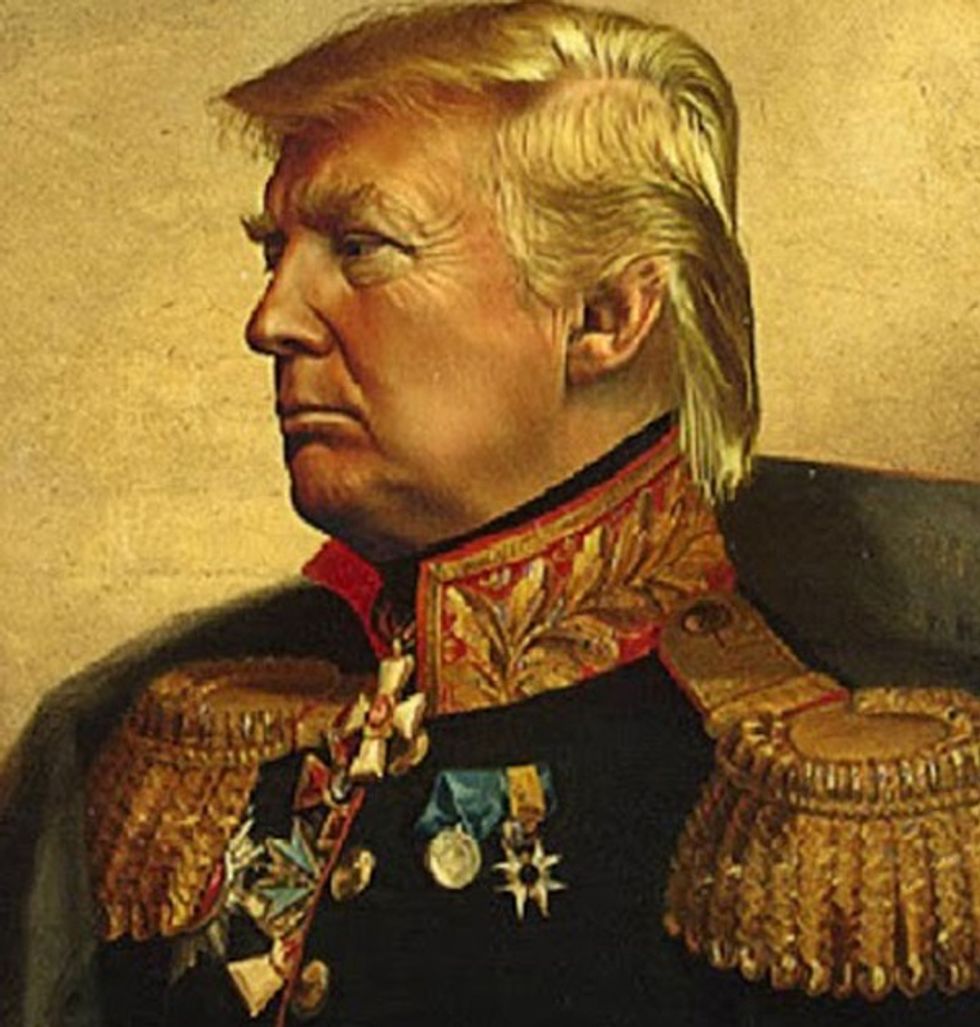 Morning Wonketariat! Here's some of the things we may be talking about today.
---
Trump's budget is almost as toxic as the water in Flint and everyone in Congress (except Paul Ryan) is sending back their shit sandwiches.

Trump is not backing down from his wiretap nonsense, and that has Sean Spicer just SO MAD at reporters (again) for taking Trump's wiretapping accusations literally!

It's not just the gotcha LIBERAL media that's taking Trump & Co. to the shed for a good paddlin', the GOP is starting to back away, and even the British are complaining that it's all codswallop.

After spending the last two months avoiding reporters, Rex Tillerson FINALLY emerged from hiding to suggest we're going to war with North Korea if they don't stop their nuclear program. Just tell yourself it's a negotiating tactic while you duck and cover.

LOL Paul Ryan made a slick and spooky video of teevee people freaking out over Obamacare in sentence fragments, and it's almost scary as all the blood that will be spilled if TrumpCare/RyanCare is enacted.

The Freedom Caucus is getting in bed with President Bannon on healthcare, and that's not surprising since they're both batshit insane.

Mike Flynn was paid by Russia and some Russian businesses to lobby the U.S. government while he was getting national security briefings, so that's neat. [MORNING MADDOW!] [Archive]

The FAA is looking at 30,000 cuts under Trump's budget, but Trump will probably still get his own airport, just like Reagan.

Paul Ryan will probably raise the debt ceiling, but only if he can find a way to fuck with all the poor people.

Republican Congressmen Jared Polis and Tom McClintock crossed party lines to protect their states' hippy mary-jane funtime businesses from Jeff Sessions's Justice Department.

A former Texas Tea Party crazy is being accused of laundering $350,000 out of a shady Las Vegas non-profit.

Once upon a time, Sean Hannity pulled a gun on Juan Williams on-set, but it's cool because even though he aimed a firearm with the red-dot sight on, it wasn't loaded, Hannity has a karate sensei, and Fox's brass and H.R. department said everything was just dandy.

WAIT THERE'S MORE! Hannity also thinks that Obama is in Hawaii doing the "blow" and "weed" with federal judges and conspiring against Trump. He's probably just jealous that he wasn't invited.

Chelsea Clinton has written a kids book of feminist propaganda called "She Persisted"; it will indoctrinate kids with stories of women who broke glass ceilings and kicked the patriarchy in the dickhole.

Here's your Late Night Wrap-Up! Trevor Noah saysNOBODY notices the alien hair of the alt-right; Jimmy Kimmel had the best Drunk Donald Trump, and then imagined Big Bird's reaction to being "You're Fired"; Seth Meyers took A Closer Look at how bad Trump's budget is.

And here's your morning Nice Time! Otters being EXTRA adorable in the snow!
Wonkette is reader supported. You're a reader. Support us!
Dominic Gwinn
Dominic is a broke journalist in Chicago. You can find him in a dirty bar talking to weirdos, or in a gutter taking photos.