Trump Wishes He Had A Doomsday Machine. Wonkagenda For Thurs., Aug. 10, 2017
Elections
August 10, 2017 09:15 AM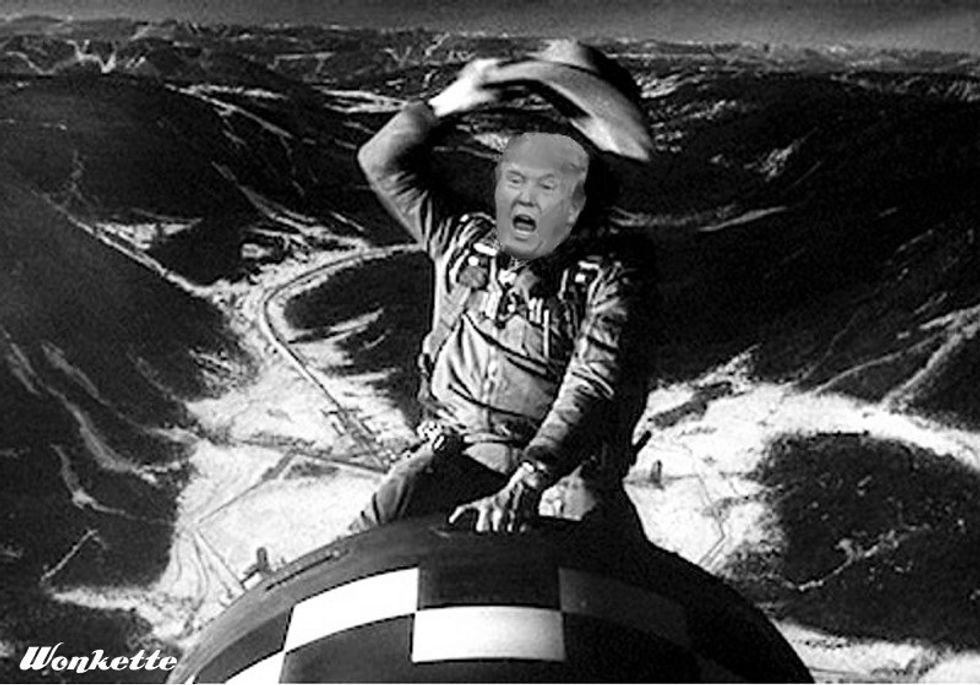 He wishes.
---
Well hell there, Wonketariat! We're still alive, so that means Trump didn't accidentally start WW III while trying to stave off his meat sweats with a diet cola. Until that happens, here's some of the things may be talking about today!
Nuclear weapons and policy experts are confident Trump doesn't understand anything about the US nuclear arsenal, with one official stating, "It's absurd; this is like -- you have to be the biggest hayseed in America to believe this."
ICYMI: Trump's been able to shove a bunch of judicial appointments through the Senate while you weren't looking, and that could have some serious consequences for the outcome of the Trump-Russia investigation. [Morning Maddow]
Billionaire Tom Barrack is apparently in talks to be ambassador to Mexico where, after selling off all his assets, he'll be forced to apologize every time Trump talks about the Tortilla Curtain.
UN Ambassador Nikki Haley lost her Chief of Staff and comms director today after they resigned for "family concerns," amid mounting nuclear tensions between the US and North Korea. That just means there's more room in the fallout shelter.
Five transgender service members are suing Trump and some Pentagon brass to be allowed to continue to serve in the US military. For its part, The Pentagon remains torn between listening to a disgruntled old man, and allowing all US soldiers to be all they can be.
The Secret Service is spending $13,500 to rent golf carts at Trump's New Jersey trash palace, bringing their golf cart grand total to $59,585 this year. SO. MUCH. WINNING.
A federal judge has allowed an appeal on a lawsuit alleging violence at a Trump rally in Louisville back in 2016, stalling the suit. It wasn't encouraging aggravated assault and battery, it was just premature ejection.
Looks like James O'Keefe shot himself in the dick again as the League of Conservation Voters have asked California's attorney general to open a criminal investigation into potential fraud, racketeering, unfair business practices, trespassing, invasion of privacy, and eavesedropping. LOLOLOLOLOLOL
Nevada Senator Dean Heller face a primary challenge for the Senate from Trumpkin, Danny Tarkanian, after Heller decided not to kill all his constituents by saying he wouldn't vote for repeal and replace. He went ahead and voted for "skinny repeal," but sorry, not rightwing enough.
President Bannon's money honey Robert Mercer just dumped a bunch of money on Kelli Ward (again) for her primary challenge against Jeff Flake. It was really only a matter of time now that Flake is running around and trashing Trump to anyone who will listen.
Massachusetts Rep. Niki Tsongas announced her retirement and now about half a dozen people are smashing their piggy banks as they scramble to cobble together support ahead of 2018.
Prince Kushner lobbied against Obamacare repeal because he and his brother had a lot of money invested in a discount insurance company, not because he actually gives a damn about poor people.
A kid in California compiled a 112-page document that cites over 300 violations of existing net neutrality rules perpetrated by Verizon and submitted it to the FCC, making it the ONLY legal complaint submitted to the FCC under net neutrality regulations. As usual, the FCC declined to comment.
A US District Court Judge has ruled that the State Department needs to look for MORE evidence of Killary's Benghazi murder mail, but seeing as how State is so understaffed you really have to wonder which intern will be torn between fluffing Rexxon's pillows and looking digging through emails (...Again...).
The FBI raided California Rep. Duncan Hunter's office over a continued criminal investigation into the misuse of tens of thousands of Ameros on camping gear, groceries, international vacations, and personal pampering.
An analysis of Wisconsin's Foxconn projects the state will lose a lot of money and natural resources if it builds a new TV factory, and that's if all 13,000 employees work full-time for less than $15 an hour. At least they'll be able to watch the end of the world in 1080p.
West Virginia's turncoat coal-loving governor Jim Justice says Trump is "really interested" in his "complicated" plan to make a "temporary security blanket" of more coal mines in Appalachia. Nothing says "warm, and cozy" like soot, ash, and a black lung disease.
WalMart says it's super sorry for a gun display with the sign that said, "Own the school year like a hero." There's no joke here, it's just wrong, and incredibly stupid.
Somebody set up one of those YUGE inflatable Trump chickens by the White House. It's a good thing Fox News was on the air when it was going up, too.
Virginia's Lt. Gov. race has revived vaginal ultrasounds after Democrat Justin Fairfax pointed out that Republican State Sen. Jill Holtzman Vogel had sponsored a 2012 antiabortion bill that would have slut-shammed all you hussies into seeing inside your own va-jay-jay's.
A Russian spy plane buzzed The Mall in an apparently attempt to troll US officials. I guess nobody told them that Trump is making his new peepee tapes in New Jersey this month.
US diplomats were injured in an "incident," so we expelled two Cuban diplomats in response. We wish we could tell you a little more about why US personnel were injured, but the State Department seems to be just a shockingly clueless. [Morning Maddow]
"Alt-right" whack-jobs have begun a boycott of Google and a number of other Internet and social media platforms and are threatening to expose "liberal bias" in Silicon Valley because Google fired a dude for his He Man Woman Hater's Club memo.
Jason Miller and AJ Delgado have a love child, which is all kinds of EEWWWWWWWWWW, and Miller is also (ALLEGEDLY) a deadbeat dad already.
Eric Bolling is suing Yashar Ali for $50 million Ameros for reporting about his sexts. Bolling's being rep'd by Mark Kasowitz's firm and they say they will defend Bolling with "actual facts, based on evidence." And, and somebody tell Kasowitz's firm to use spellcheck.
The Mooch will appear on the Late Show with Stephen Colbert Monday, and we're just hoping he explains why he tweeted that Ryan Liza is the "Linda Tripp of 2017" [Video]
And here's your late night wrap-up! Stephen Colberttalked to God about nuclear war; Jimmy Kimmel is up late wondering Kim Jong Un just wants to ruin Trump's vacation; Seth Meyers took A Closer Look at Trump and North Korea; The Daily Show broke down Ivanka's fake Feminism with Michelle Wolf; Samantha Bee highlighted Trump's batshit judicial appointees; and James Corden talked about Paul Manafort's federal guests.
And here's your morning Nice Time! River Otters!
Give us a hand in the form of your money! Please, we need some more!
Dominic Gwinn
Dominic is a broke journalist in Chicago. You can find him in a dirty bar talking to weirdos, or in a gutter taking photos.