Trump Wishes Rob Porter Well, Reminds America Bitches Often Be Lyin'
News
February 09, 2018 02:41 PM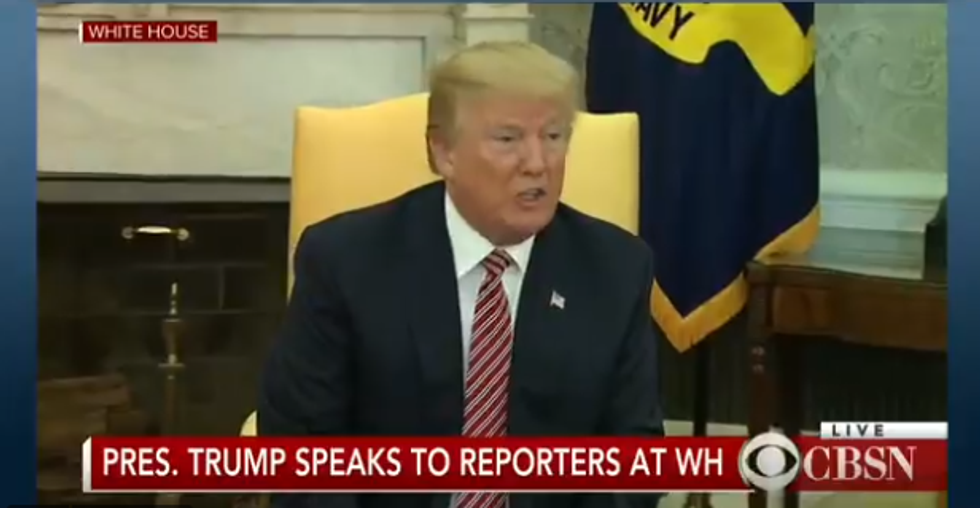 Who you gonna believe?
---
Oh, America, in your time of tribulation and heartbreak over the very surprising news the Trump White House has been harboring at least one wife-beater, we know you have been breathlessly waiting for some comforting words from your president. Unfortunately, your president is Donald Trump:
BREAKING: Trump wishes Porter well, points to his denials. "He says he's innocent. I think you have to remember that." pic.twitter.com/t3PfTVtld0

— Steven Portnoy (@stevenportnoy) February 9, 2018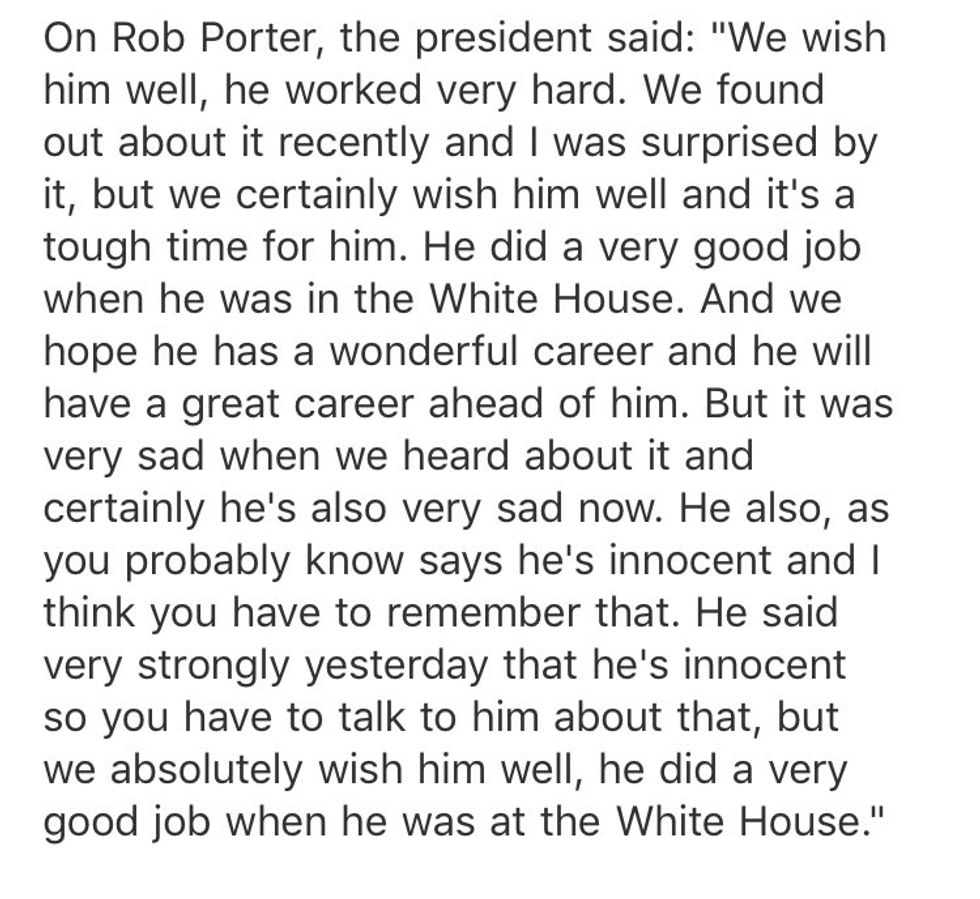 Best wishes! Remember Rob Porter says he's very innocent! BITCHES BE LYIN' 4 EVER!
Trump knows that of which he speaks. He remembers the time Roy Moore said he never molested those kids, so anyway vote Roy Moore! He remembers the time there were good people on "both sides" in Charlottesville, including some very good Nazis. He remembers how Vladimir Putin says he's innocent of fucking with the American election in order to install Trump as president, so we've got to take that under consideration. He remembers all the hordes of women who have accused him of sexual harassment and assault, with remarkably similar stories, and HE knows those ladies are just a bunch of liars, which has been proven because the Electoral College selected him to be president, and if you are president, that means you are innocent on all charges of puss-burgling, past, present, future, and right this very second (allegedly). Isn't that what he and Sarah Huckabee Sanders always say?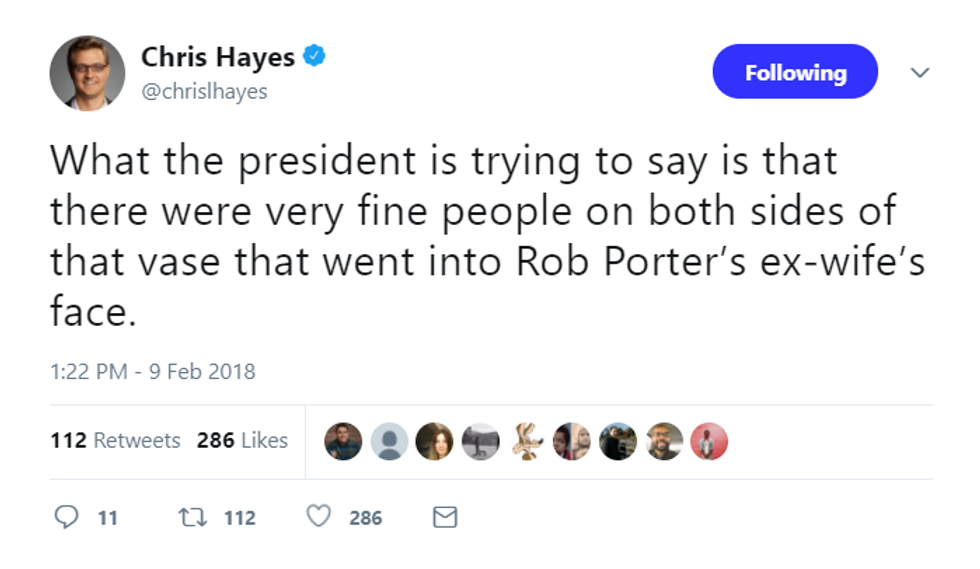 Thank you, Chris Hayes, for so effectively and efficiently channeling our RAGE.
In other news, the hits keep on comin' on the countdown clock for when chief of staff John Kelly gets fired, possibly five minutes after this post is published. The Washington Post reports that THIS MORNING, in a staff meeting, according to two Ivankas who wish to remain anonymous (allegedly!), Kelly was doing his best to advance a false a narrative about his own conduct this week:
During a staff meeting, Kelly told those in attendance to say that he took action to remove Porter within 40 minutes of learning that abuse allegations from two ex-wives were credible, according to the officials, who spoke on the condition of anonymity because discussions in such meetings are supposed to be confidential.

"He told the staff he took immediate and direct action," one of the officials said, adding that people after the meeting expressed disbelief with one another and felt his latest account was not true.
It only took him 40 minutes! He seen the picture and it changed his heart! Even though it's reported that actually he was fighting to keep Rob Porter on even after the pictures came out.
Anything else?
At Friday's meeting, Kelly also told subordinates to convey to other White House aides that he cares about domestic violence, according to the officials.
YA KNOW? If you are somehow in a position where you need to try to control the narrative, when you are in the spin room trying desperately to make sure everybody knows that you DO TOO care about domestic violence victims and definitely ARE NOT EITHER taking the side of the wife-beaters (some of whom Kelly and Trump assume are lovely people, we imagine), then maybe it is time to fucking delete your account.
Barring that, maybe it's time to just quit the White House forever and go home and languish in shame until the end of your days about how you fucked your entire life's reputation in the ass in less than a year by hitching your horse to Donald Trump and then proceeding to act just like Donald Trump.
That would be fine too.
Fuck all these assholes.
Follow Evan Hurst on Twitter RIGHT HERE.
All our salaries and servers are bought by YOU! Buy us some salaries SO WE NEVER DIEEEEE!
Evan Hurst
Evan Hurst is the managing editor of Wonkette, which means he is the boss of you, unless you are Rebecca, who is boss of him. His dog Lula is judging you right now.
Follow him on Twitter RIGHT HERE.