TrumpCare 2.0: Shut Up And Eat It! Wonkagenda For Tues., March 21, 2017
Post-Racial America
March 21, 2017 09:16 AM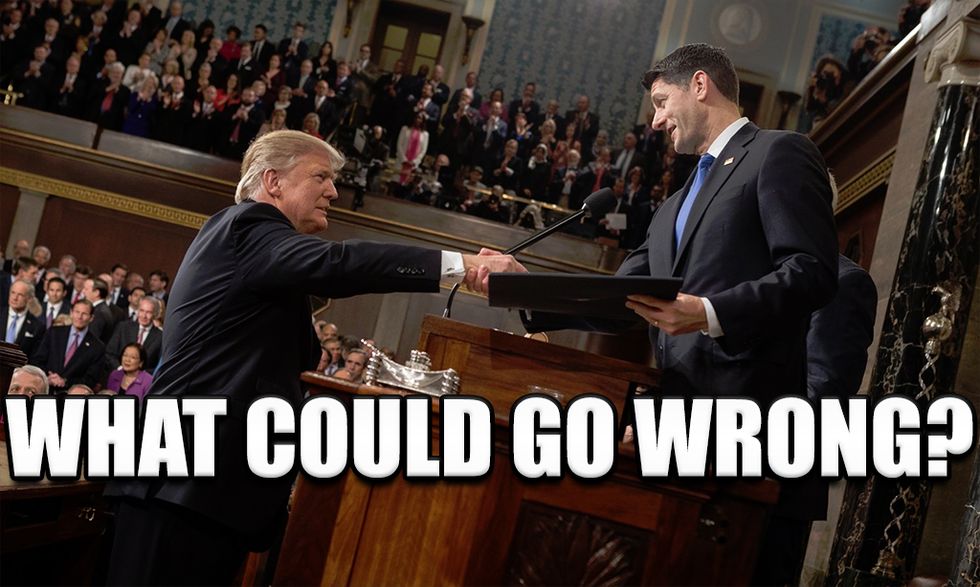 Morning Wonketariat! Did you guys hear that Russia may have touched America? We know, we are shocked too also. Anyway, here's some of the things we may be talking about today.
---
While you were sleeping, the House re-released TrumpCare/RyanCare in an effort to alleviate tantrums by the rump-wrangled Freedom caucus, but the rumor mill on the Hill says there still aren't enough votes to force feed America spoiled shit sandwiches drenched in dressing.
Much of the TrumpCare/RyanCare changes involve getting upstate New York to go along with reimbursement provisions, tax credit nonsense, and forcing Medicaid recipients to work while simultaneously halting Medicaid expansion. TLDR: It's still shitty (unless you're a filthy rich Reaganite who hates the poor).
Trump is trying to con people into supporting TrumpCare/RyanCare, but it's not exactly working as people like Rand Paul still won't support TrumpCare/RyanCare, but that's because Rand Paul is a self-serving crazy asshole who comes from a long line of self-serving crazy assholes. (n.b. do not have to be a self-serving crazy asshole to oppose this bill.)
Republicans broke out the knee pads for Neil Gorsuch yesterday (surprising nobody). Despite lubing himself up to be easier to swallow for Democrats in the Senate, liberal lobbying efforts have ramped up as Gorsuch's confirmation hearing slides into Day Two.
Muslim-lookingSOME PEOPLE are going to have to check their laptops and tablets if they want to fly to the U.S. from SOME countries after an unspecified terrorist threat from AQAP scared the bowels out of the DHS in the middle of the night.
Jeff Sessions's Justice Department is trying to slut-shame sanctuary cities with a new weekly report from DHS that details undocumented immigrants released from the custody of local jurisdictions instead of being held in local jails.
Former Clinton campaign staffers were indiscriminately shouting at James Comey all day for being a two-faced dickhole who helped deliver Donald Trump to the White House.
Rex Tillerson is bailing on a meeting of all 28 NATO members so he can dodge reporters while golfing with Trump and Chinese president Xi Jinping at Mar-a-Lago, and play Russian statecraft roulette with Vladimir Putin.
The Iraqi Prime Minister was in D.C. yesterday to tell Trump, Jared, and Rex Tillerson a bunch of things about Not America.
Elizabeth Warren sent Trump's replacement pick for Labor Secretary, Alex Acosta, a 23-page letter ahead of his confirmation hearing on Wednesday asking for his opinions on Trump's financial ties, safety regulations, wage laws, voting and labor laws. UGH, homework? Seriously?
GOOD NEWS EVERYONE! Jon Ossoff, the Democrat running for Tom Price's old House seat in Georgia's 6th District, is pulling ahead in the polls, but that doesn't mean the special election is over. Tell your friends!
Ivanka's getting her own office in the West Wing but there's no word on whether or not it will be safely secluded up/down stairs.
Sean Spicer insisted that Trump's golf habits are part of a grand diplomatic strategy, and that the White House deserves privacy to hide Trump's silly hats and goofy pants.
Earlier this morning, while Kellyanne Conway was pallin' around with the gang on Fox and FriendsMika used her MoJoe pulpit to ask other teevee people to stop putting Kellyanne Conway on teevee, or microwaves, or mirrors.
Tomi Lahren got suspended from Glenn Beck's Internet hate machine for defending her vagina from babies with boomsticks. HHAAAAAAAAAAAA
Fox News will keep Judge Andrew Napolitano far away from teevee cameras for a long time after he triggered Donald Trump's wiretapping tweet-spasm. DOUBLE HHHAAAAAA!
A lot of people are wondering why the hell Donald Trump would kill off PBS, and it may be because Sesame Street has been shitting on Trump for decades.
Here's your Late Night Wrap-Up! Seth Meyers took A Closer Look at the Comey hearings;Jimmy Kimmel had a mash-up of Spicer stumbles;Stephen Colbertwondered what President Bannon was musing about in that bathtub full of acid, AND he brought back the OTHER Stephen Colbert to explain Trump's budget; and Trevor Noah wondered how the hell Ben Carson was a brain surgeon, and lol'd at how Omarosa bailed on him for Trump's live-tweet lying.
And here's your morning Nice Time! Sleepy seals!
Hey you guys! We're only here because of people like you so help us help you by donating today!
Dominic Gwinn
Dominic is a broke journalist in Chicago. You can find him in a dirty bar talking to weirdos, or in a gutter taking photos.