TrumpCare Rises Again! Your Wonkagenda For Fri., April 21, 2017
News
April 21, 2017 09:16 AM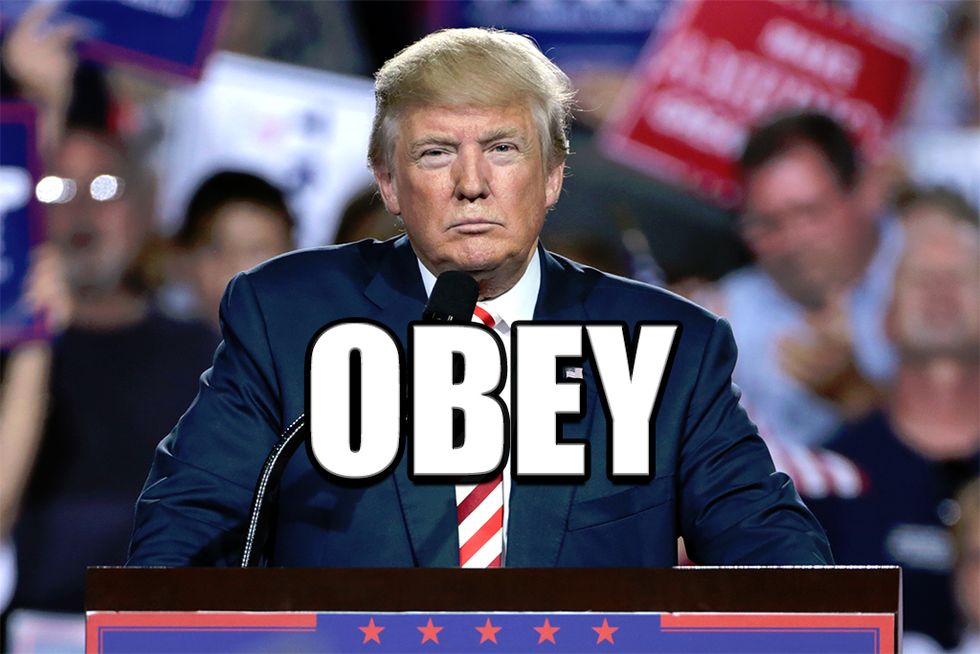 Morning Wonketariat! Here's some of the things we may be talking about today.
---
IT'S BACK! Supreme High Chancellor Bannon is trying to dig up the remains of TrumpCare/RyanCare/WealthCare, but the only problem is that Congress creeps want nothing to do with the bill and it's worse than ever.
Later today, Trump will ask people to look at some Obama-era tax rules in an effort to make his corporate backers think he's actually doing something more than making a big, fat, mess.
Trump wants to start a trade war with Canada because they're stealing all our milk, and he's investigating Chinese steel companies for unfair business practices, a move he INSISTS isn't personal.
SCOTUS will hear a case about gerrymandering which could have wide-ranging implications about the make-up of all the critters in Congress.
With the budget showdown imminent, Trump is ramping up hollow threats in the face of a government shutdown, blathering nonsense about bad deals while the adults down the street try to figure out how to not collapse the economy...again.
After warmly embracing Egypt's new dictator in his tiny little hands, Trump secured the release of an American hostage who was held captive for over three years, but don't you dare say the U.S. gave them many Ameros and warmachines because that certainly didn't happen.
Jason Chaffetz is "absolutely" not hiding a scandal that is forcing him out of office because he has "been given more enemas by more people over the last eight years than you can possibly imagine." Well I can't say that I'm surprised!
Bill O'Reilly got some emails from Media Matters and thought is was proof of a secret smear campaign to get him fired, and then tried to threaten his bosses at Fox. LOLOLOLOLOL
Alex Jones's custody battle is quickly becoming the trial of the century after it was revealed that Jones was cheating on his wife who was a masseuse named "Enya" who offered "private sessions."
Berkeley caved and offered to let Ann Coulter spew hate speech, but she's still pissed because they want her to rearrange her travel plans.
The Justice Department might level new charges against Wikileaks and Julian Assange after it released a slew of hacking tools from a CIA breach, leading many to wonder if Trump is no longer cybering Assange.
By decree of his majesty, Jefferson Beauregard Sessions III, Attorney General of These United States, if you leak documents, you are a criminal (unless those documents are Hillary Clinton's super top-secret Benghazi email bombs).
Trump's lawyers don't think you have a right to protest at his campaign rallies not because they've never read the First Amendment, but because the First Amendment only applies to him.
Henry Kissinger is kind of "meh" on President Jared (AKA, "J-Kush") and told a magazine, "an incoming President is likely to be less familiar with formal structures." OH! SICK BURN, BRO!
Ivanka Trump likes to feed her kids the same healthy hippie organic food like every other wealthy yuppie in Manhattan, but Ivanka doesn't see a need to to tell her dad about pesticides in all the other foods eaten by the icky poors.
Arkansas executed a prisoner last night because the state's death warrant was about to expire, and they really didn't want to waste all that paper.
GOOD NEWS EVERYONE!Chicago just approved a measure for municipal ID cards, a move that will allow Not Americans, the homeless, and ex-offenders to get an ID in the city of Chicago. (But don't let Rahm fool you, he's still a dickhead.)
And here's your late night wrap-up! Trevor Noah took a moment to remind you that Jeff Sessions wants to lock you up for smoking weed; Colbert realized O'Reilly was reading the tea leaves back in 1998.
And here's your morning Nice Time! BABY OCELOTS!
Hey! Yr Wonkette is supported by readers like you, so donate/subscribe and we'll keep giving you all hard-hitting and independent 'splainerings, dick jokes, and mommy blogging you already love!
Dominic Gwinn
Dominic is a broke journalist in Chicago. You can find him in a dirty bar talking to weirdos, or in a gutter taking photos.