TrumpCare Stumbles Into The ER. Wonkagenda For Thurs., March 16, 2017
Elections
March 16, 2017 09:32 AM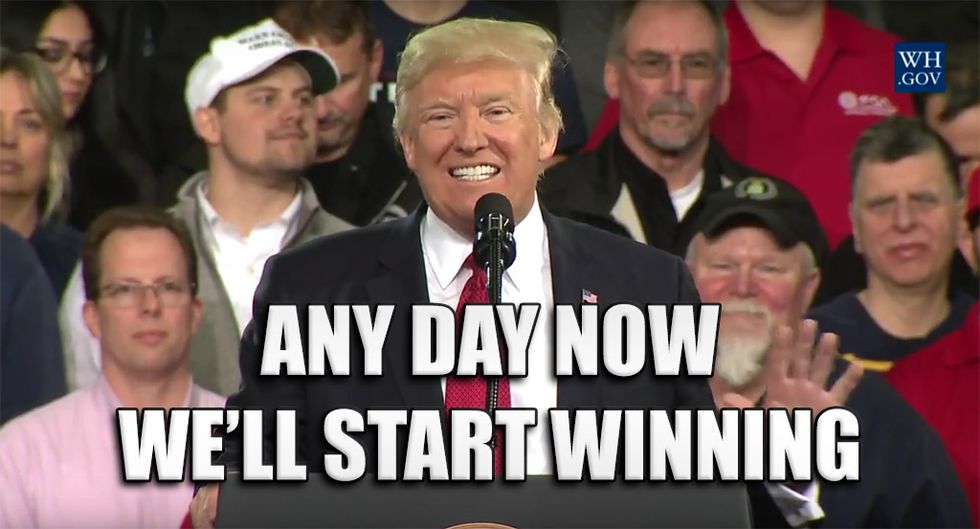 Morning Wonketariat! Here's some of the things we may be talking about today.
---
Trump's idea of a budget proposal is an amputation of social and environmental services in favor of a militarized police state, just like Reagan!

['Splainer] [Infographics]

Federal judges in Maryland and Hawaii have knocked down Trump's Muslim bantravel restrictions on ethnic minorities 2.0, citing teevee talky times from candidate Trump and his spokesweasels as evidence that it's kind of illegal. Naturally, this left Trump bemoaning those darn, dirty Muslims refugees.
Paul Ryan is admitting TrumpCare/RyanCare might have a few problems, so he's bringing in Mike Pence to help salvage his plan to kill old people and make Reaganomics great again.
In the fallout of TrumpCare/RyanCare, McCain is throwing Rand Paul into the Russian danger zone, while the House leadership has started robocalling the Freedom Caucus crazies.
Jeff Sessions thinks reefer cigarettes are "slightly less awful" than hillbilly heroin, and wants to return the U.S to Nancy Reagan's "Just Say No" bullshit; later he questioned the "dubious" benefits of medical marijuana. Smoke 'em while you got 'em!
Texas Reps. Beto O'Rourke and Will Hurd, a Democrat and a Republican, drove cross-country in order to make it back to D.C. in time for votes, leading to lame buddy comedy stories instead of off-camera bromosexual road handies.
Louisville, Kentucky's plan to re-segregate schools appears dead (for now) after the state senate started dragging its ass.
Trump meets with the Prime Minister of Ireland later today; you should place your bets now on how quickly he'll bring up his golf course.
Dutch Donald Trump, Geert Wilders, appears to have lost his run for Prime Minister, which absolutely sucks if you're a racist neo-Nazi who idolizes crackpot dictators with bird hair.
A U.N. panel has released a report that accuses Israel of practicing apartheid against Palestinians; naturally U.N. ambassador Nikki Halley called it "anti-Israel propaganda," and the rest of the world loudly groaned while facepalming.
Here's your Late Night Wrap-Up! Jimmy Fallontalked to Rachel Maddow; Seth Meyers took A Closer Look at how Trump and Paul Ryan are full of LIES; Sam Bee took a deep gander at the alt-right's deep fear of the deep state, then got to wondering where the fuck is #TheResistance hiding on election day; Jimmy Kimmel talked to Matthew Perry (but he's dead to us); Trevor Noah wondered whether or not we should let poor people die; and Colbert had a spot on impression of Maddow.
And here's your morning Nice Time! COLOBUS MONKIES! They're so fuzzy!
Dominic Gwinn
Dominic is a broke journalist in Chicago. You can find him in a dirty bar talking to weirdos, or in a gutter taking photos.