Trumponomics Just A Golden Shower! Wonkagenda For Tues., April 25, 2017
Cops
April 25, 2017 09:19 AM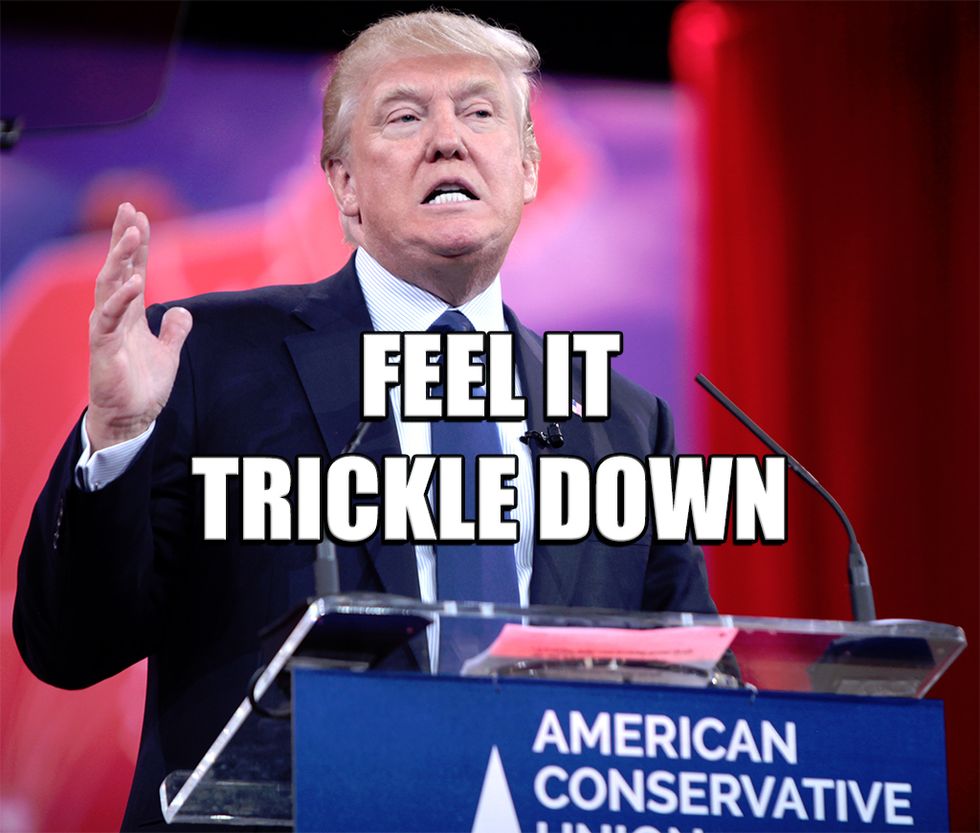 Morning Wonketariat! Here's some of the things we may be talking about today.
---
Trump is bending a bit on funding for the Tortilla Curtain seeing as it might lead to a shutdown the federal government that he would ultimately be blamed for.
WELL WHADYA' KNOW! Mike Flynn's Turkish business contacts have financial ties with Vladimir Putin and have spent the last few years lobbying in Washington.
The Senate's Russia Probe has stalled as the SEVEN appointed staff members dig around wikipedia for the definition of "investigator."
Trump really wants to send people to Mars, which would be fucking sweet if it weren't an expensive logistical nightmare that highlights his general stupidity and ignorance to modern science and space travel.
Most new energy jobs are in solar, not oil, gas and coal, but that doesn't matter to Red State America.
SURPRISE! Trump's pick for the Justice Department's antitrust police is a former lobbyist who LOVES super-huge mega business mergers because it's great for businesses that want to make truckloads of money.
Trump is expected to suggest cutting corporate taxes to 15% as he attempts to appear to be doing something other than profiting off of public office.
Sonny Perdue will be your new Agriculture secretary, but he SWEARS that this time he'll place his private business holdings into a trust, yet he was silent on how much he'll pray to Jeebus for corporate agro-businesses to crap on small farmers.
Mar-a-Lago has lost its government-sponsored blowjob from the State Department after people stated pointing out that it's, you know, illegal.
The kleptocracy that is Trump's presidency truly knows no bounds as Trump's Holocaust remembrance was copy-pasta from the Holocaust Museum.
Verdicts for the 2014 armed standoff of the Bundy bunch are trickling in, and their incestuous militia of supporters only wish it was as ridiculous as Alex Jones's custody battle.
Milwaukee County Sheriff David Clarke's torture town is under scrutiny (again) after prosecutors say the inmate who died of dehydration last year was denied water for seven straight days.
The state of Arkansas added two more bodies to its killing streak last night as Jack H. Jones Jr. and Marcel Williams were executed, despite a last minute temporary stay stemming from the seemingly botched execution of Jones.
Justice Sonia Sotomayor thinks there's a problem with courts constantly siding with cops according to her recent dissenting opinion regarding a man who was shot in the back by Houston police in 2010.
Moderate Republicans don't want to talk about the Obamacare provisions they would keep, like charging the sick olds more than healthy youths, because their constituency might be listening if they talk about TrumpCare/RyanCare/WealthCare.
Kentucky is REALLY trying to fuck with all the poor people with this rewrite of Kentucky's Medicare laws that will charge all the fuggo poors for services in an attempt to earn (no. fucking. joke.) points towards their "MyRewards Accounts," which are just like those Monopoly games at the grocery store, but for dental care.
Ohio Congressman Warren Davidson told a mom at a town hall that her son, who works in the service industry, can fuck right off to the poor house and die because he doesn't deserve health care with job skills like that.
The medical community has flushed the dreams of the "abortion reversal" community down the toilet after it ruled it as pseudoscience MALARKEY, and "tantamount to quackery" put forward by Louisiana morans with grand "ideologies or political aspirations."
Trump has fired the first salvo in his trade war with Canada by charging a steep tariff on Justin Trudeau's wood.
Is this New Hampshire Congressman the originator of the Red Pill man-babies who run around the internet crying about men's rights?
Alex Jones is being sued by a yogurt company for LIBELZ after his website said they imported migrant racists and tuberculosis.
Bill O'Reilly has been relegated to the hellish and obscure void of paywall podcasting but he SWEARS he's going to make his shitty not-radio show a real chart topper as he continues with his not-an-apology tour (which still has plenty of over-priced tickets available).
GOOD NEWS!The city of New Orleans hired some demolition ninjas to tear down some racist monuments in the dead of night that honored a post-Civil War ex-Confederate revolt. [Morning Maddow]
Chicago's own Preznit 4 Lyfe, B. Barry Bamz came back home yesterday to inspire all the youths and splainer what he's going to be doing now that he's just another unemployed person from the South Side of Chicago.
And here's your late night wrap-up! Trevor Noah talked about Trump's first 100 days, and then watched Ohio Governor John Kasich sniff his Middle American farts; Colbert splainered his desire for a bourbon cocktail with space pee, then talked with C.J. Craig impersonator Allison Janney about Spicey; Seth Meyers took A Closer Look at a government shutdown, then talked with his German doppleganger, Böhmermann.
And here's your morning Nice Time: LANGUR MONKEY BABIES! Turn your cute dial to 11!
Do your part! Help us fight the good fight by donating to the Wonketariat today! We don't want your personal info, just your monies, because we like food, and coffee, and stuff.
Dominic Gwinn
Dominic is a broke journalist in Chicago. You can find him in a dirty bar talking to weirdos, or in a gutter taking photos.