Trump's Aryan Homeland Security Idiot Kirstjen Nielsen DOES NOT REMEMBER, OK?
News
January 16, 2018 02:08 PM
trying to recall
---
Kirstjen Nielsen is the Homeland Security secretary now that John Kelly has moved to the White House to be the "grown-up racist in the room," and she testified today for the Senate Judiciary Committee about immigration and DACA and "Did Donald Trump say shithole specifically, or did he say equally racist but different swears?" Nielsen does not remember! She does not remember things in general!
It was particularly fun because Senator Dick Durbin, who does remember because HE WAS THERE, is on that committee. So is his pal, Vermont Senator Pat Leahy.
Let's start with Durbin:
DURBIN: How did [Trump] characterize those countries in Africa?

NIELSEN: I don't specifically remember a categorization of countries in Africa ...
DID HE SAY "SHITHOLE"?
NIELSEN: There were about a dozen people in the room, there were a lot of cross conversations, there was a lot of "rough talk" by a lot of people in the room ...
AND DID HE SAY THE CUSS? AND THE THING ABOUT HOW HE WANTS MORE WHITE PEOPLE FROM NORWAY?
NIELSEN: Blah blah blah blah blah blah.
Nielsen added that Trump is very worried our immigration policies will "purposely exclude Europeans," by which he clearly means white people.
BUT BACK TO THE CUSS AND THE RACISM:
DURBIN: You said on Fox News the president used "strong language," what was that strong language?

NIELSEN: Uhhhhhh, let's see. Strong language, there was ... uhhhhhhh ... I ... apologize, I don't remember a specific word ... what I was struck with was frankly, as I'm sure you were as well, was just the general profanity that was used in the room by almost everyone!
SO MANY CUSSES, HARD TO PICK JUST ONE RACIST SHITHOLE CUSS FROM THE PRESIDENT!
DURBIN: Did you hear me use profanity?

NIELSEN: No, sir, and neither did I!

DURBIN: Did you hear Senator Graham use profanity?

NIELSEN: I did hear "tough language" from Senator Graham, yes, sir.
So she remembers when Lindsey Graham threw his hands up in the air and said "Boy fuckin' howdy, Mr. President, you're being a big ol' fuckin' racist right now!" but she does NOT remember the NSFW presidential racism that directly preceded it? Mmmhmm okay sure we bet.
Durbin went on to remind Nielsen that Graham's "tough language" was simply repeating what Trump had just said (because again Durbin was there!), to which Nielsen replied, "Uhhhh, I remember specific cuss words being used by a variety of members!"
But not "shithole." She remembers other specific cusses, but not that one, shhhhhhhh.
Later, Durbin asked Nielsen if she supports a path to citizenship for DACA people, and she expressed her desire to find a "permanent solution," and Durbin was like "UGH CAN YOU NOT SOUND LIKE HITLER RIGHT NOW, LET ME ASK THE QUESTION AGAIN," and she said yeah she guesses a path to citizenship is "part of the discussion."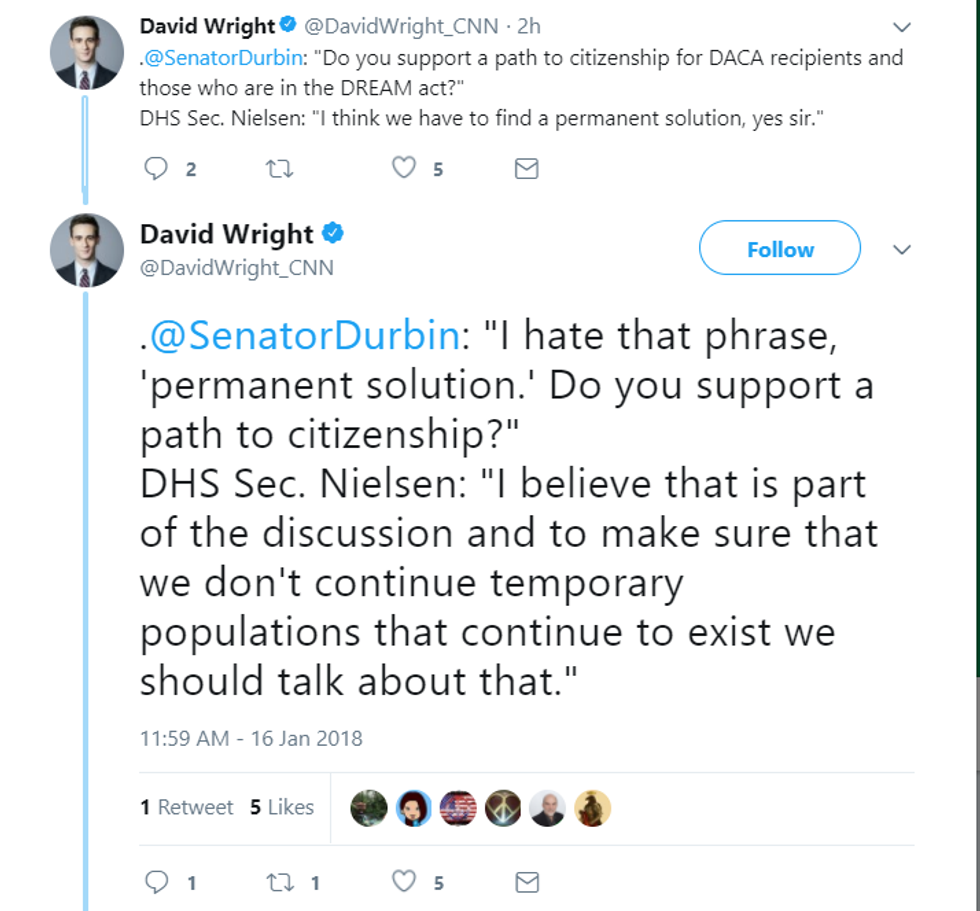 Pat Leahy had much the same line of questioning for Nielsen as Durbin did:
DHS Sec. Nielson says she "did not hear" Trump say 'sh*thole', but doesn't explicitly deny: "The conversation was very impassioned. I don't dispute the president was using tough language. Others in the room were using tough language." (via CBS) pic.twitter.com/kXHnsmHyZ5

— Kyle Griffin (@kylegriffin1) January 16, 2018
LEAHY: You were in the room. You are under oath. Did President Trump use this word, or a substantially similar word, to describe certain countries?

NIELSEN: I did not hear that word used, no sir.

LEAHY: That's not the question. Did he use anything similar to that to describe certain countries?
And Nielsen's answer, again, was that everybody was saying "tough language," she remembers it vividly, except for that one little part she has conveniently forgotten. "LOOK AT ME, EVERYBODY, I'M AS BIG A IDIOT AS TOM COTTON!"
Leahy's funniest moment, though, was when he got Kirstjen Nielsen to say she wasn't sure if most people in Norway are white:
LEAHY: "Norway is a predominantly white country, isn't it?"

NIELSEN: "I actually don't know that, sir." (via ABC) pic.twitter.com/SMIFgFe7B3

— Kyle Griffin (@kylegriffin1) January 16, 2018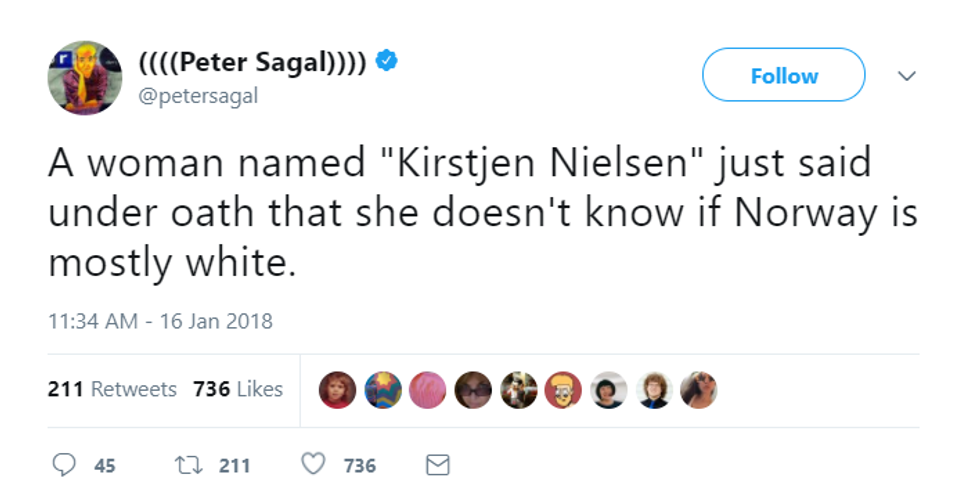 Dead now. We are fully and officially dead, because Kirstjen Nielsen is full of shit.
In lieu of flowers, please send booze.
Follow Evan Hurst on Twitter RIGHT HERE.
Wonkette is fully paid for by YOU! Please click here to pay Wonkette's salary.
Evan Hurst
Evan Hurst is the senior editor of Wonkette, which means he is the boss of you, unless you are Rebecca, who is boss of him. His dog Lula is judging you right now.
Follow him on Twitter RIGHT HERE.