Trump's Kids Want MORE. Yr Wonkagenda: Tuesday, November 15, 2016
Elections
November 15, 2016 08:52 AM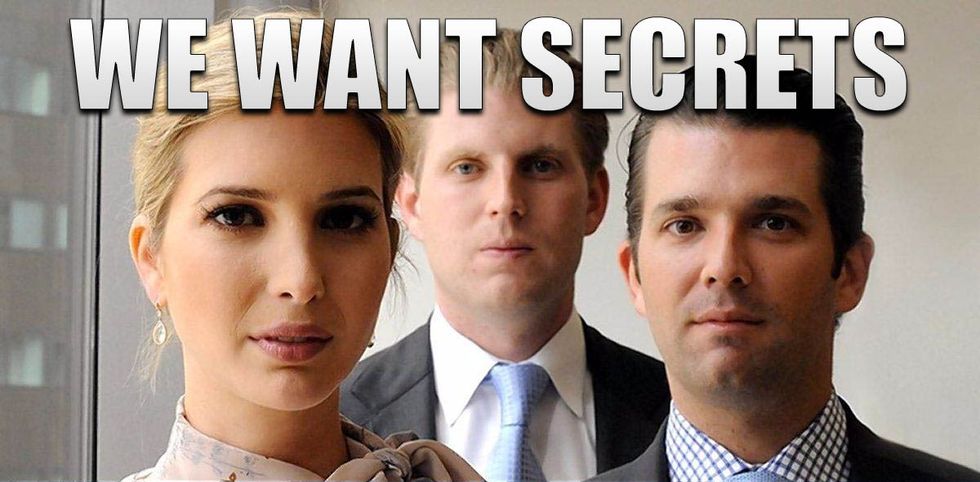 Tell them them EVERYTHING!
---
Morning Wonkers! Here's some of the stories Yr Wonkette will make you feel less sad about today!
Obama held a brutal press conference where he spared no one from criticism. Among the highlights was a statement that Trump will have a "wake up call" upon taking office and receiving security briefings.
Reports started to circulate yesterday that Trump wants to give his kids security clearances, although the transition team is signaling that it might not be true (for now).
Those fake news stories all over your BookFace and The Google will (hopefully) die now that they're pulling the advertising abilities off those sites.
The soul-sucking leech better known as Rudy Giuliani is being considered for Secretary of State, as is John Bolton, the warmonger who thinks we're not even close to finishing our job of fucking up the entire Middle East because we haven't finished invading Iraq, bombed Iran, or left the U.N.
Nobody in Trump's inner circle likes Corey Lewandowski because he's a bit of prick, and they're all forming a blood pact to kick him off the island.
Mary Joe White, the head of the SEC, is stepping down, with other financial regulators expected to follow suit before Trump decides to "You're Fired" on financial regulators and go shit-house on the economy.
The FBI is reporting that attacks on American Muslims swelled in the last year, even as hate grew in size and scope, and spiked within the past week, but don't tell that to Bill O'Reilly since it's just normal racism.
That racist, white nationalist hate crime stuff that totally isn't happening happened in a high school in Tampa Bay when a teacher told a student, "Don't make me call Donald Trump and get you sent back to Africa." Yes, Donald Trump is already the fucking boogey man. [Video]
Snowden resurfaced on someone's computer screen to warn the world that U.S. domestic spying is about to get a lot worse, and you should research personal internet safety measures that go beyond a piece of tape over your computer camera. Just ask John Podesta.
Harry Reid doesn't care what you think of him anymore, and he's going to keep publicly calling out the racist pieces of shit Trump is surrounding himself with as racist pieces of shit.
Los Angeles Police Chief Charlie Beck doesn't feel like deporting illegal immigrants which means he too is a secret lazy Messican who takes mid-day naps and wears silly hats. Donde esta mi pais?
If you're one of those people who might move to Canada, you might be interested to know that it may soon be legal to do butt stuff in America 2.0 provided liberal members of parliament get their way. Thanks, Trudeau!
HEY EVERYONE! There's a run-off campaign in Louisiana for a Senate seat and the National Republican Senatorial Committee (which is DEFINITELY NOT Mitch McConnell's private slush fund) is dumping tons of cash into the race already. Call your friends in Louisiana, tell the freeloader on your couch, get up and get out there pounding the pavement for Foster Campbell.
Two Democratic electors are making one last effort to dump Trump where they're trying to persuade 37 Republicans to switch their electoral votes, though our Magic 8-ball says it's "unlikely."
And here's your morning nice time! Baby pygmy hippos! Set your hearts to "melt"!
Dominic Gwinn
Dominic is a broke journalist in Chicago. You can find him in a dirty bar talking to weirdos, or in a gutter taking photos.