Trump's Pre-Existing-Conditions Shuffle Is Gonna Fool A Whole Lot Of People
Healthcare
August 08, 2020 12:50 PM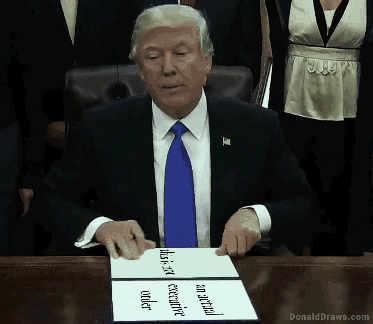 On Friday, Donald Trump announced that he would be signing an executive order requiring insurance companies to cover pre-existing conditions, which would be totally groundbreaking were that not already a thing someone (Obama) had already done and if he could actually do that through an executive order if it wasn't.
"Over the next two weeks I'll be pursuing a major executive order requiring health insurance companies to cover all pre-existing conditions for all customers," he boasted at a press conference conference at a golf course he owns in Bedminster, New Jersey, "That's a big thing. I've always been very strongly in favor. We have to cover pre-existing conditions so we will be pursuing a major executive order requiring health insurance companies to cover all pre-existing conditions for all of its customers. This has never been done before."
This is far from the first time he has promised this — heck, he's even claimed to have already done it. In January of this year, he claimed:
"Mini Mike Bloomberg is spending a lot of money on False Advertising. I was the person who saved preexisting Conditions in your Healthcare, you have it now, while at the same time winning the fight to rid you of the expensive, unfair and very unpopular Individual Mandate and, if Republicans win in court and take back the House of Representatives, your healthcare, that I have now brought to the best place in many years, will become the best ever, by far. I will always protect your Pre-Existing Conditions, the Dems will not!"
---
He's not stupid. At least not in this way. He knows that coverage for pre-existing conditions is immensely popular, and his tactic in general is to find stuff that people like and then act like he invented it, all the while claiming that there will never be a downside, like there is when other people do things. This works because people in general do not pay enough attention to things like health care until they get slapped in the face — and by then, everyone else is all the way on the bandwagon and not interested in hearing anyone's sob story. Besides, they know they'll always be the exception themselves.
You may be saying to yourself "But we already have coverage for pre-existing conditions! This makes no sense at all!" and and yeah, we do. Kind of. It's just not a thing that can really be guaranteed going forward, the way things are now, without the individual mandate. The only reason the pre-existing conditions rule has been able to continue is because the amount of people with insurance from an employer or from signing up on the marketplace has stayed relatively the same since the mandate was eliminated, and the "penalty" was never really enough to actually make up the difference anyway. So nothing has actually materially changed that much, and the fact that people can only sign up once a year (with exceptions if they've been laid off) keeps things a little more honest than they might be otherwise.
However! Were more and more people to decide to just not bother with signing up for health insurance until they need it, there would be no way to sustain coverage of people with serious pre-existing conditions without the whole thing imploding.
The thing is, this will absolutely work the way he wants it to work. Those who like him will cheer and say "See! We can have this and not any of the stuff we don't like! He's a genius!"
People truly thought and still think that the only reason there was a mandate and a penalty for not having health insurance was to punish them for being bad people who didn't want to join Obama's health care club, not because covering pre-existing conditions would be impossible without it. The "penalty" people had to pay was meant to prevent free rides — to prevent people from not buying health insurance their whole lives and then signing up for it after a cancer diagnosis. I don't know if Dems did not do a very good job of explaining this or if they were simply drowned out by the cacophony of Fox News, but this is what many people actually believe.
Last week, Trump signed an equally ridiculous executive order allowing certain drugs to be imported from Canada — which, frankly, is pretty shitty. It's basically asking Canadians — who responsibly pay for their single payer health care through their taxes — to subsidize our shitty health care system. It would be a massive burden on their system and completely unfair. If Americans want good health care that doesn't cost a lot, we can do what other countries do. If not, we need to smile and cheer for our beautiful freedoms while we pay $3,000 for a coronavirus treatment that we funded with our taxes, that costs $10 to make and that people in the UK will be getting for free. America!
That same executive order required Medicaid to pay the same amount other countries pay for pharmaceuticals, which will be awfully difficult as it is still currently illegal for Medicaid to negotiate prices.
Americans very desperately want to believe that there is some way to get the things they want out of health care without any of the things they don't want — and for the most part, they shall not be moved. They want to believe that they can have coverage for pre-existing conditions without a mandate, they want to believe they can have price-controls for pharmaceuticals without socialized medicine, they want to believe they can have all of the benefits and discounts of socialized medicine in a system with privatized, American-style health insurance. These things are very obviously not true, but as long as those in power can convince people that they hypothetically could be true, the conversation on health care can stall forever.
[Axios]
Robyn Pennacchia
Robyn Pennacchia is a brilliant, fabulously talented and visually stunning angel of a human being, who shrugged off what she is pretty sure would have been a Tony Award-winning career in musical theater in order to write about stuff on the internet. Follow her on Twitter at @RobynElyse