Trump A-Holes Ring In New Year With Some Ice, Ice COVID
coronavirus
January 04, 2021 01:31 PM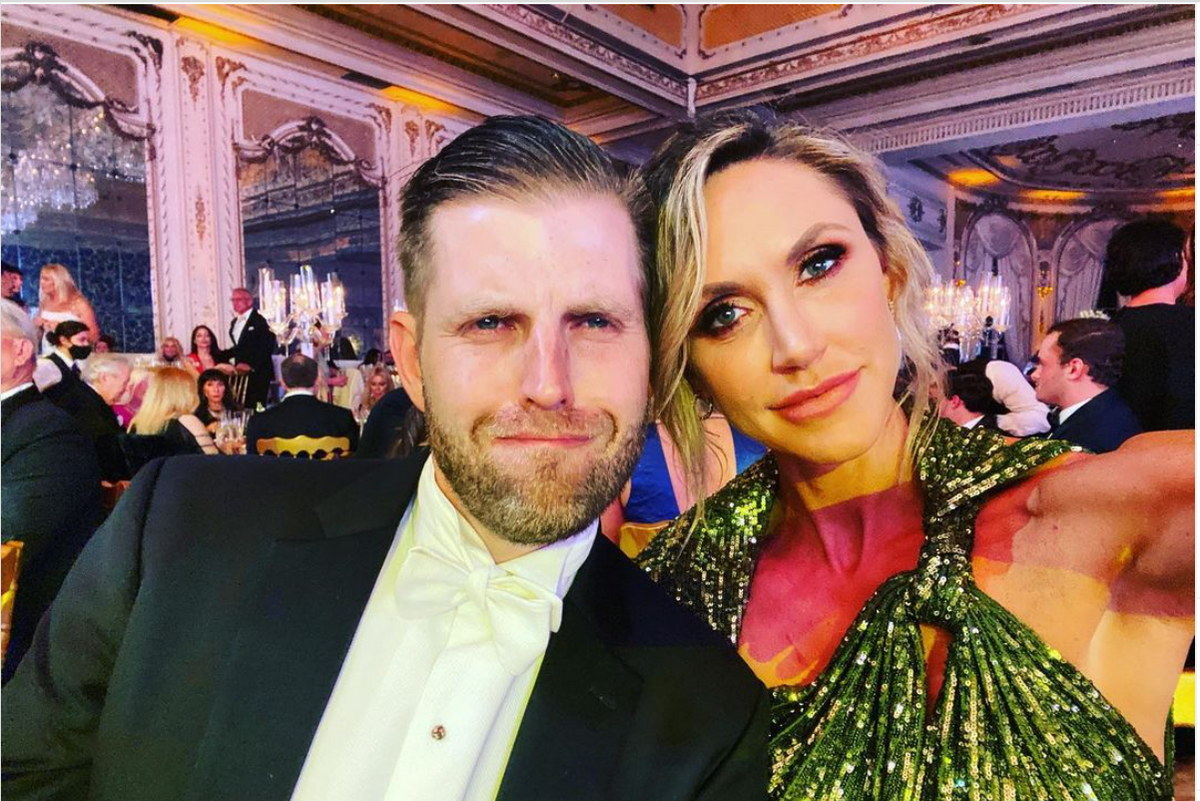 Donald Trump isn't just a horrible human being. He's also a terrible host. Trump and alleged first lady Melania held dozens of superspreader events over the holidays in defiance of public health guidelines. COVID-19 doesn't care about RSVPs, and several guests got sick.
Trump-humpers still attended these parties, because they're idiots, but Trump himself bailed on several. Sure, the president is very busy and important, but Trump sometimes failed to show because he'd gotten bad news about his jacklegged coup. When the Supreme Court shut down that crazy-talking Texas suit, Trump got so depressed he stayed in his room and refused to come down for the party that night. You expect better manners from wannabe autocrats.
Despite their track record with their red-and-green death balls, the Trumps still moved forward with a big, fancy New Year's Eve bash at Mar-a-Lago. Hey, there was a performance from Vanilla Ice! That's totally worth dying from COVID-19.
---
The Ice Man performed his one big hit from 30 years ago (he improbably still makes a lot of money from that tune that was built on a riff from David Bowie and Queen). The mostly white and maskless guests seemed to have a good time, all cramped together and probably spreading coronavirus. Donald Trump Jr. nodded along to Vanilla Ice's one other song you might know if you're middle-aged, "Play That Funky Music." (The music was not in any way "funky.")
New Year's Eve celebration at Mar-a-Lago during deadly pandemic https://t.co/oICbuJzpH1

— Daniel Uhlfelder (@Daniel Uhlfelder) 1609523850.0
Taylor Dayne and Berlin's Terri Nunn also performed for the audience of 500, which is probably their best gig in years. (Nunn singing "Take Your Breath Away" at a COVID-19 giveaway gala is the true, hacking death of irony.)
The guests shelled out a reported $1,000 for this high-quality entertainment, but at least the one-hit wonders actually showed up like professionals. Trump ghosted on everyone and returned to Washington, DC, at the last minute, presumably for more diabolical coup-plotting.
No official explanation for the President's early departure from Mar-a-Lago was given, though he remains consumed with efforts to overturn the election results and tensions are ratcheting up in the Persian Gulf ahead of the one-year anniversary of the US killing of Iran's top general.
Trump doesn't give a damn about the Persian Gulf and couldn't identify it on a map containing only the Persian Gulf.
Republican George Santos, who lost his congressional race in New York's third district, rang in the new year with Rudy Giuliani, Trump's dumb and dumbest sons, and what CNN charitably describes as "various figures from the conservative media" (i.e. people less relevant than Vanilla Ice).
He was still proud enough to post photos of the event on Instagram. He and his fiance are glammed up in dinner jackets and swapping germs with the grossest people on Earth.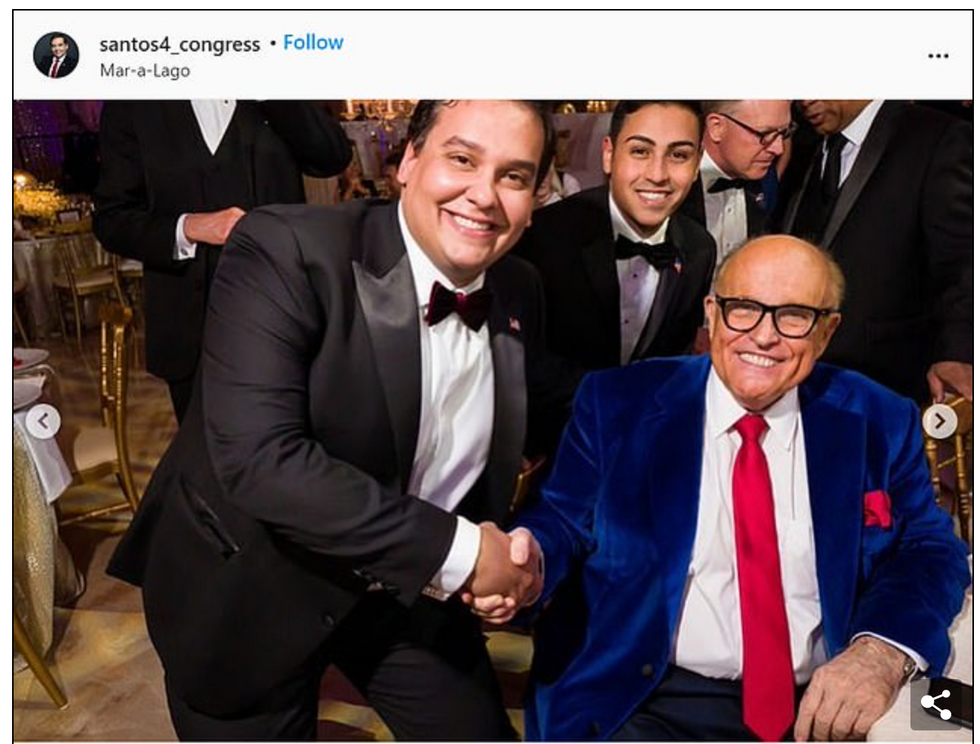 Instagram
Who the fuck is still shaking hands in 2021?
The New York Times covered Mar-a-Lago's maskless moron meetup and linked to Santos's Instagram. The article didn't directly identify or even mention him, but Santos had taken a photo of the menu like every Instagrammer you hate: The first course was "Mr. Trump's Wedge Salad," followed by cheese tortellini, and a Wagyu beef entree. I doubt the presentation was that impressive.
Santos's Instagram was, at the time, public, so readers were treated to multiple photos of Santos behaving as if COVID-19 doesn't exist. He's blamed the Times for exposing his family to danger, but his Instagram wasn't just public, it was called "santos4_congress," which implies he used it for professional purposes. It doesn't seem like his privacy was unwillingly invaded.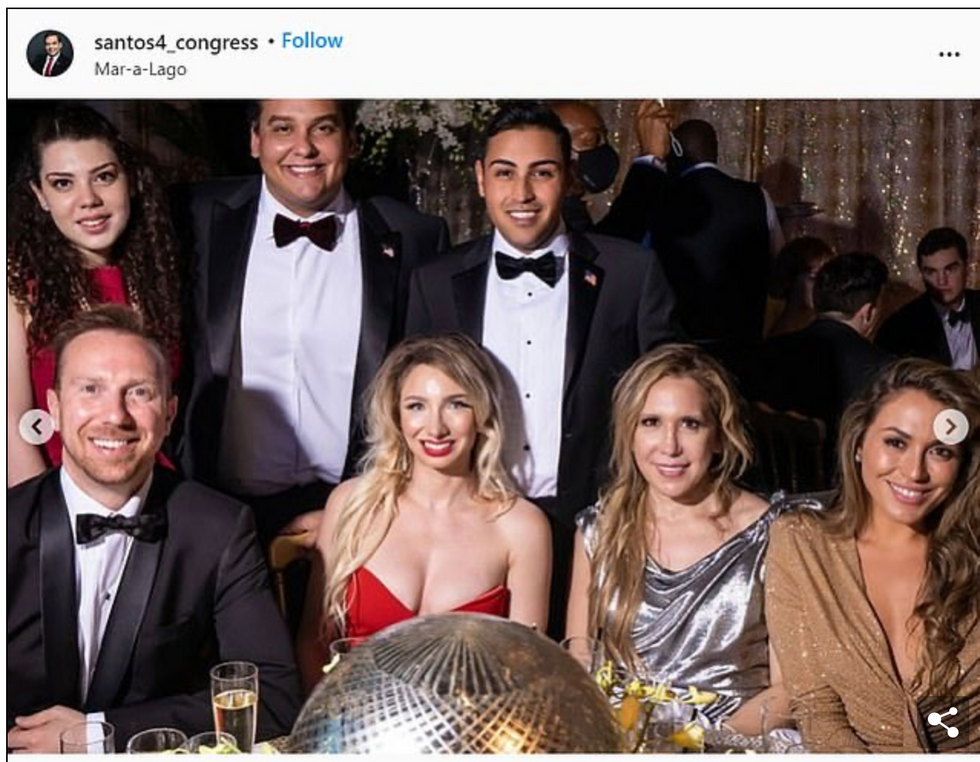 Instagram
Santos tweeted Saturday that "My fiancé & I had to leave our home this evening with our 4 dogs thanks to the @nytimes publishing of my Instagram showing me attending the #MarALago New Year's Eve party."
He added that his fiance lost his job as a pharmacist because they were at the party, which makes it sound likes he's whining that it was a political reprisal, rather than his fiance's employer cutting ties with someone so reckless and dumb they would literally rub shoulders with hundreds of strangers indoors.
Richard Grenell -- former most loathed US ambassador to Germany ever, later most unqualified (acting) director of national intelligence ever, current Special Presidential Envoy for Serbia and Kosovo Peace Negotiations who believes Trump's conspiracy mongering nonsense -- accused Preet Bharara of homophobia because he wasn't suitably sympathetic to Santos. After all, the liberal media presumably forced him to attend a superspreader event and brag about it on his public Instagram account.
Every case Bharara did previously should be reviewed for political bias. His agenda was front and center.

— Richard Grenell (@Richard Grenell) 1609739762.0
We hope Santos and his family didn't actually have to flee their own home because of violent threats, but if people just think they suck, well, that's just a well-reasoned opinion. This line from the Times article stands out as summing up the unfeeling, sociopathic nature of everyone in Trump's orbit.
One photo posted online by Eric Trump featured at least 15 party guests and one server in the background. Only the server wore a mask.
It's not that difficult: Either the person feeding these rich assholes so they can afford to feed their family doesn't have to wear a mask or everyone has to wear a mask. Conservatives still behave as if COVID-19 is just something they can callously ignore, much like the "help."
Follow Stephen Robinson on Twitter.
Do your Amazon shopping through this link, because reasons.
Yr Wonkette is 100 percent ad free and supported entirely by reader donations. Please click the clickie, if you are able!
Stephen Robinson
Stephen Robinson is a writer and social kibbitzer based in Portland, Oregon. He writes make believe for Cafe Nordo, an immersive theatre space in Seattle. Once, he wrote a novel called "Mahogany Slade," which you should read or at least buy. He's also on the board of the Portland Playhouse theatre. His son describes him as a "play typer guy."