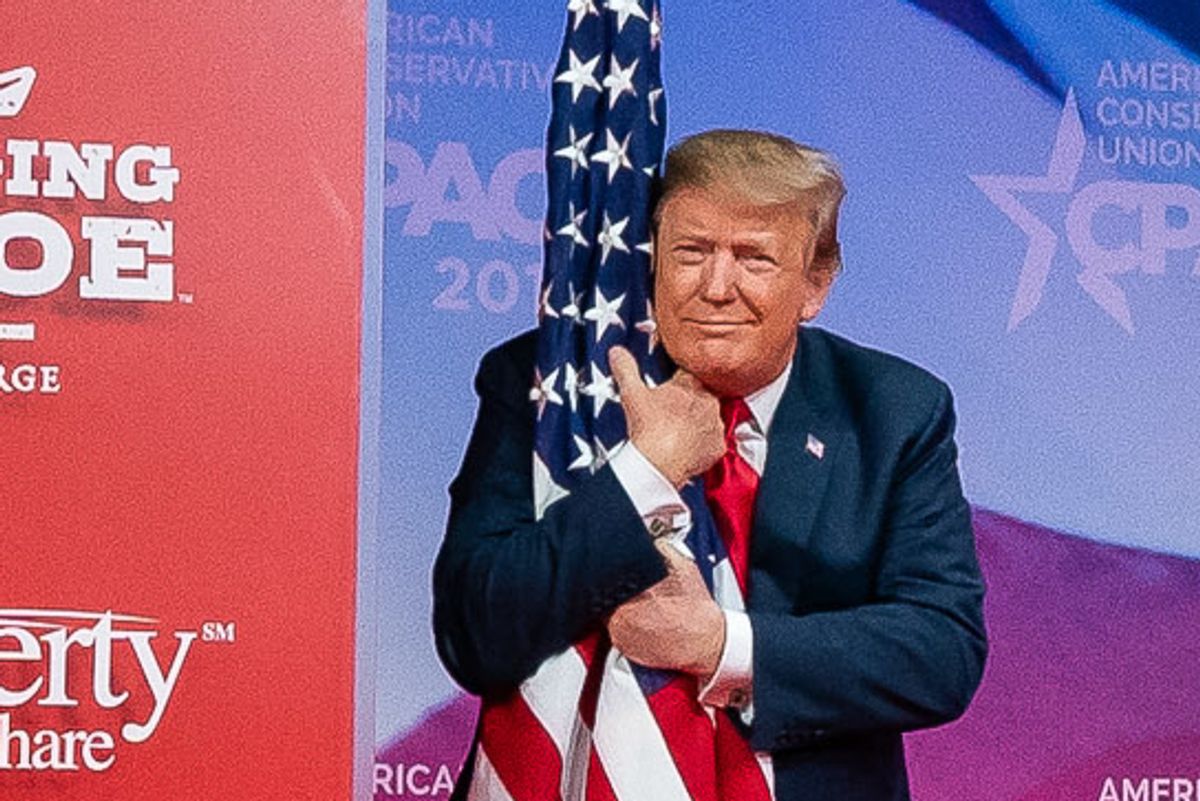 upload.wikimedia.org
If you predicted that the Republican convention would be a massive shitshow, award yourself a prize.
You get a prize. And YOU get a prize. Everyone gets a prize!
After Trump set fire to $38 million of donor money and stomped out of North Carolina when Gov. Roy Cooper refused to give him permission to pack the halls for Covidpalooza 2020, the RNC spent six weeks pretending to plan a convention in Jacksonville before finally tapping out and agreeing to hold the thing online.
But those wee hiccups are all in the past. Now it's smooth sailing ... or something.
The Gippers were so eager to set that dumpster on fire, they scheduled their roll call for this morning. Here's some shriveled old white dude from Louisiana claiming that "Joe Biden is hiding in the dark, waiting to take the lives of our unborn babies."
the RNC is already completely off the rails https://t.co/Ykzqho4nLv

— Aaron Rupar (@Aaron Rupar) 1598283371.0
Trump scammer David Bossie touted Maryland's "segregationist" history — whoopsie, he meant abolitionist! — and party chair Ronna Romney McDaniel just plum forgot about Wyoming, and Trump praised himself for finally bringing the country together in bipartisan harmony just before COVID hit (during the impeachment). And that was all before lunch!
An auspicious beginning to what promises to be a glitch-free week of 1,000 stars named Trump.
---
Tonight's theme is "Land of Promise," so naturally we'll hear from Don Jr. and those lunatics who waved their guns at peaceful BLM protestors in Saint Louis. Former UN Ambassador and thirsty 2024 hopeful Nikki Haley begged Trump for a speaking slot at the convention, and tonight she'll join Senator Tim Scott, House Minority Whip Steve Scalise, professional edgelord Charlie Kirk, Deej's ladyfriend Kim Guilfoyle, and Reps. Matt Gaetz and Jim Jordan, who've been brought in for a little scenery chewing.
And because the GOP is a party of losers from Loserville, they're taking this opportunity to showcase two congressional candidates with literally no chance in November: Sean Parnell, who's running against Conor Lamb in a newly redrawn PA-17, and Kimberly Klacik, who's having another go at Elijah Cummings's old seat. Klacik doesn't even live in MD-07, and took a whopping 25 percent in the special election against Kweisi Mfume. But she did make a viral ad with Benny Johnson encouraging Black people to abandon the Democratic Party. Plus she gives Trump a final chance to give Cummings the finger, so it's game on!
Traditionally, secretaries of state have tried to separate themselves from political campaigns for the sake of propriety. But propriety is really not Mike Pompeo's bag, and besides, he's laboring under the delusion that he's a viable 2024 presidential contender. So he'll be speaking tomorrow on "Land of Opportunity" night, along with Melania, Eric, and Tiffany Trump. Rand Paul and that little douchebag from Covington Catholic will be there, too. Don't miss it!
On Wednesday, Mother Pence and her best little boy will don tri-cornered hats to address a grateful nation from Fort McHenry. Well, we assume so — you know how much they like to play dress up! Anyway, good luck closing off enough of the Chesapeake Bay to exclude the protesters trying to drown out this flagrant Hatch Act violation.
And speaking of the Hatch Act, this will be Kellyanne Conway's swan song in the Trump administration, so she'll probably try to cram as many alternative facts in there as possible. (Either that or she'll finally cop to being Anonymous. Allegedly.)
Also scheduled for "Land of Heroes" night are senators Marsha Blackburn and Joni Ernst, and Rep. Elise Stefanik. Those three make up 14 percent of the Republican women in congress because the GOP is not just for old white guys! They've clearly written off Martha McSally, who we guess wasn't invited. But the GOP did manage to dig up a couple of congressional candidates with a shot at winning in November. That little racist shit Madison Cawthorn will probably take Mark Meadows's old seat in North Carolina, although Trump didn't endorse him in the primary. And Burgess Owens is running dead even with Ben McAdams in UT-4. So, good job, Ronna!
And Thursday, they're pulling out all the stops for "Land of Greatness." Rudy Giuliani! Franklin Graham! Mitch McConnell! Kevin McCarthy! Ben Carson! Mitch McConnell. The Honorable Ivanka Trump — no seriously, they actually wrote that. And of course, Donald Trump will give his big acceptance speech. Which one of these grandees will be first to get caught on a hot mike using a racial slur? You'll have to watch and find out, but the smart money's on Ol' Rudes.
Don't miss a minute! Or, you know, jab an icepick in your eyeballs after feasting on the contents of your toddler's Pull-Ups. Either way, should be a delight!
OPEN THREAD!
[NPR]
Follow Liz Dye on Twitter RIGHT HERE!

Please click here to support your Wonkette. And if you're ordering your quarantine goods on Amazon, this is the link to do it.
Liz Dye
Liz Dye lives in Baltimore with her wonderful husband and a houseful of teenagers. When she isn't being mad about a thing on the internet, she's hiding in plain sight in the carpool line. She's the one wearing yoga pants glaring at her phone.