Turns Out Donald Trump Is Happy To Pay His Taxes. In China.
China
October 21, 2020 02:53 PM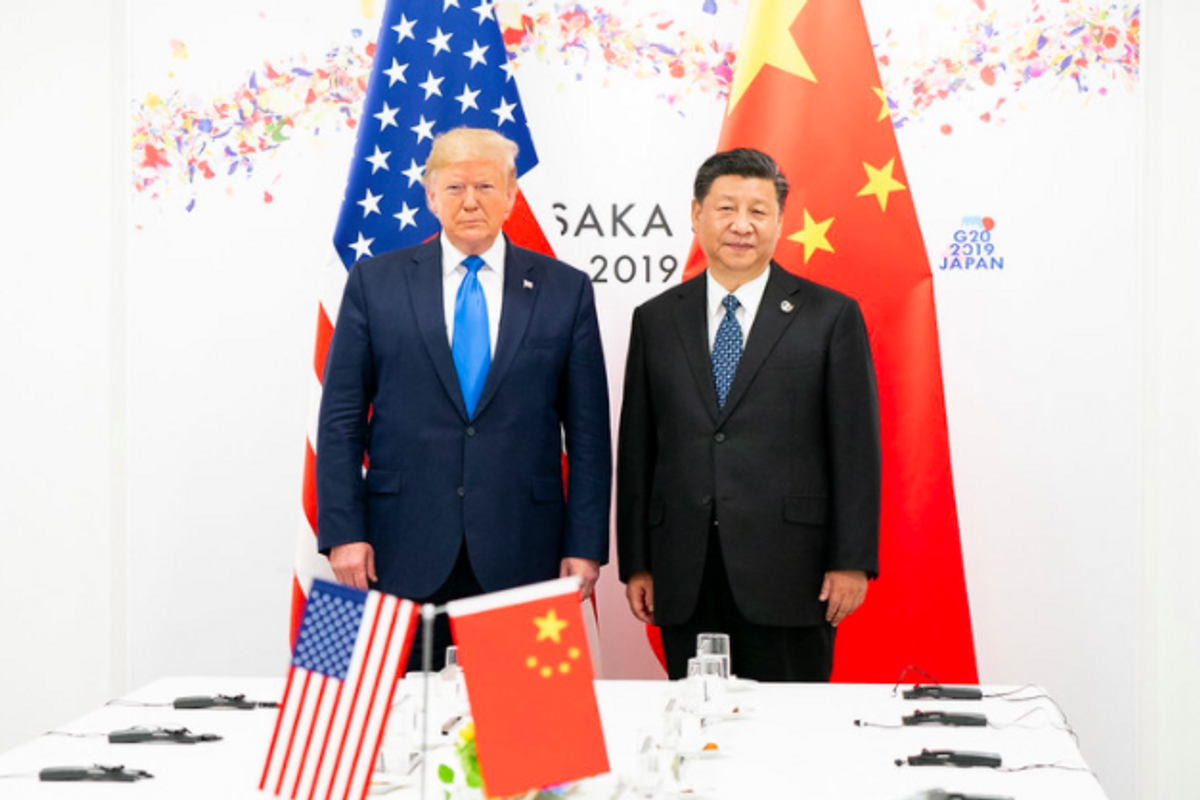 Joe Biden is not in business with China. Despite whatever bullshit Steve Bannon and Rudy Guiliani are fapping on about (sorry, had to do it), this Joe Biden China thing does not exist.
Donald Trump is also not in business with China. Or, not big business, anyway. But not for lack of trying!
In the latest installment of The New York Times series on the president's tax returns, we learn that Donald Trump tried and failed to develop a hotel in China for the entire decade before he became president, with his efforts extending well into the 2016 campaign. He maintains a corporate bank account in China, something the GOP has pointed to as evidence of Hunter Biden's shady deals, and actually paid $188,561 in taxes there between 2013 and 2015. Which is a shit sight more than $750!
Trump tried to get an office tower built in Guangzhou in 2008, partnering with the government-controlled conglomerate State Grid Corporation. But the deal fell through in 2016 when State Grid became ensnared in a corruption investigation. Game recognize game!
---
The Times points out that Chinese buyers, like their Russian counterparts, seem quite eager to buy Trump-branded condos as investments, which raises similar red flags about foreign nationals lining the president's pockets.
During the 2016 campaign, a shell company controlled by a Chinese couple from Vancouver bought 11 units, for $3.1 million, in the Las Vegas tower Mr. Trump co-owns with the casino magnate Phil Ruffin. The owner of a Las Vegas-based financial services firm told The Times he was later visited by two F.B.I. agents asking about the company behind the purchases, which he said had used his office address in incorporation papers without his knowledge. It is not known what became of the inquiry.
Oh, hey, isn't that the hinky deal that would have blocked access to security clearances for anyone other than Princess Nepotism von Griftenstein?
There's also the small matter of the sale of a Manhattan condo in 2017 to a Chinese government-connected businesswoman named Xiao Yan Chen for $15.8 million, a transaction on which Trump reported $5.6 million of capital gains.
Plus, there's whatever this is regarding an unusual payout in 2017 from a holding company called THC China Development, which deals with Trump's hotel projects. (Presumably the THC stands for "Trump Hotels China," not tetrahydrocannabinol. Or does it!)
In 2017, the company reported an unusually large spike in revenue — some $17.5 million, more than the previous five years' combined. It was accompanied by a $15.1 million withdrawal by Mr. Trump from the company's capital account.

On the president's public financial disclosures for that year, he reported the large revenue figure, and described it only as "management fees and other contract payments."
Some of the cash came from the sale of Trump's interest in Trump SoHo hotel. Oh, hey, isn't that the hinky deal that almost got Vanky and Deej indicted for fraud?
Anyhoo! Trump Organization lawyer Alan Garten said the reported $6 million SoHo payout represented a "significant portion" of the THC bump, but failed to explain where the other $11 million might have come from. Nor did he specify which bank in China hosts the president's bank account.
Is it the same state-owned bank that rented three floors at the Manhattan Trump Tower for the first three years of Trump's presidency? Mr. Garten cannot say. All he's saying is that the company "opened an account with a Chinese bank having offices in the United States in order to pay the local taxes."
"No deals, transactions or other business activities ever materialized and, since 2015, the office has remained inactive," Mr. Garten continued, omitting to mention that it remained inactive because his boss was a bigly yuuuuge failure in the world's largest country.
Something to keep in mind as the president and his allies spew nonsense about Hunter Biden's supposed billion dollar deal in China. Sure, it never happened. But maybe they're just jealous because they spent 10 years moving on her like a bitch, but they just couldn't get there?
Awww, don't feel bad dude. It happens to all the guys some times. Keep spankin' away, and you'll get there eventually.
So to recap: A senior Trump advisor was just caught alone in a hotel room fondling himself in front of a woman he… https://t.co/v6nchXPIR9

— Zac Petkanas (@Zac Petkanas) 1603301046.0
Sorry, we had to!
[NYT]
Follow Liz Dye on Twitter RIGHT HERE!

Please click here to support your Wonkette. And if you're ordering your quarantine goods on Amazon, this is the link to do it.
Liz Dye
Liz Dye lives in Baltimore with her wonderful husband and a houseful of teenagers. When she isn't being mad about a thing on the internet, she's hiding in plain sight in the carpool line. She's the one wearing yoga pants glaring at her phone.