Typical Dad Matt Gaetz Shares Life Hacks For Parenting Grown Men During Pandemics
Mommyblogging
March 23, 2021 01:14 PM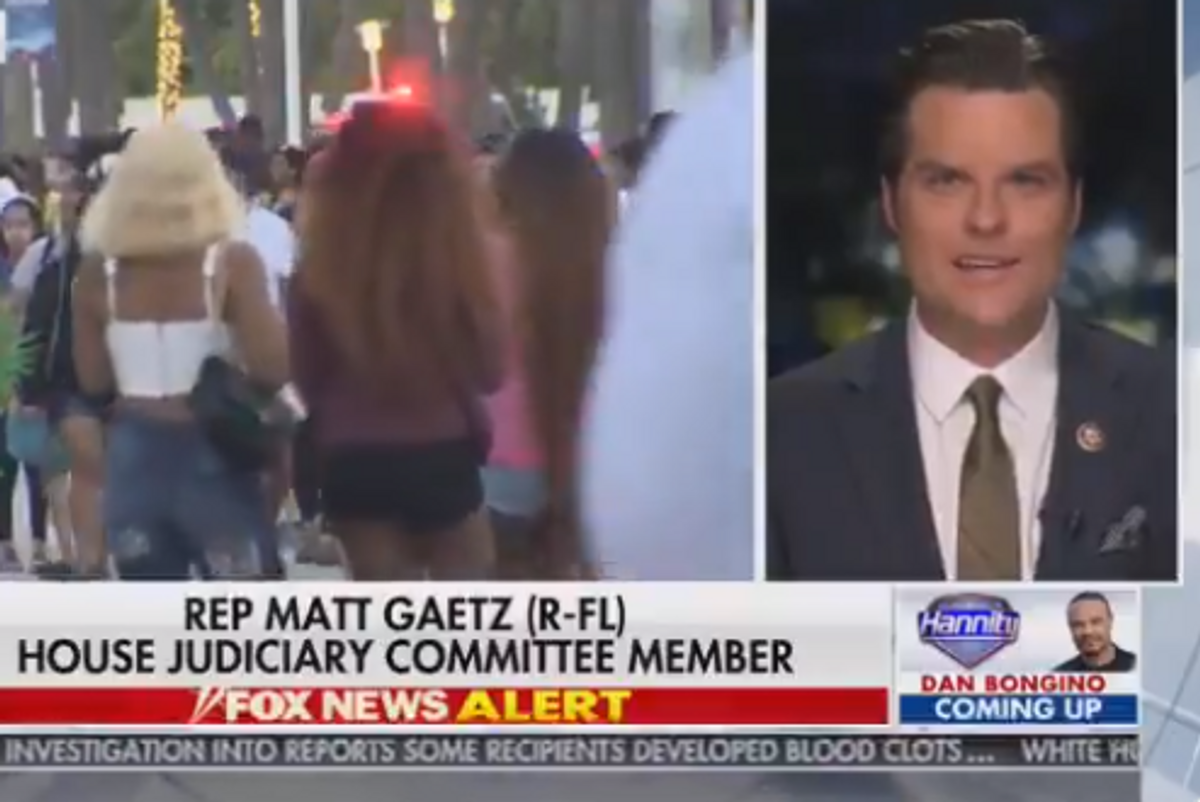 You know how it is with Florida GOP Rep. Matt Gaetz's "son" Nestor. You're going about your life, mostly forgetting about Nestor, and most times when you think of Matt Gaetz, you're just wondering what kind of Photoshop accident happened in God's design lab that made his head so much bigger than his body.
It's like hey there, God, stop texting and creating humans at the same time!
But then Gaetz goes on Fox News saying things like MY SON NESTOR WHOM I PROCURED THROUGH COMMONLY ACCEPTED METHODS OF HAVING CHILDREN and it all rushes back. Nestor! We remember Nestor! He is Matt Gaetz's Cuban-born "son," the existence of whom Gaetz kept secret until he was looking to score some politically convenient points against then-Democratic Rep. (now White House senior advisor!) Cedric Richmond, who had mildly suggested that maybe white conservative assholes might not exactly know what it is like to be the parent of a Black child.
Here's that clip from last night, where Gaetz was also bringing Nestor up for political convenience, regarding coronavirus lockdowns in Florida:
---
"My son is a college freshman. He had no real graduation, no prom, and I struggled with whether or not to allow him… https://t.co/U43VBi1PL0

— Aaron Rupar (@Aaron Rupar) 1616464227.0
See, we just still have so many questions. We can start with the clip above.
Even if Nestor is Matt Gaetz's actual human son, Nestor is a college freshman, as Gaetz explains. He doesn't really need his regular human father's "permission" to go to Panama City Beach for spring break, unless what Gaetz means is that he was footing the bill and Nestor wouldn't get to go if Daddy Congressbucks didn't slip him the Amex.
We know these are conservatives, and they have bizarre family control issues, where sometimes people aren't "allowed" to do things by their parents well into their 30s, but come on. Dude is almost 20 years old, and he is at college in Alabama — which is another question, why is the "son" of a Florida congressman going to a commuter school in Alabama? He doesn't even go to actual Alabama or Auburn or anything like that — so we are pretty sure if he was going to spring break, he was going to spring break, whether or not Daddy Congressbucks was into it.
Also according to Nestor's Facebook, he graduated high school in 2019. Which was pre-COVID. So if Nestor had no real graduation or prom, it wasn't because of the pandemic. Maybe his typical American father struggled with whether to allow him to go to those too. Or maybe somebody is lying???
And all of that is without even traversing the winding road Nestor took to Matt Gaetz claiming him as his son, about which people still have so many questions. (There was never any adoption that we know of.) According to Gaetz, Nestor is his ex-girlfriend's younger brother, and his ex-girlfriend is now deceased. Nestor has a biological father who lives in Miami.
But yet Matt Gaetz is the one who "allows" Nestor to go to spring break? OK.
Oh well, those are all the questions we have right now, NO GAY-BAITING IN THE COMMENTS SECTION, THERE IS ENOUGH TRAGEDY IN THE WORLD RIGHT NOW WITHOUT Y'ALL'S SO-CALLED "JOKES."
The end.
Follow Evan Hurst on Twitter RIGHT HERE, DO IT RIGHT HERE!

If you happen to have some extra money right now, we would take it.
Evan Hurst
Evan Hurst is the managing editor of Wonkette, which means he is the boss of you, unless you are Rebecca, who is boss of him. His dog Lula is judging you right now.
Follow him on Twitter RIGHT HERE.