U.S. Attorney Preet Bharara Didn't Want To Do Phone Sex With Donald Trump
News
June 12, 2017 11:20 AM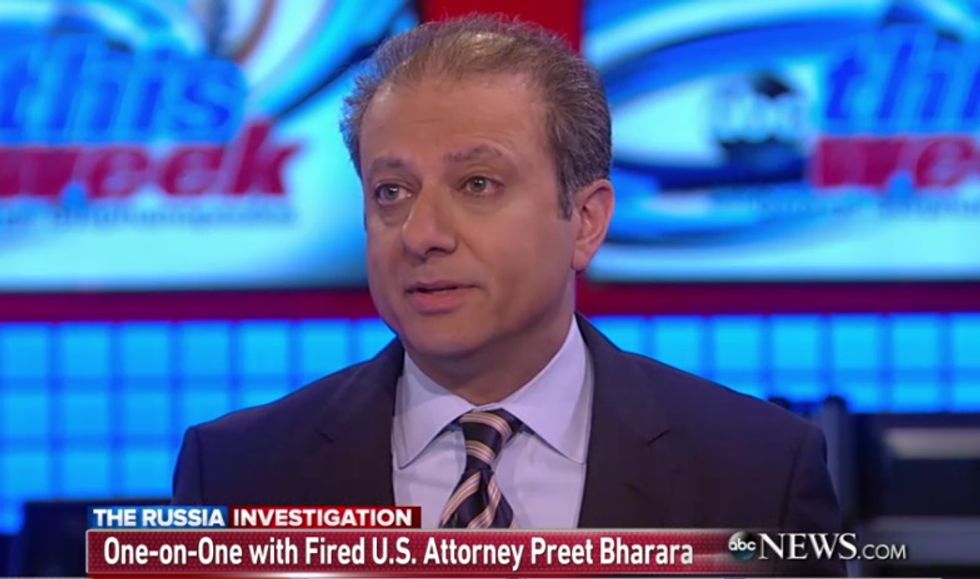 The president doubted his commitment to Sparkle Motion
---
Former U.S. Attorney for the Southern District of New York Preet Bharara was interviewed on ABC's "This Week" yesterday, and talked to George Stephanopoulos about the possible obstruction of justice case against Donald Trump (he said fired FBI director James Comey's Senate testimony Friday was at least enough to start an investigation); he also talked a bit at the end of the interview about a few times Trump called him to just have a friendly chat, which he said made him uncomfortable because presidents aren't supposed to do that. Barack Obama, for instance, didn't call him even once, and that's how it should have been, he said.
Bharara also said that he'd reported one of the Trump calls to Attorney General Jeff Sessions's chief of staff because the president seemed to be trying to "cultivate some kind of relationship," which would be an ethical no-no. Bharara said Trump had called him twice before taking office, and then a third time after he became president; Bharara refused to return the last call from Trump, in March, and 22 hours later he was fired.
The president of the United States wouldn't fire a U.S. Attorney just out of spite because the attorney wouldn't take Donald Trump's call, would he? Nah, that's nuts, right? After all, Trump up and fired 46 U.S. attorneys all at once in March, and it's surely a complete coincidence that came just one day after Bharara failed to return Trump's call. Donald Trump wouldn't fire 45 other U.S. attorneys out of the blue just as cover for getting rid of Bharara, would he? Crazy conspiracy theory stuff, surely.
Here's the video, from Sunday's "This Week" on ABC News (Bharara talks about the Trump calls starting at around the 10:50 point):
BHARARA: So they're unusual phone calls and it sort of -- when I've been reading the stories of how the president has been contacting Jim Comey over time, felt a little bit like deja vu. And I'm not the FBI director, but I was the chief federal law enforcement officer in Manhattan with jurisdiction over a lot of things including, you know, business interests and other things in New York.

The number of times that President Obama called me in seven-and-a-half years was zero. The number of times I would have been expected to be called by the president of the United States would be zero because there has to be some kind of arm's length relationship given the jurisdiction that various people had.
Hmmmm that does sound familiar: James Comey talked to Barack Obama just twice, and one of those was to say goodbye as Obama left office; neither time involved any specific cases. Maybe Trump is just a more hands-on guy (especially for ladyparts) than cold, aloof Barack Obama the Vulcan, and this is just a matter of a different personal style? Bharara said Trump had called "ostensibly just to shoot the breeze and asked me how I was doing and wanted to make sure I was OK," so why would anyone think there was anything wrong with that? He's just a really friendly guy. (Lordy, we should sell talking points to Breitbart... except they're broke, haha!)
Bharara went on to explain just why this isn't done, after Stephanopoulos asked if those calls seemed similar to Trump's attempts to foster a "patronage" relationship with Comey:
That's not the word I use. I was in discussions with my own folks, and in reporting the phone call to the chief of staff to the attorney general I said, it appeared to be that he was trying to cultivate some kind of relationship.

And it may be hard for viewers of yours to understand if you're a layperson and not in the Justice Department, you know, what's wrong with that. The CEO of a company wants to call a field manager somewhere in the country because he thinks he's an up-and-comer, what's wrong with that?

The problem is the Justice Department is different [...] it's a very weird and peculiar thing for a one-on-one conversation without the attorney general, without warning, between the president and me or any United States attorney who has been asked to investigate various things and is in a position hypothetically to investigate business interests and associates of the president.
Unlike the conversation Comey testified about, Bharara said there wasn't any specific case Trump tried to discuss with him; the direct contact between the president and a U.S. attorney alone was enough to set of Bharara's Spidey Sense that this was Not Good. That last call, in March, preceded Trump's sudden decision to shitcan all the U.S. attorneys appointed by Barack Obama:
So the call came in. I got a message. We deliberated over it, thought it was inappropriate to return the call. And 22 hours later I was asked to resign along with 45 other people.
Bharara refused to draw a connection between his firing and the phone call, or any cases his office was working on, saying only that he knows "anything is possible," and suggesting Comey certainly appeared to have been fired for defying the president, but adding, "To this day I have no idea why I was fired."
Bharara's comments really didn't sit well with TrumpWorld; Mark Corallo, spokesperson for Trump's private Get-Out-Of-Impeachment attorney Marc Kasowitz, took to the Twitters to offer this carefully worked out rebuttal: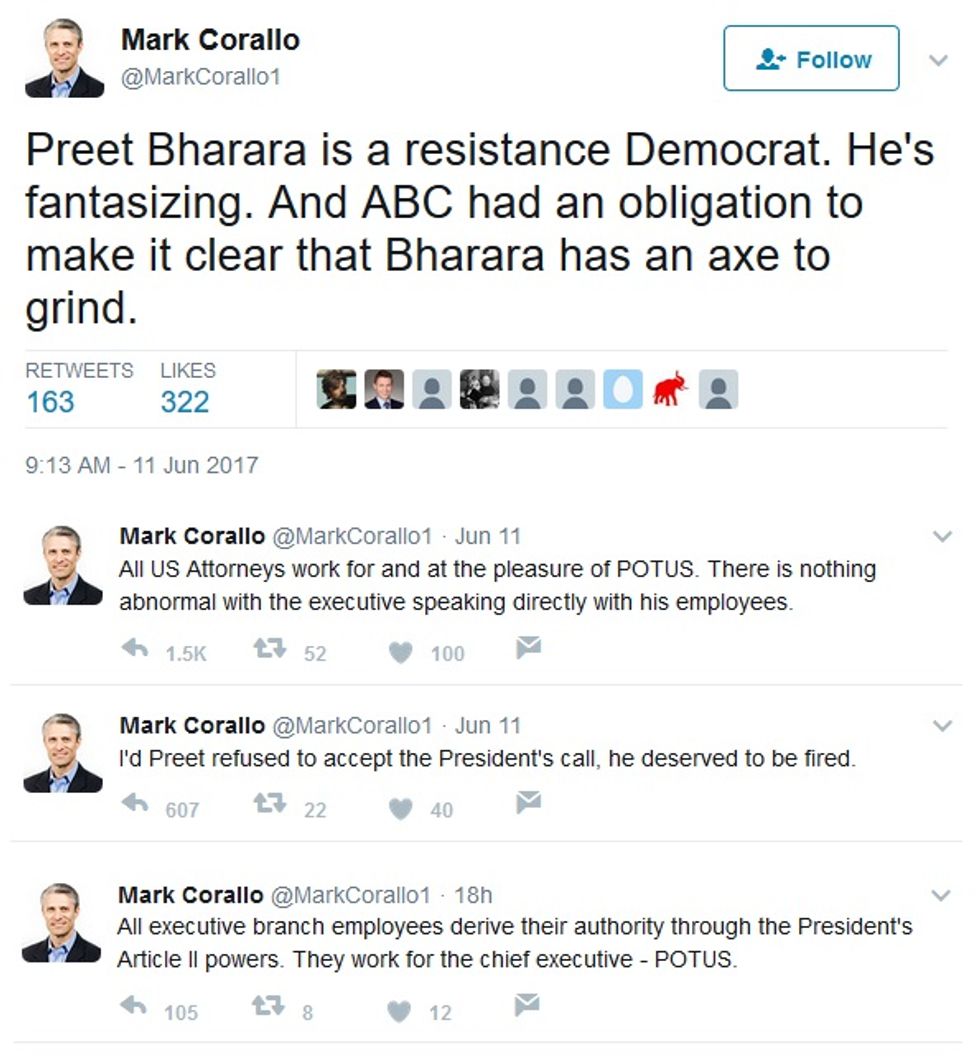 If you can't trust the legal opinion of a guy whose Twitter profile proclaims "MAGA," then who can you trust? Apparently, Mr. Bharara was not all that impressed: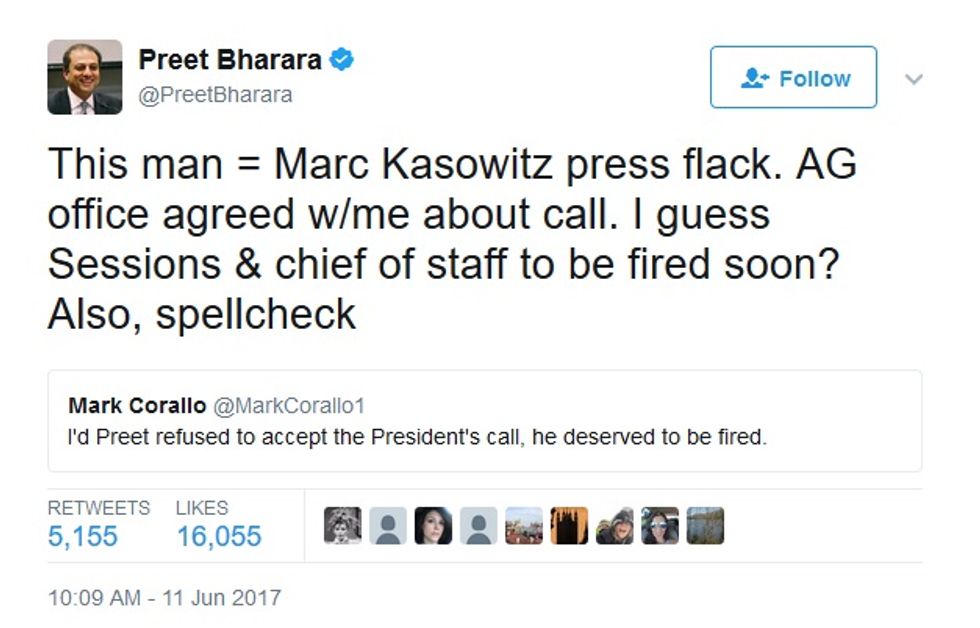 As of yet, the president has not weighed in to call Bharara a sad loser or to tell some Russians that getting rid of him was the smartest thing he's ever done, but it's only Monday morning.
Yr Wonkette is supported by reader donations. We hope you'll make the right decision and click the "Donate" clicky below. We really hope you do.