Trump And Republicans Having 'Be Racist To Squad' Contest. SPOILER: America Loses!
Post-Racial America
July 23, 2019 08:50 AM
Haters of the so-called "Squad" (Congresswomen Ilhan Omar, Rashida Tlaib, Ayanna Pressley, and Alexandria Ocasio-Cortez) got busy this weekend, merrily engaging in racist and bigoted self-owns for all the world to see. On Friday, Republicans from the Illinois GOP County Chairmen's Association embarrassed themselves by posting one of the most ignorant and xenophobic memes we've ever seen outside of Nazi propaganda posters.
It's that thing above. It's fucking ignorant, and God forbid, is also the kind of thing that could incite violence against one of those women.
Fuck you, whoever did this shit. I don't know whether to start with the sexualized objectification Ocasio-Cortez, the criminalization of Ilhan Omar and Ayanna Pressley, or the implied savagery of Rashida Tlaib, so let's just not start, and finish it out instead. What kinda bullshit is this? How about the icky racialized tropes about Ilhan Omar's puckered lips, the smiles on three of the women, and the wildness of the other; it's quite clear that our ladies are not safe with the men of Real America. Objectification of black and brown bodies is not a new thing, but it's frightening regardless of which century we live in. They need protection. Including from the police.
Mark Shaw, the president of the association, did take it down and apologize. Not fucking impressed, though, I don't give a shit about him condemning a meme, he needs to condemn that fucking rat bastard of a president that is putting the lives of FOUR of our elected representatives in danger.
"A couple of days ago, an image which was not authorized by me was posted on the Facebook page of the Illinois Republican County Chairmen's Association," Shaw wrote in a statement. "I condemn this unauthorized posting and it has been deleted. I am sorry if anyone who saw the image was offended by the contents."

The post, Shaw added, "is an unfortunate distraction from the serious debate surrounding the policies advocated by these four socialist members of the United States House of Representatives of which I strongly disagree."
Fuck you. That is all.
MEANWHILE, DONALD TRUMP.
---
On Saturday, Donald Trump did some light retweeting, to show us who the REAL squad is: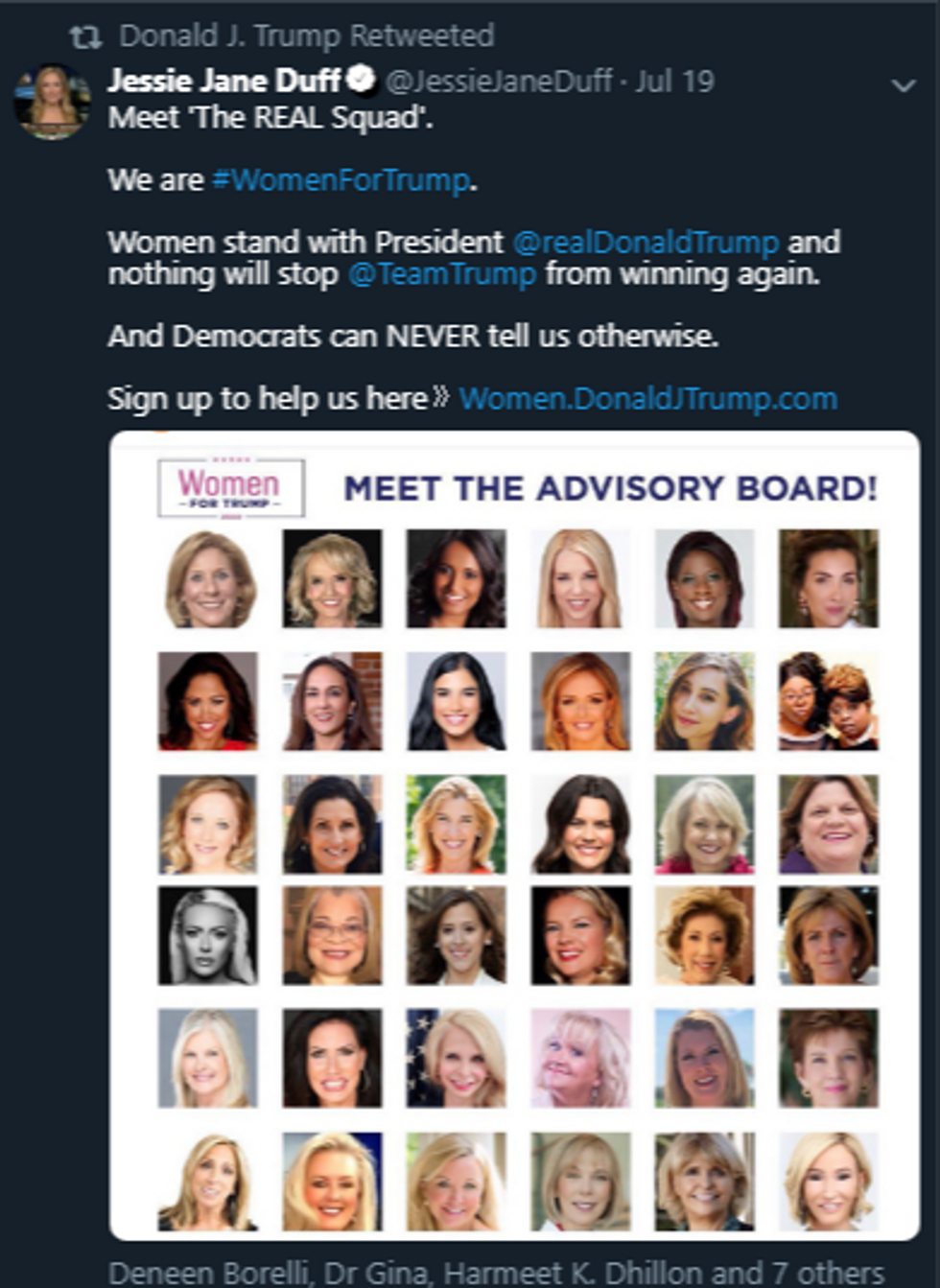 On Sunday morning, Trump sent out this very normal tweet:

I don't believe the four Congresswomen are capable of loving our Country. They should apologize to America (and Isr… https://t.co/EFUvL4LQOa

— Donald J. Trump (@Donald J. Trump) 1563710852.0
Does he ever have a normal day where he doesn't project his insecurities out to be seen and discussed by all and sundry? No.
Moving on to Monday morning!
The "Squad" is a very Racist group of troublemakers who are young, inexperienced, and not very smart. They are pull… https://t.co/W2uNC05KOs

— Donald J. Trump (@Donald J. Trump) 1563806906.0
So, let's break the bag of bullshit down just to see how utterly deranged this jackhole is. First of all, there's the typically strange quasi-Germanic capitalizations of nouns. He knows his fanbase needs help knowing which lies to tell on a day to day basis, so he conveniently capitalizes the key words so they know what to think. Let's isolate those capitalized words into mini-sentences: "The Squad Racist. They Democrat Party. Border and ICE and Homeland Security. Country!" This means they need to say "The Squad is racist, just like the Democrat Party. The Border Wall, ICE, and Homeland Security protect our Country!" None of the rest of what he said, nothing beyond what he randomly capitalizes, is relevant.

Of course, Trump cannot let it the fuck go, so he continued later Monday during a meeting with the prime minister of Pakistan.
"I think they're very bad for our country. I really think they must hate our country," Trump told reporters. He denied that he had created any "racial tension" in the United States and pointed to lower unemployment figures for African Americans.
Does Trump possess the ability to NOT humiliate us all day everyday? WHAT THE FUCK DO LOW UNEMPLOYMENT NUMBERS HAVE TO DO WITH YOUR RACISM? Please, will somebody just scream that at him? Damn!
The members of the squad are taking it all in stride, though, because of course they are. Rashida Tlaib, for example:
During an appearance Monday morning at an NAACP convention in Detroit, Tlaib was introduced as "one of the four women who was told to go back home."

Yeah, I'm not going nowhere, not until I impeach this president," she said upon taking the stage.
There ain't shit else to say. Impeach his muthafuckin' pussy-grabbing, mouth-breathing, Orange Julius-looking ass, sloppy suit-wearing, McDonald's-eating, birtherism-loving, draft dodging, justice-obstructing Putin puppet ass. It's past damn time.
Wonkette is fully funded by readers like YOU! Click below, to fund us!
Wonderbitch
Follow Wonderbitch aka Bravenak aka Bianca DeLaRosa, loves her jobs as Social Media Manager for Wonkette more than Sarah Huckabee Sanders loves lying to America. Bianca also moonlights as a Witch (THE BAD KIND!!) and is a Freelance Goddess of All Things Ever. Be very nice her because she likes to curse people, especially mean people. You can find Bianca on Twitter @Wonderbitch81, or email her at bianca@wonkette.com