Un-American Trump-Spam Vendor Fires Itself From Donald Trump Campaign
News
July 11, 2016 11:20 AM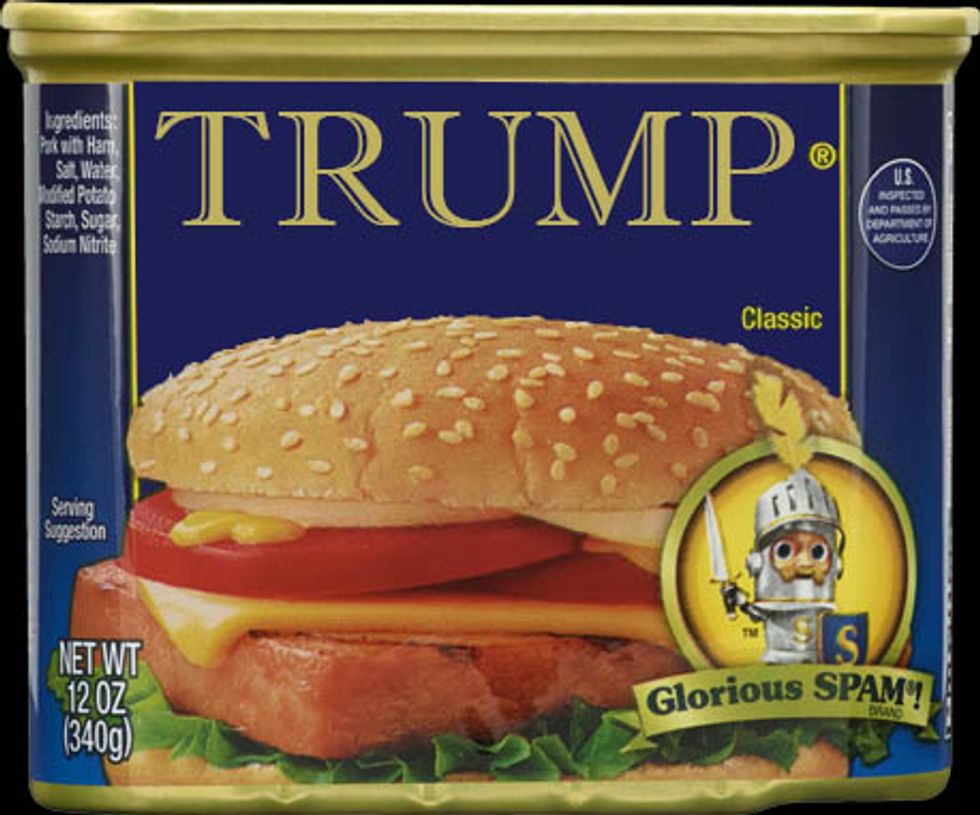 GLORIOUS TRUMPSPAM!
---
Donald Trump really loves spam. We're not talking about the delicious Hawaiian delicacy (Donald Trump would never eat a canned meat, and Donald Trump only uses Trump branded products); the spam we're talking about here is his email. It would seem that Donald Trump just couldn't let Hillary be the only person in this race with an email problem!
You may remember how Donald Trump is secretly one of the pathetic poors, and decided to start begging for money on the Internet only to find out that he'd been soliciting donations from people in governments not named "America." It turns out that not only were parliamentary members of Iceland, Australia, Scottland and England pissed about an inbox full of TrumpSpam, but the company behind his email fundraising efforts has decided to dump Trump citing "serious security and legal concerns," according to a statement by Henery Hyder-Smith, CEO of Adestrea, the U.K. email service platform working for Trump.
"Adestra...has suspended services to one of its agency clients, which recently sent an email on behalf of the Trump Campaign. The email in question has raised serious security and legal concerns among Adestra and other industry leaders."
Blimey, looks like ol' Trump has really gone and done it this time! Trump's first few emails wound up in spam folders at a rate of 60 percent, with only 12 percent of recipients even opening TrumpSpam, and 6% deleting it before even reading. Email research group ReturnPath notes that a further 79 percent of TrumpSpam is being filtered out of inboxes because of the letter "J."
Throughout the primaries, the Trump campaign sent emails from the DonaldTrump.com domain with relatively no issues. In fact, during the first quarter of the year, not only did Trump have one of highest inbox placement rates out of all the candidates, he had the highest open rate, too. But on June 16, the campaign introduced its DonaldJTrump.com domain into its email efforts. Spam filters did not recognize the new domain.
ReturnPath also notes that its first email from the email list the Trump camp used had a standard bounce-back rate of .4 percent. A few days later, the bounce-back rate was 5.5 percent, with some later lists receiving bounce-back rates at over 30 percent.
To make matters worse, Paramount, the U.S.-based reseller of Adestra's platform, had its website hacked Thursday, with the message, "Be careful of your site security! Take it Seriously," written across its front page.
In context, a lot of (all) campaigns rely on email lists to reach out to supporters for cash. In 2012, Obama hauled in $690 million from email, but Obama's team was also tech savy and able to utilize both social media and email to create a fundraising juggernaut (even if they did send out a shit load of them). Bamz's team was also built by volunteers back in 2007 when he was just a dirty Muzzie from Chicago, and has only grown by utilizing and engaging supporters on sites like Tumblr, Medium, Instagram, Flickr, Reddit, and Snapchat aside from just shitposting sentence fragments on Twitter like Trump.
Dominic Gwinn
Dominic is a broke journalist in Chicago. You can find him in a dirty bar talking to weirdos, or in a gutter taking photos.