For Once, A Chicago Cop Was Found Guilty Of Murder
Guns
October 06, 2018 03:31 PM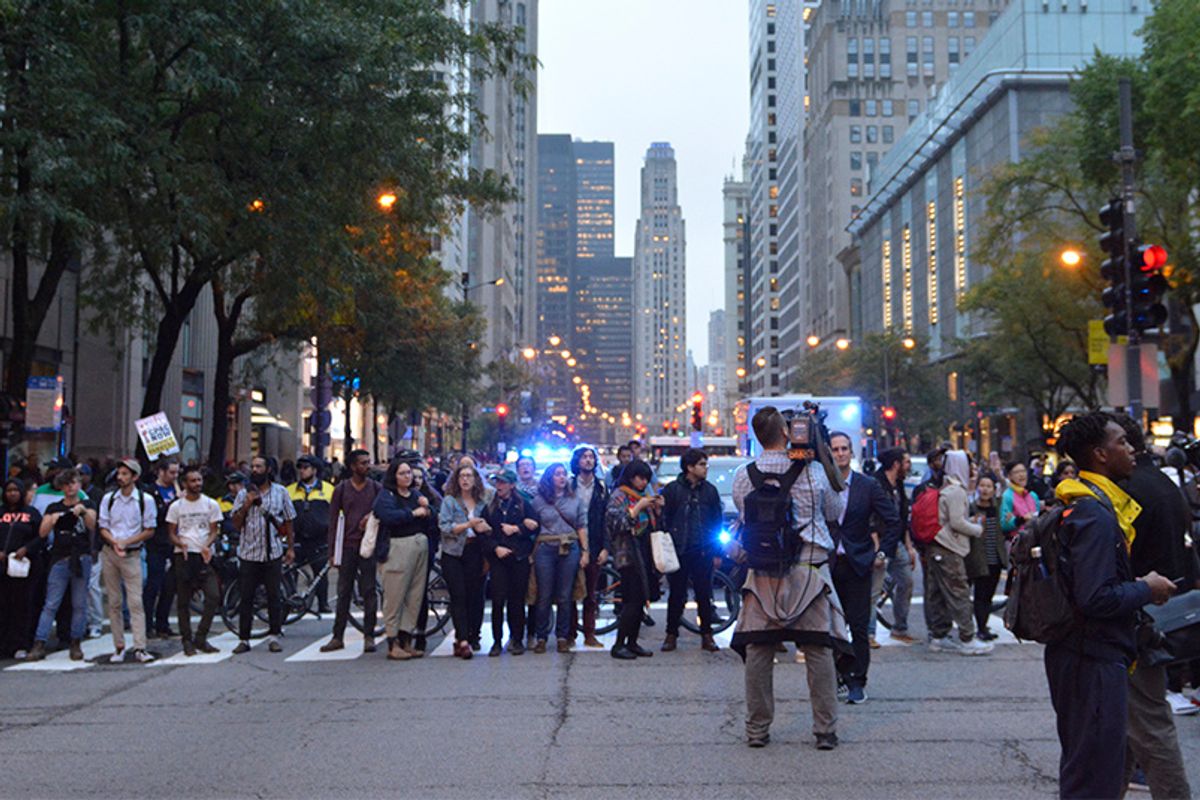 Photo by Dominic Gwinn
Yesterday, a jury found Chicago police officer Jason Van Dyke guilty of second-degree murder and 16 counts of aggravated battery with a firearm in the fatal 2014 shooting of 17-year-old Laquan McDonald. Though the trial only lasted a month, it's a case that has left Chicago fractured for years. Activists responded to the verdict by marching downtown during rush hour, snarling traffic and scaring the crap out of tourists. After weeks of awful headlines, for once there's some good news.
---
People were going to head into the streets regardless the verdict, the only question was whether or not there would be riots. On Friday morning city officials warned businesses in the more fashionable areas to brace for potentially violent protests. The wealthy old white people along Chicago's Northeast side were confident this would be like the MLK and DNC riots of 1968, mixed with the Great Chicago Fire of 1871. When word came out around noon that the jury had reached a verdict, Chicago Public Schools canceled all after-school activities and parents began pulling their kids out of class. As the jury began to read the verdict, multiple reporters around city hall and the court house told me the city suddenly became so quiet you could hear rats farting in alleys. People huddled around shitty cell phone speakers and held their breath as the verdict was read:
Hearing the verdict outside city hall pic.twitter.com/AaLMQCUhYG
— Tony Arnold (@tonyjarnold) October 5, 2018
"We the people of the jury find the defendant, Jason Van Dyke, guilty of second-degree murder. We the people of the jury, find the defendant, Jason Van Dyke, guilty of aggravated battery with a firearm, first shot. We the people of the jury find the defendant, Jason Van Dyke, guilty of aggravated battery with a firearm, second shot. We the people of the jury find the defendant, Jason Van Dyke, guilty of aggravated battery with a firearm, third shot...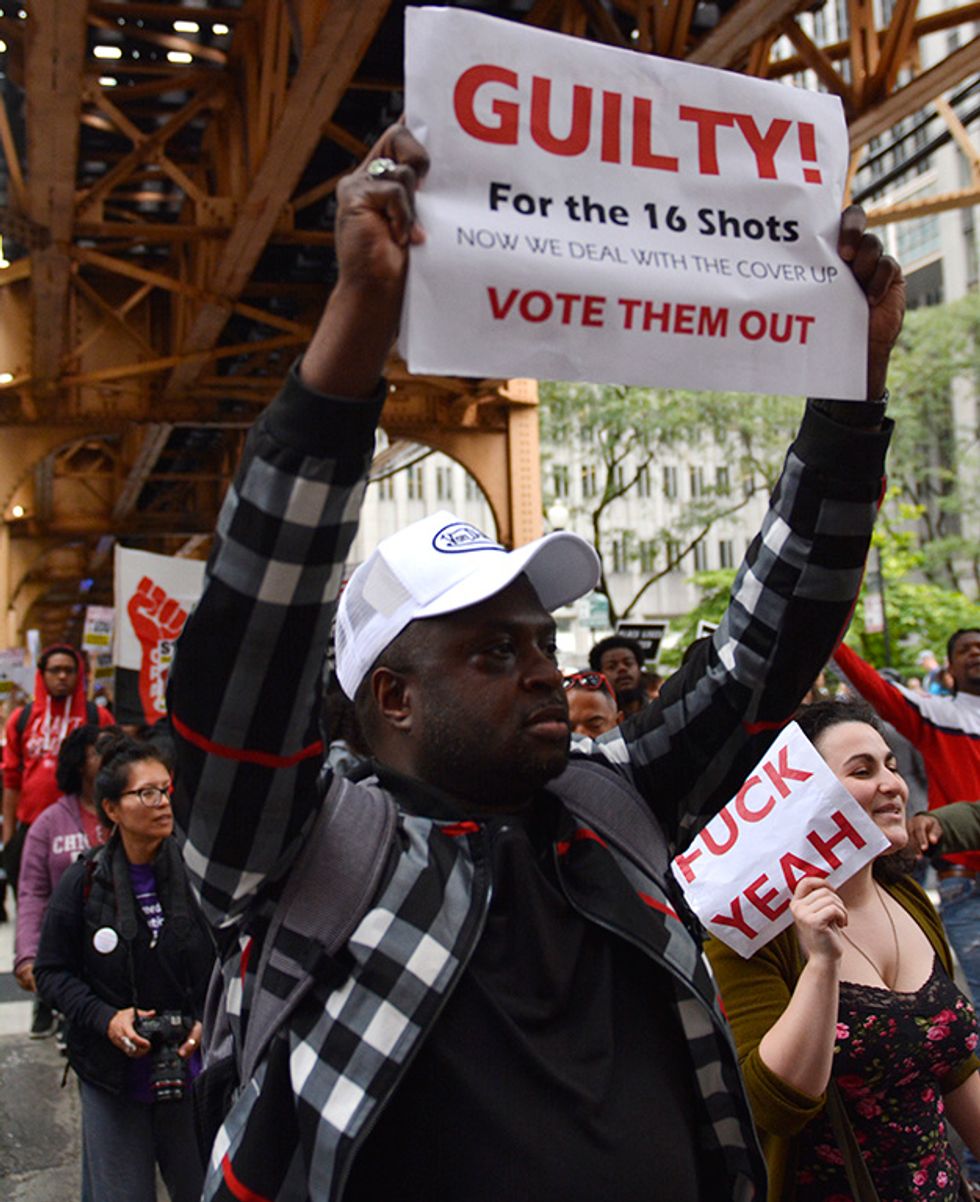 A protester marches with a handmade sign under under the L tracks.photo by Dominic Gwinn
It was a chilling outcome, one that many had hoped for, but few expected. As Chicago's WBEZ notes, it's the first time in decades that an on-duty police officer has been found guilty of murder. Initially charged with first degree murder, on Thursday the judge told the jury that it could consider second-degree murder as they left to deliberate. According to the long, flabby arm of the law, in order to find Van Dyke guilty of second-degree murder the jury had to feel Van Dyke DEFINITELY murdered McDonald, but that Van Dyke believed his own life was in danger.
Van Dyke's defense attorney really drove that "danger" line home throughout the trial. The defense attempted to paint McDonald as a "monster" who was "whacked-out" on PCP the night of the shooting, and Van Dyke was just a cop responding to a call for backup. He arrived on the scene to find a knife-wielding maniac marching down a major roadway at night. The "man", according to dispatch, had just slashed the tires of a police car, and may have attacked an innocent person. Van Dyke's defense attorney told the jury to think of the scene as a monster movie, "When a monster turns and looks at the victim, that's when the music starts to play." Unfortunately for Van Dyke, a police dash cam recorded the murder and the seven officers who refused to administer lifesaving procedures.
It's hard to believe Van Dyke felt his life was in danger after viewing the footage. Police in Chicago are trained to fire four shots center mass and assess the situation. Is shit still hairy? Well, fire four more; assess the situation. Repeat until the threat to public safety and personal pensions is neutralized. Then smoke a cigarette and make sure everyone gets their story straight. Wash your hands, write the report, and go grab a beer.
Witnesses disputed the cops story -- that McDonald "lunged" at Van Dyke -- and people began asking questions. Why did Van Dyke begin firing on someone who was walking away from police? Why did Van Dyke continue firing at McDonald's lifeless body until his service weapon was empty? There was already a dispatch call for a taser, and the other officers on scene clearly didn't feel the need to draw their weapons. What the hell scared Van Dyke so bad that had to act like Charles Bronson in "Death Wish?"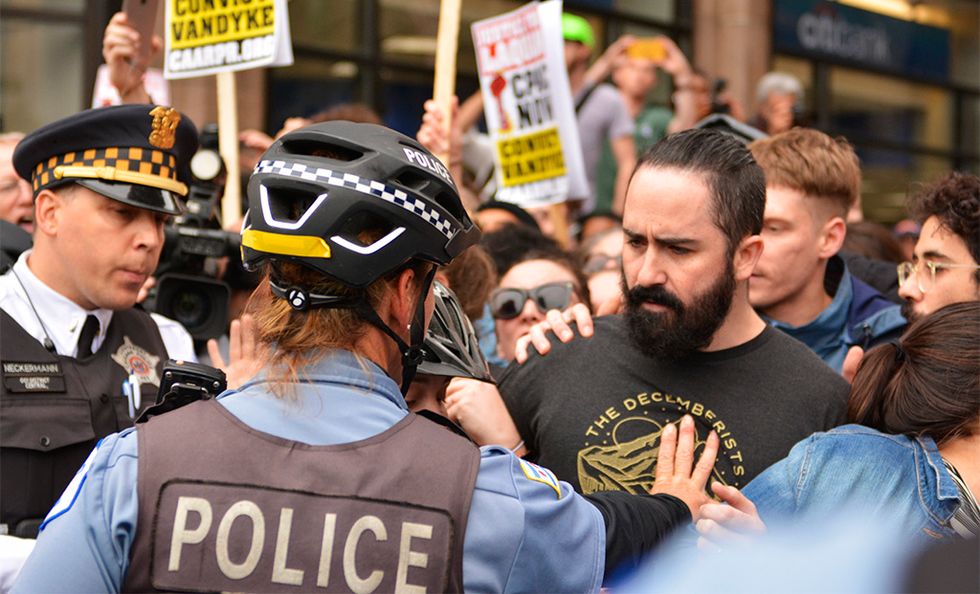 Police hold back protesters attempting to break through a barricade at Michigan Ave and W. Madison St.photo by Dominic Gwinn
The city spent months dodging these questions. Mayor Rahm Emanuel was fighting for his political life in an election against Jesus "Chuy" Garcia, and the last thing anybody down at city hall wanted was video of a cop killing another black kid just before the election. Freelance journalist Brandon Smith FOIA'd the dash cam video and local activists led by Will Calloway began demanding city hall release the tape for over a year. When the tape was released in 2015 people went apeshit and demanded the heads of Mayor Emanuel, then-Police Supt. Garry McCarthy, and then-Cook County State's Atty. Anita Alvarez. Emanuel tried to save his own ass by blaming everything on McCarthy and firing him. He then gave an eye rolling and tearful speech calling for police reforms, per usual. Van Dyke was brought up on murder charges, and Alvarez was voted out in 2016.

In the ensuing months, the Obama Justice Department found the Chicago Police Department often engaged in "excessive force," and have a habit of acting like pieces of shit. The report called for a series of reforms that Jeff Sessions, one year later, would find to be a real pain in the ass to enforce. In April of 2017, Sessions said, "It is not the responsibility of the federal government to manage non-federal law enforcement agencies." People began to wonder if anything would change until this past summer when Mayor Emanuel, Illinois Attorney General Lisa Madigan, and CPD issued a consent decree calling for the same kind of policing reforms that have been issued and reissued for a century. It's now October, thank God nobody held their breath.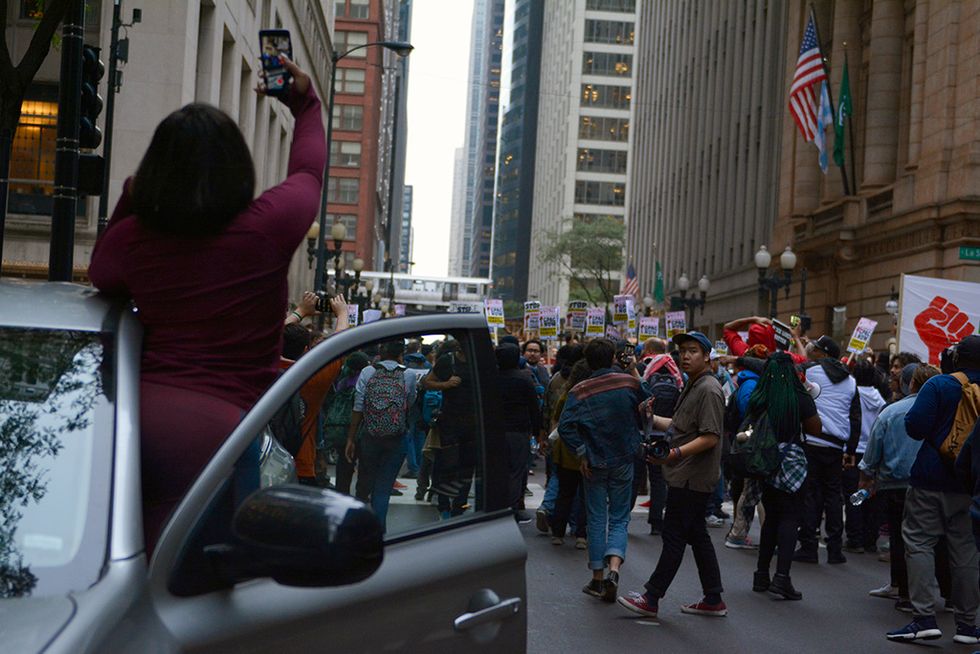 A woman leans out of her car and takes pictures of protesters marching down Madison St. in downtown Chicago. Photo by Dominic Gwinn
The police response has been rather muted. Some cops are saying they're not going to bother getting out of their cars to do proactive policing. Others say proactive policing died when the city decided to release the video. The Illinois Fraternal Order of Police, ever the defender of good and bad cops, called the Van Dyke trial a "sham" and the verdict "shameful." I guess CPD is going to drink free Starbucks and take turns jerking each other off in their cars this winter, and leave the serving and protecting to local gangs.
Illinois FOP calls Van Dyke verdict "shameful." Says jury was "duped into saving the asses of self-serving politicians at the expense of a dedicated public servant." pic.twitter.com/ErvlO6vTQD
— Tina Sfondeles (@TinaSfon) October 5, 2018
Sentencing doesn't begin until Oct. 31 and Van Dyke's lawyers say they're going to appeal the conviction. He could very well spend the rest of his life in jail as each count of aggravated battery carries a minimum six-year sentence without the possibility of parole, and the second-degree murder charge has a 20-year-maximum sentence. The judge could rule for one concurrent prison term, or find each gunshot was "severe bodily injury," and rule that his prison sentences be served back-to-back. In addition, three other other officers will go on trial for conspiracy and obstruction of justice charges related to the cover-up.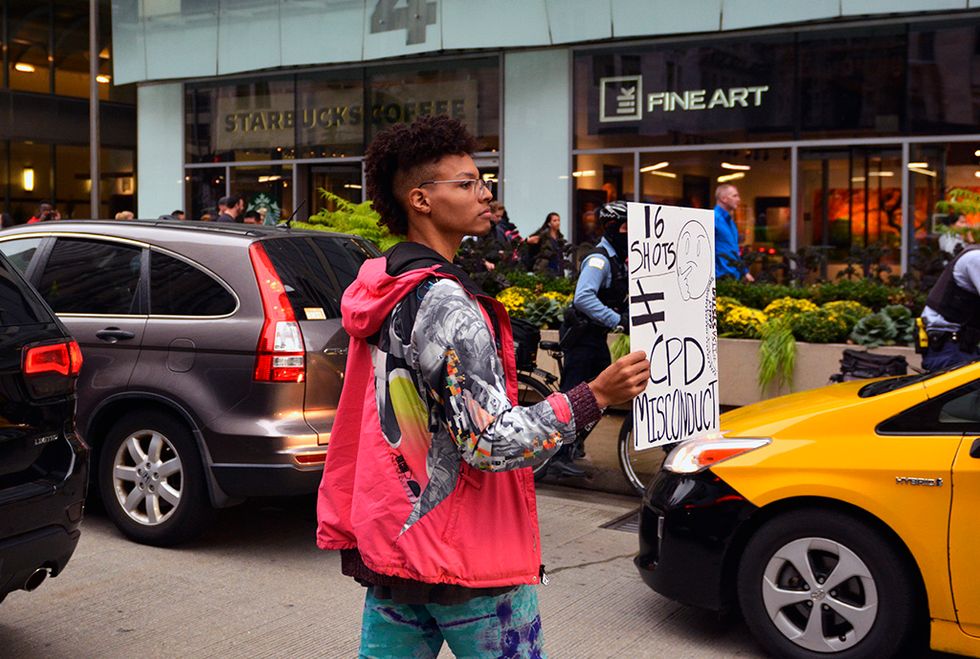 A young person marches through the Chicago's Magnificent Mile.
"16 shots and a cover-up" is what people scream in the streets. They march into oncoming traffic in The Loop, forcing the BMWs, Mercedes, and Teslas to a halt. Occasionally a fist pops out of a window and is raised up in solidarity, but most lock their doors and their windows and slink down in their leather seats. Some grab their phones to record the masses terrorizing the upscale businesses that can afford to ignore the bloody streets only five miles away. Every once in awhile some brave asshole decides to strap on a MAGA hat and display their hastily scribbled Brett Kavanaugh sign, but their pale white skin turns translucent when they're reminded gang paraphernalia is not tolerated in the city of Chicago, and victims of gun violence don't give a fuck about "the principles of constitutional originalism." With arms locked, this rainbow of protesters pleads for peace in a city plagued by violence, thankful that for once, justice finally prevailed.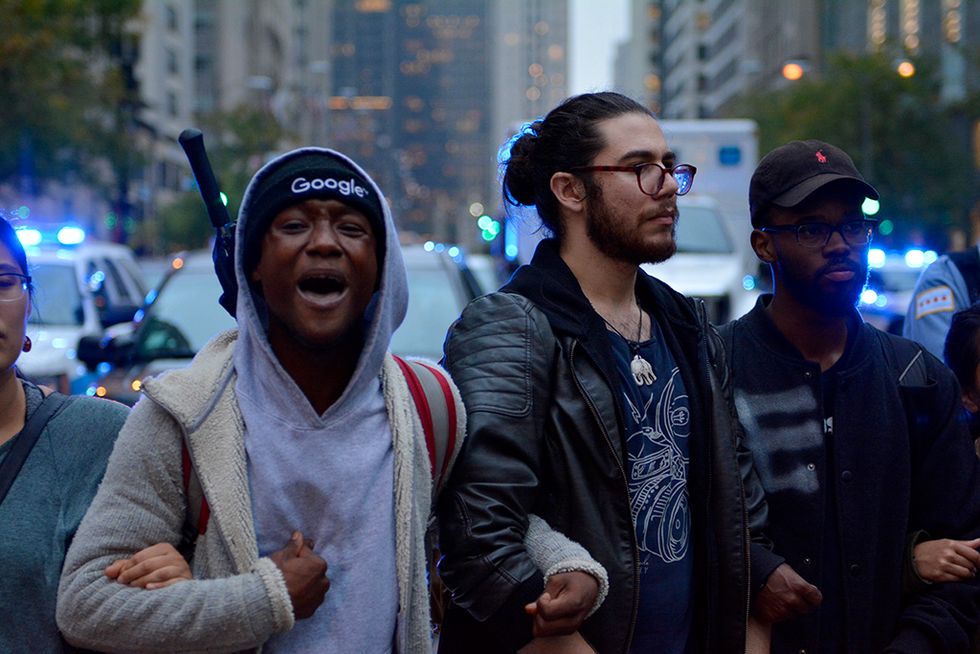 A protester screams, "My life matters."Photo by Dominic Gwinn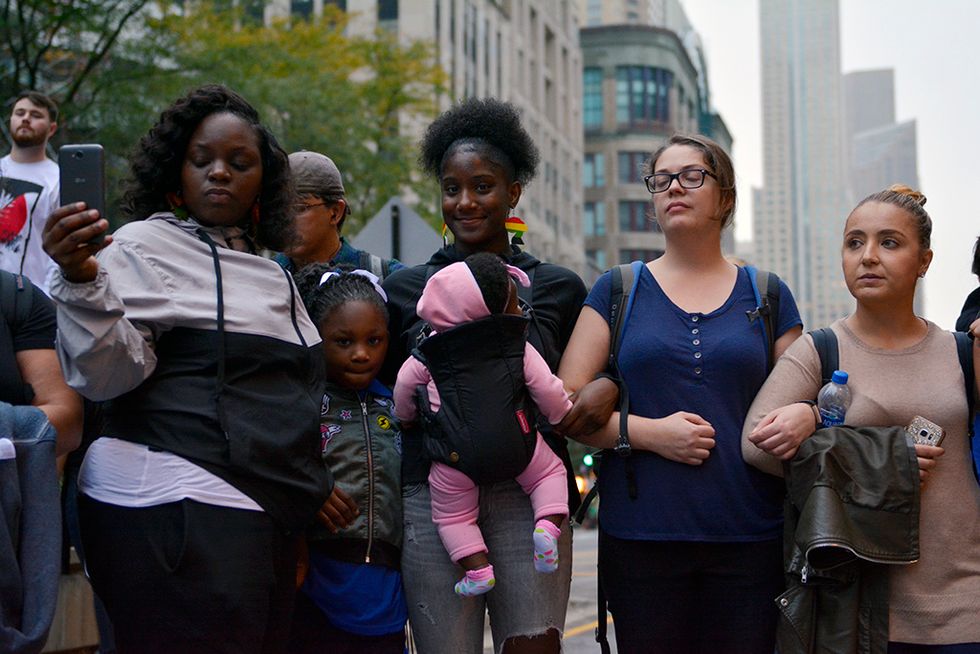 Mothers lock arms to block traffic along Chicago's Magnificent Mile.Photo by Dominic Gwinn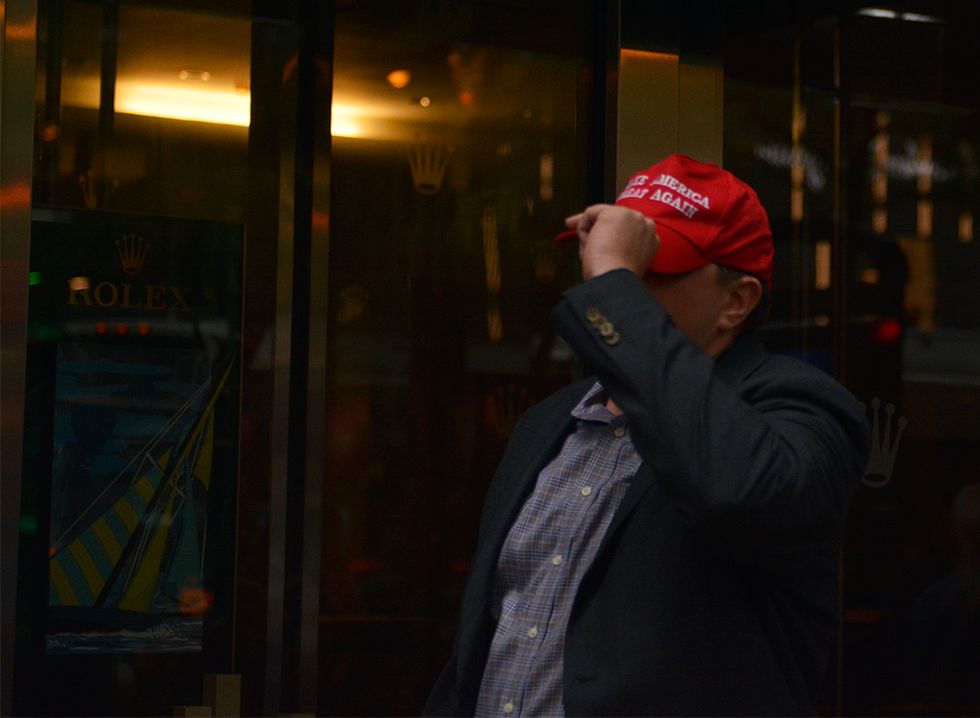 An anti-protester in a MAGA hat hides his face from photographers and reporters after being confronted outside of a Rolex store in Chicago.Photo by Dominic Gwinn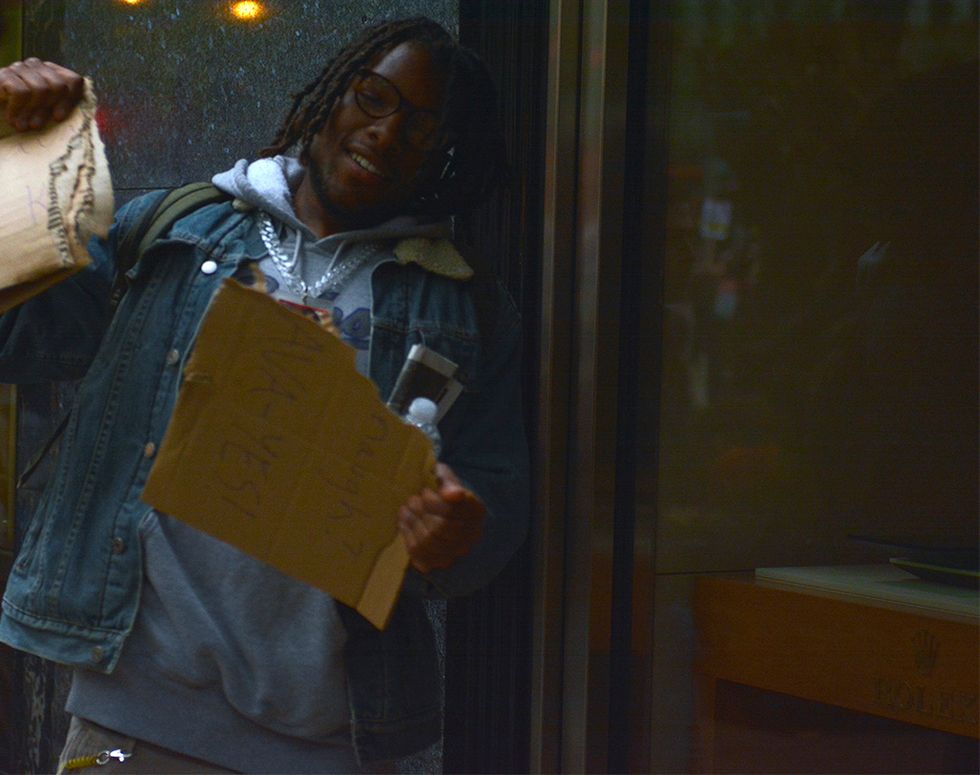 A protester smiles as he rips apart a cardboard sign dropped by the anti-protester that read, "Kavanaugh? Kava-yes!"Photo by Dominic Gwinn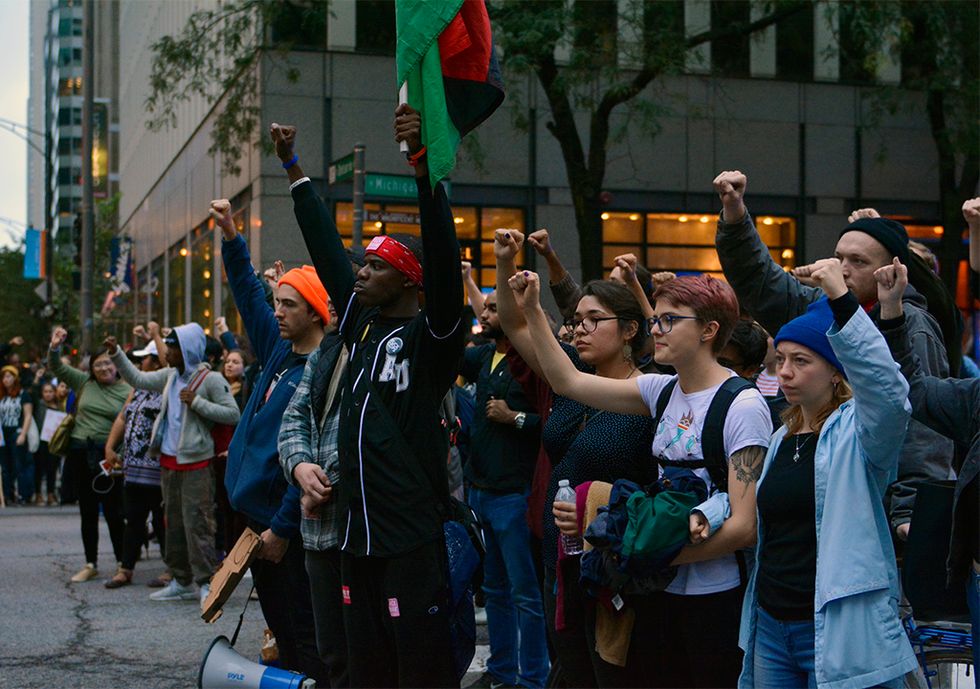 Protesters block all four lanes of traffic along the Magnificent MilePhoto by Dominic Gwinn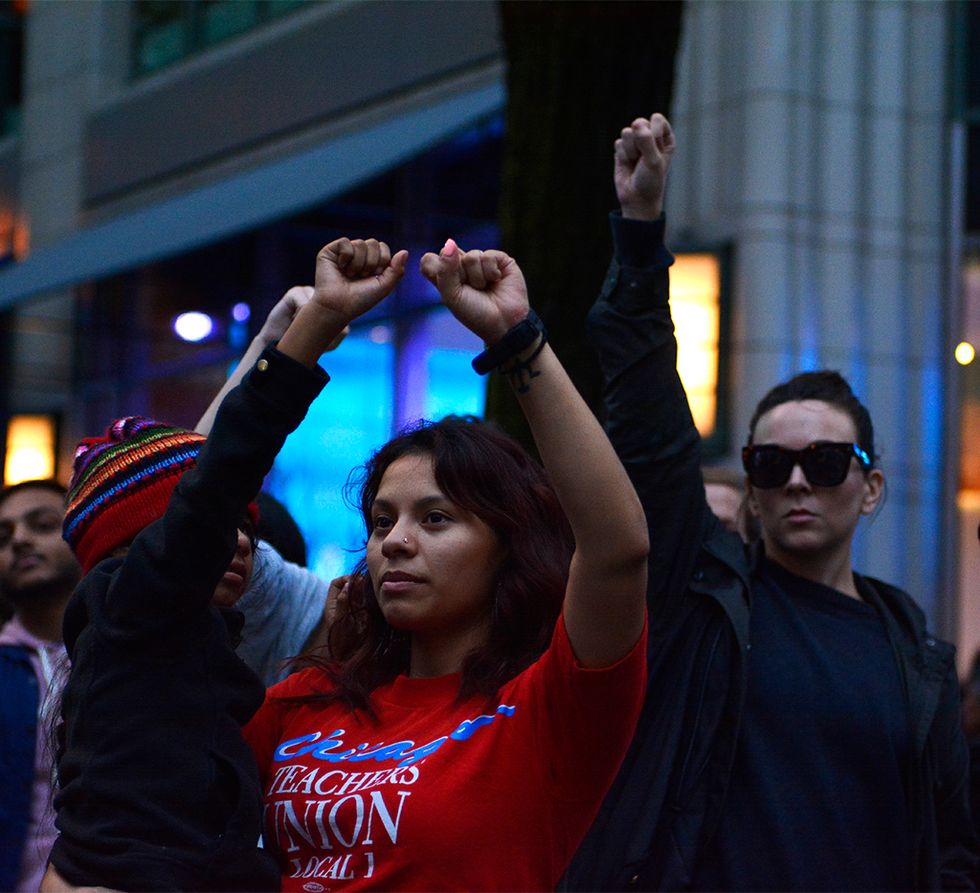 A mother and her daughter in a Chicago Teachers Union t-shirt block traffic along Chicago's Mafnificent Mile Photo by Dominic Gwinn
[ WBEZ / Chicago Tribune / WaPo / Chicago Sun-Times ]

Follow Dominic on Twitter and Instagram!

We're 100% ad-free and reader supported, so consider buying us coffee, or get a subscription!

Dominic Gwinn
Dominic is a broke journalist in Chicago. You can find him in a dirty bar talking to weirdos, or in a gutter taking photos.