Mark Zuckerberg Worried We're Not Being 'Nuanced' Enough About Right-Wing Hate Speech On Facebook
Right Wing Extremism
February 22, 2021 02:50 PM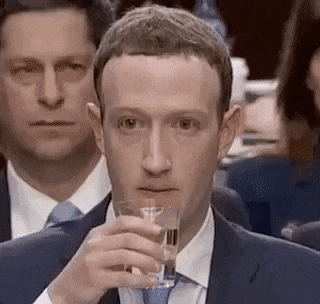 Facebook finallybanned Alex Jones in May 2019. The Infowars founder was booted from the platform along with such dregs of society as Paul Nehlen, Milo Yiannopoulos, Paul Joseph Watson, Laura Loomer, Gavin McInnes, and Louis Farrakhan. Facebook had long resisted acting against Jones's outright lies and conspiracy theories, such as his sick claims that the Sandy Hook school shooting was a "giant hoax" or that the Parkland school shooting survivors were "crisis actors." However, Facebook determined that Jones also viciously attacked marginalized groups, including Muslims and trans people. This made his content less Weekly World News and more Der Stürmer. This qualified Jones for expulsion under Facebook's rules against "dangerous individuals and organizations."
However, BuzzFeed reports that Facebook CEO Mark Zuckerberg didn't consider Jones a hate figure, so he "overruled his own internal experts and opened a gaping loophole." Jones would never darken Facebook's doors again, but his followers were free to smear his filthy content all over the walls. This was a distinction without much of a difference, and Jones's lies continued to spread across the world's largest social network.
---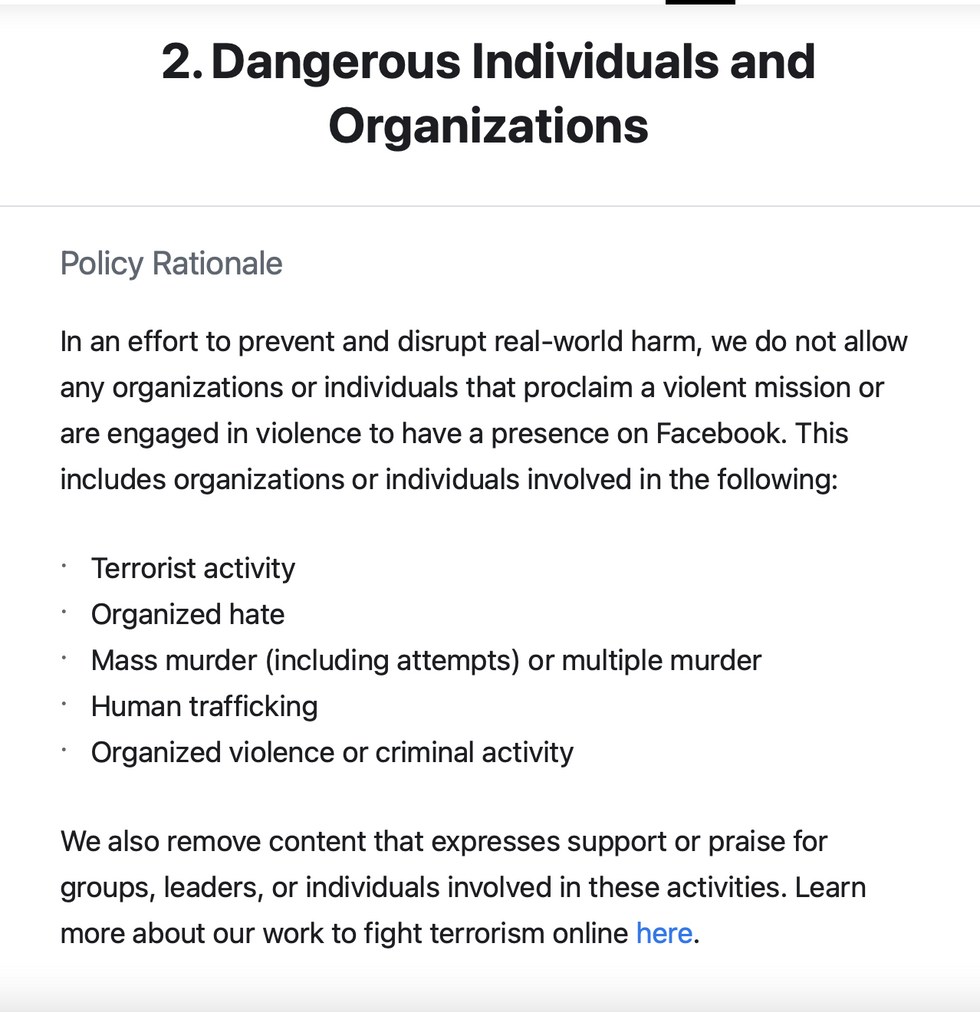 Facebook
"Mark personally didn't like the punishment, so he changed the rules," a former policy employee told BuzzFeed News, noting that the original rule had already been in use and represented the product of untold hours of work between multiple teams and experts.

"That was the first time I experienced having to create a new category of policy to fit what Zuckerberg wanted. It's somewhat demoralizing when we have established a policy and it's gone through rigorous cycles. Like, what the fuck is that for?" said a second former policy employee who, like the first, asked not to be named so they could speak about internal matters.
This is the actual policy:

In an effort to prevent and disrupt real-world harm, we do not allow any organizations or individuals that proclaim a violent mission or are engaged in violence to have a presence on Facebook. This includes organizations or individuals involved in the following:

Terrorist activity

Organized hate

Mass murder (including attempts) or multiple murder

Human trafficking

Organized violence or criminal activity

We also remove content that expresses support or praise for groups, leaders, or individuals involved in these activities. Learn more about our work to fight terrorism online here.
Zuckerberg demanded a "more nuanced policy" for managing content from a hatemonger with zero nuance. This delayed Facebook's efforts to remove right wing militant organizations such as the Oath Keepers from its platform. The Oath Keepers were involved in the January 6 Capitol insurrection, and MAGA mob member Jessica Watkins was reportedly inspired to join the extremist group after seeing founder Stewart Rhodes on Jones's show.
Despite Facebook's claims that it's "working to keep users safe," the social media site is still an invaluable resource for violent extremists. Participants in the plot to kidnap Michigan Governor Gretchen Whitmer shared footage of their "paramilitary exercises and bomb-making training" on a private Facebook group, according to an FBI affidavit. (Private groups also make it harder to report illegal and dangerous conduct.)
The Michigan state police allege that a related militia group facing terrorism charges recruited new members on Facebook.
Armed white men patrolling the streets of Kenosha, Wisconsin, like the Klu Klux Klan answered the call post on the Facebook militia group, Kenosha Guard. The day Kyle Rittenhouse killed two people and permanently wounded a third, the group posted: "Any patriots willing to take up arms and defend our city tonight from evil thugs?" This was later signal boosted on the Infowars site.
Despite all this, Zuckerberg and Joel Kaplan, Facebook's vice president of global public policy, reportedly intervened on behalf of "popular conservative figures who have violated Facebook's rules." We can't have Republicans whining about how mean "Big Tech" is, after all!
Kaplan is a Republican, but Zuckerberg finds it very "troubling" if anyone suggests Kaplan's outsized influence on policy caused Facebook to stand back and stand by as rightwing extremists weaponized the platform. Zuckerberg has defended Kaplan's role with the tired argument that true "diversity" means providing an outlet for all political viewpoints. This is nonsense because no one is plotting insurrection on the Ayn Rand fan page.
It's offensive whenever Zuckerberg speaks about "diversity," when Facebook still struggles to hire and retain Black and Hispanic employees, especially women. Just three percent of the company's executives are Black or Hispanic, and only one percent are Black or Hispanic women. The voices in Zuckerberg's ear are more like Kaplan than those of us in the actual crosshairs of the violent rhetoric that's found such a home on Facebook.
[Buzzfeed / The Guardian]
Follow Stephen Robinson on Twitter.
Do your Amazon shopping through this link, because reasons.
Yr Wonkette is 100 percent ad free and supported entirely by reader donations. Please click the clickie, if you are able!
Stephen Robinson
Stephen Robinson is a writer and social kibbitzer based in Portland, Oregon. He writes make believe for Cafe Nordo, an immersive theatre space in Seattle. Once, he wrote a novel called "Mahogany Slade," which you should read or at least buy. He's also on the board of the Portland Playhouse theatre. His son describes him as a "play typer guy."