Republicans Know REAL Scandal: FBI Ignored Obama/Russia Collusion! That's The Ticket!
Russia
July 12, 2018 03:49 PM
Things at the House Republican grilling of FBI guy Peter Strzok (which is still going on, and you should visit Evan at that link) have taken a weird turn. Or another weird turn. Idaho Congressman Raul Labrador asked a very, very strange question of Mr. Strzok: Why did the FBI fail utterly to investigate Barack Obama for colluding with Russia in 2012, because everybody knows Obama totally asked Putin to swing the election against Mitt Romney for him? As we all know, it was a huge scandal.
---
In case you didn't know about Obama's election collusion with Putin in 2012, Labrador would like to remind you:
Why didn't the FBI investigate President Obama, when he was caught on a hot mic, telling the Russian president that he'd have more flexibility to negotiate after the 2012 election?
You know, that time Obama definitely said a dumb, and in retrospect, Trump apologists have decided it's now precisely equivalent to every third person in the Trump campaign meeting with Russians to get dirt on Hillary Clinton.
Of course, if you want to get all technical about it, Obama wasn't talking about enlisting foreign help in 2012, he was telling then-president Dmitri Medvedev that he'd have "more flexibility" in arms control after he was reelected, "particularly with missile defense." Nobody has ever come up with any evidence Obama asked for Russia to please, please launch an information war on his behalf.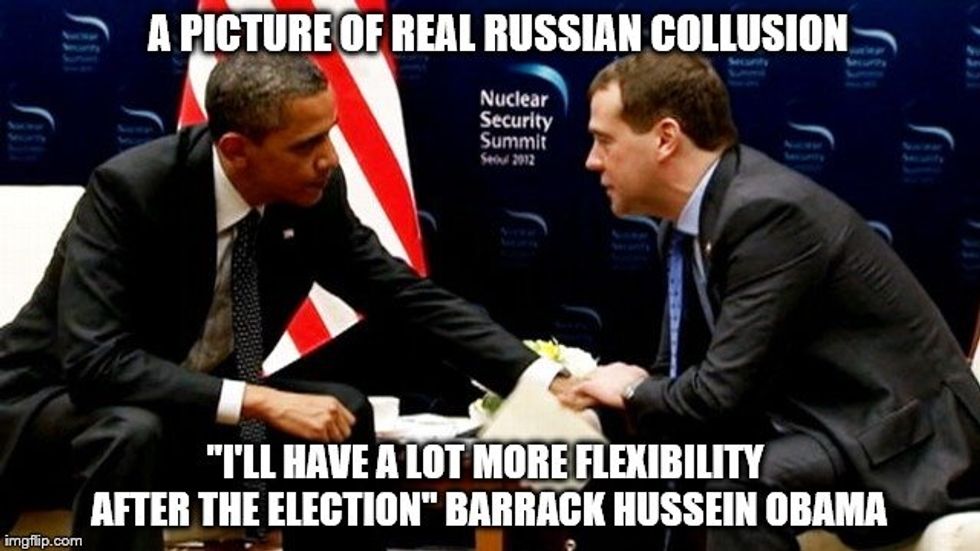 So there's a thing that happened. A Republican member of Congress has converted a stupid Twitter meme into a question under sworn testimony.
Now, after you go see Evan some more, come on back here for your OPEN THREAD!
When the going gets weird, Wonkette keeps you going. Click here to keep US going!