Walking in a Nuclear Winter Wonderland! Wonkagenda for Friday, December 23, 2016
POTUS
December 23, 2016 08:50 AM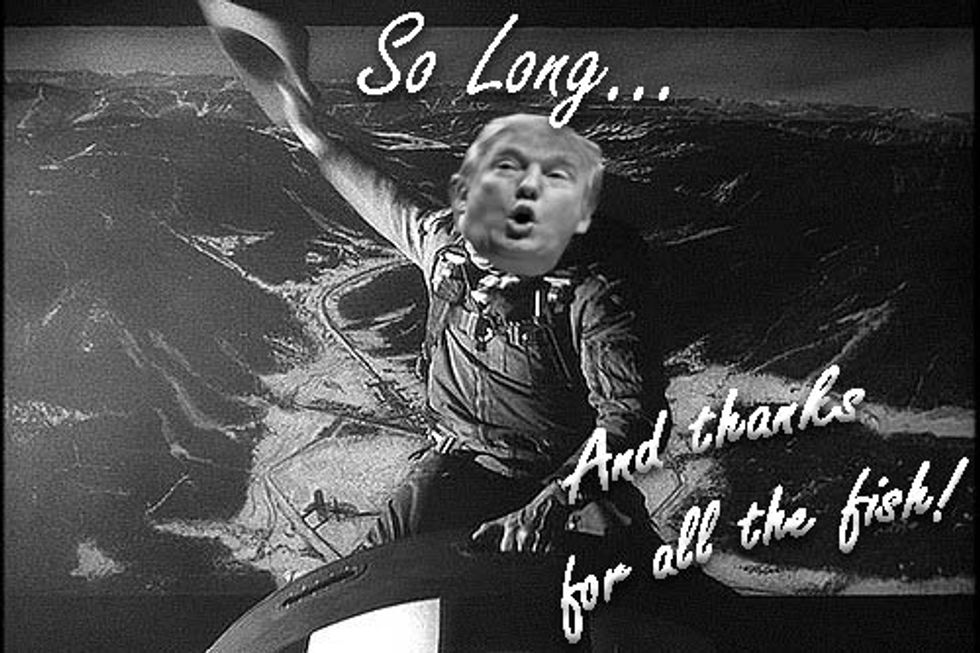 Duck and cover!
---
Happy Festivus Friday, Wonketariat! I've got a lot of problems with you people, and you're ALL going to hear about it in the comments section! In the meantime, here's some of the stories we might be talking about today!
Trump and Putin REALLY want more nuclear weapons so that they can literally start another nuclear arms race because the world, according to Trump, "needs to come to its senses" about nuclear weapons. The joke here is that the U.S. and Russia own 95% of all nuclear weapons and they scare the shit out of everybody except Trump and Putin. Fun fact, the U.S. and Russia have been trying to dismantle nukes since Reagan, and no one even knows what to do with the Cold War relics we have.
Eric Trump has just suspended the Eric Trump Foundation because it seemed like people might still be able to (at the very least) buy favors in the Trump administration. Of course, Donald Trump is super butthurt about all the poor children.
As the U.N. was about to vote to condemn Israel for continuing to build settlements in Palestinian territory, Israeli leaders contacted Donald Trump to pressure Obama to veto the resolution because maybe Obama kind of didn't feel like protecting Israel on this one. Egypt ultimately called for a temporary suspension of the vote, but the silence from the Obama administration marks the first time the U.S. didn't back Israel like a shitty parent defending a spoiled brat in a parent-teacher conference.
Republican Rep. Tom Price of Georgia, Trump's pick to run the Department of Health and Human Services, traded more than $300,000 in medical stocks while he sponsored legislation that could positively affect their value. In fact, almost all of Trump's cabinet appointees may have similar ethical problems. Before you ask, this is illegal, and about as ethical as dragging your ass across the carpet during Festivus dinner. [WSJArchive]
Trump bitched on Twitter about the price of the F-35 again and sent Lockheed's stock crashing like a MiG fighter jet in a Tom Cruise movie. Unfortunately, Trump's railing against government waste is more likely to drive up government spending because the government can't just cancel contracts with no repercussions, then strike another multi-billion dollar deal with competitor.
None of the other ex-Presidents seem to want to freeze their ass off in D.C. while Donald Trump lies on a stack of old Bibles in January. Well, except Jimmy Carter, but he has spent the past 40 years being a model human being. (I'm guessing the Bushes will be busy consoling the "big, fat mess" known as ¡JEB!)
If you're in Charlottesville, Virginia, and you need a job, you might need to speak Spanish because Trump Winery is looking to hire immigrants despite Trump's call to buy and hire Americans, a trend you can find at pretty much every single Trump property in North America.
China's most vocal critics have suddenly decided to get super comfy and cozy with Chinese policies, which suggests China is shoring up support from third world states that use Chinese resources in anticipation of a trade war with the United States.
Vladimir Putin just wants to rekindle a relationship with the U.S., which sounds sort of like an ex-partner drunk dialing in the middle of the night, except he wishes the nation would dump those trampy Democrats, the U.S.'s friend with benefits.
The Department of Homeland Security has been ordered to dismantle the National Security Entry-Exit Registration System, the post-9/11 Bush-era immigrant registration program. However, Customs and Border Protection will begin asking people to volunteer their social media information as a way to track potential terrorists. This basically means that if Trump wants to start spying on all the spooky brown people with funny accents he's going to have to either ask really nice, or figure it out himself. Thanks, Obama!
The Prince of Wales has issued a warning about the worldwide rise of populism. And when Prince Charles(!) says that your behavior is appalling and morally reprehensible, it should not be viewed as an attempt at high-brow sardonic humor, but rather a large, friendly yield sign along the Highway to Hell. Indeed!
Normally your Morning Maddow is just a clip of Rachel 'splainering something important. She giggles, we giggle; then we all learn something and go, "Hmm," and, "Harumph!" But last night Rachel interviewed Kellyanne Conway for an hour about several really important things, namely nuclear proliferation, profiteering, and the treatment of press under Donald Trump. Just remember to pray to the Wizard of Booze.
Finally, here's your morning nice time: A Bush Stone Curlew chick! They're kind of like Australia's roadrunners, but they live in the woods instead of a desert where they eat tiny woodland critters like snakes and spiders. Fun bonus fact: they shriek like possums.
Dominic Gwinn
Dominic is a broke journalist in Chicago. You can find him in a dirty bar talking to weirdos, or in a gutter taking photos.