Walmart And Pals Trying To Lower Black Friday Body Count, How Nice!
News
November 14, 2015 03:45 PM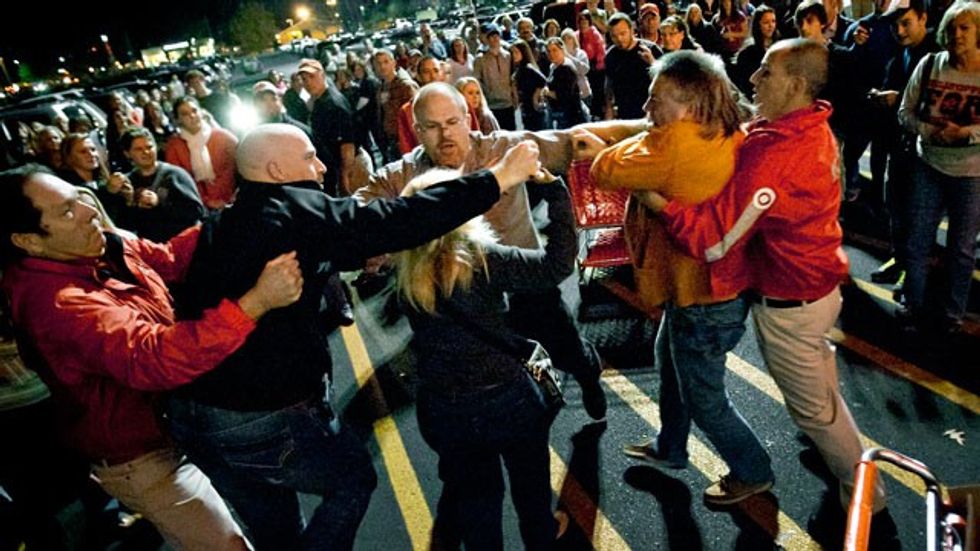 Among our country's holidays, perhaps none is truly more American than Black Friday. After a day of food, football, and listening to an uncle say "that Ted Cruz makes some good points about the Gold Standard," we are given the option to unleash our pent-up patriot by camping in the tit-freezing cold so we can eventually trample other poor saps trying to get their hands on discounted electronics. As we're overtaken by the frothy Pentecostal spirit of consumerism, trusty $9-an-hour retail shepherds stand by with latex gloves, ready to clean up the blood and plastic and point the weary, rabid masses to the tubs of Monster Energy Drink.
---
Yet for some reason, this year some Corporate Persons are moving towards showing a more benevolent side, eschewing their cutthroat Ultimate Fighting Octagon holiday sales in lieu of other priorities like family, online sales, and "straight time" wages. This is probably the fault of Political Correctness, possibly working in concert with the Liberal Media and their participation trophies, but it's happening nonetheless. Let's take a look at how our favorite big time retailers will be celebrating Thanksgiving.
Target Will Let Employees Enjoy Thanksgiving Dinner, But Not Dessert
Target is one of many Corporate People trying to diffuse the intensity of Black Friday. One way to do that? More Sales, obviously. But don't worry, shoppers. Just like last year, Target stores will open at 6 p.m. on Thanksgiving.
Tina Tyler, Target's head of stores, said in a call with reporters on Monday that a 6 p.m. opening time was "a sweet spot" that allowed shoppers to take part in the Thanksgiving tradition and also shop.
We're confused since we thought that shopping is the tradition, like when Native Americans provided the Pale Faces with food so they wouldn't die and in return received discounted European Settler diseases.
[contextly_sidebar id="tKXXMkauugpYPKIhuPTH972Fto2aNZyX"]Anyway, Target employees will be able to give thanks for at least one more Thanksgiving of "limited" store hours and not being replaced by robots. But what about their Corporate Overlords and the money they're surely leaving on the table? Nothing sweet about that spot.
Target did announce a 10-day sale across entire departments that will start four days before Thanksgiving and run through the Black Friday weekend. And its website will feature Thanksgiving "doorbusters" starting early in the morning that day, Target said.
Oh thank god. Maybe your marketing department can develop a "doorbuster" app that allows consumers the satisfaction of virtually muscling fellow shoppers out of the way so they can hustle to the glory that is a $7 dollar bathrobe. From Yr Wonkette to you, that app idea is on the house. Happy Thanksgiving, Target!
Man, Walmart's Just Getting Soft
[contextly_sidebar id="VvSu1dGucQgmSFsRBRj65kdSJHSiEpPx"]First (slightly) raising its wages, and now limiting Black Friday savagery? I don't know, Walmart. It seems like your Faith Equality Index might be due for a hit.
Like Target, Walmart's Black Friday promotion will start at 6 p.m. on Thanksgiving. Yet Walmart is ending its "doorbuster" sales, a staple of bloodshed and cringeworthy youtube sadness. Instead, it will begin sales via its website prior to the in-store sales that start later that evening.
While the trend of moving up holiday sale dates until they're bordering on September seems to have stalled, remember that most Walmarts are still open 24 hours on Thanksgiving. So don't fret, guys. Walmart is still an asshole.
Kohl's Bravely Soldiers On Without Scott Walker's Free Publicity
Last Thanksgiving, sniveling Human Speak and Spell Scott Walker was riding high. Thankful for a gubernatorial victory, Walker was one of the frontrunners in early Iowa polls. The bland Wisconsinite likely enjoyed his turkey dinner - white meat only, dry please, no devil's gravy - content and looking forward to the journey ahead.
Today's he's the guy who dropped out of the GOP Primary before Bobby Jindal and Lindsey Graham. Ouch. But not all is not lost for the Walker family. Kohl's Thanksgiving sale lives on and let me tell you, Scott Walker fucking loves Kohl's so much that he thought incessantly talking about discounted slacks and busting Unions would take him all the way to the White House.
Kohl's will offering Black Friday sales this year, opening at the same stupid 6 p.m. time that's supposed to be doing employees a favor. It should be noted that this "start time" that these Corporate Persons are so self-righteously patting themselves on the back about weren't even in effect a few years ago. In fact, retail stores used to be closed on Thanksgiving. But decency doesn't pay. So this Thanksgiving, go get yourself a dumbass Apple Watch and if you're in a Wisconsin, keep an eye out for the governor with a heart of Kohl (coal + Koch?).
Hippie Corporate Person REI Gives Employees Time Off, Endures Ridicule
Two weeks ago, REI announced it would be closing its on-line and real life stores on Black Friday and providing its more than 10,000 employees a paid holiday so they can go play outside like they don't have televisions or something. Okkk mannnn, why don't you just give them some weed butter to put in their Thanksgiving mashed potatoes? (seriously, that's a good idea for next year).
"Black Friday is the perfect time to remind ourselves of the essential truth that life is richer, more connected and complete when you choose to spend it outside," Jerry Stritzke, chief executive of REI, said in a news release.
Typical Corporate Person -- can't even help itself from trying to dictate employee behavior away from the job. Just give them the day off or don't, bro!
In all fairness, this is a nice gesture with a nice motive behind it. Black Friday is a totally contrived, bullshit day. And while many of our sacred Founders would probably support this crystalized capitalist extraction of the citizenry, that doesn't make it's any less fucking stupid and just a little mean-spirited to the retail drones who have to work these days while corporate executives get to spend time with their families (or more likely, sex workers).
Piggybacking off this gesture of good will, Stritzke went on the 4th Circle of Internet Hell (aka Reddit) to answer questions from his underlings. Some people weren't happy and complaints about specific business practices and wage growth, or lack thereof, are certainly valid. But looking solely at Thanksgiving and Black Friday, REI looks like the retail sector winner for 2015.
Maybe we shouldn't be over the moon extolling the virtues of a Corporate Person giving its wage-an-hour employees a paid holiday. But this is what we've come to. Canoes for everybody!