Was The Clinton Campaign Hack A Secret Ménage à Trois Between Trump, Putin, and Julian Assange? Yeah Probs
2016 Presidential Election
August 02, 2016 02:58 PM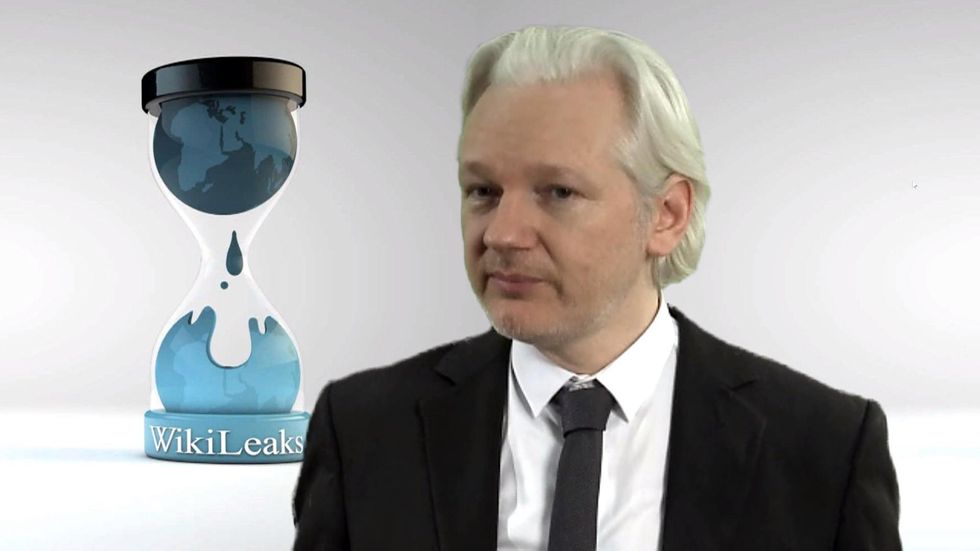 ---
While Donald Trump was busy looking like a tremendous asshole this weekend, the scope of the DNC breach became even wider, as Hillary Clinton's presidential campaign announced that they too had been the hacked. In case you've lost count, the total number of breaches to the Democratic party are DNC communications, DCCC fund raising operations, and now Clinton's campaign, prompting young whippersnappers across the world to wonder why in the metamuc-hell can't olds figure out computers?
While there is still speculation as to who exactly tried to go all digital-ninja on the DNC, there is a general consensus from the U.S. intelligence community that the hack originated from Russia. Hill-Dawg herself was even on teevee this weekend pointing fingers at the Russians; suggesting that Putin and Trump's bro-mance raises legitimate questions about the potential for foreign governments interfering in the U.S. electoral process.
CHRIS WALLACE: Do you believe that Russia is behind the hacking and release of the DNC e-mails? And do you think that Vladimir Putin wants to defeat you or see you defeated and Donald Trump elected president?

HILLARY CLINTON: Well, Chris, here's what I think we know. We know that Russian intelligence services, which is part of the Russian government which is under the firm control of Vladimir Putin, hacked into the DNC. And we know that he arranged for a lot of those e-mails to be released.

And we know that Donald Trump has shown a very troubling willingness to back up Putin, to support Putin, whether it's saying that NATO wouldn't come to the rescue of allies if they were invaded, talking about removing sanctions from Russian officials after they were imposed by the United States and Europe together, because of Russia's aggressiveness in Crimea and Ukraine, his praise for Putin which is I think quite remarkable.

CHRIS WALLACE: So, are you suggesting that Putin would rather see him as president than you.

HILLARY CLINTON: Well, I'm not going to jump to that conclusion, but I think laying out the facts raises issues about Russian interference in our elections, in our democracy. We would not tolerate that from any other country, particularly one with whom we have adversarial positions. And for Trump to both encourage that and to praise Putin despite what appears to be a deliberate effort to try to affect the election I think raises national security issues.
The Clinton campaign is putting on its best "all is well" face and maintaining that this wasn't as bad as other breaches. An aide to the campaign stated that the only thing that was accessed was an analytical voter database, "with voter participation, voter contact information and voter files that all campaign organizations use...with key voter data," and that no communications documents were obtained. It's ok, your secret ballot is safe in Russian hands.
While politicians were pointing their accusatory middle fingers at Russia (or at least leering very intently with huffy breaths), some in the press were furrowing their brows at Wikileaks and Julian Assange for publishing material that appears more and more likely to be obtained through state-sponsored espionage.
Assange, for his part, has declined to reveal the source of the leak, claiming that journalistic privilege allows him to protect his sources. He was all over teevee himself on Sunday dodging questions, threatening to release more emails, and being a genuinely smug asshole about dicking around with the U.S. elections.
CHUCK TODD: Does that not trouble you at all, if a foreign government is trying to meddle in the affairs of another foreign government?

JULIAN ASSANGE: Well, it's an interesting speculative question that's for the press and others to perhaps--

CHUCK TODD: That doesn't bother you? That is not part of the WikiLeaks credo?

JULIAN ASSANGE: Well, it's a meta story. If you're asking would we accept information from U.S. intelligence that we had verified to be completely accurate, and would we publish that, and would we protect our sources in U.S. intelligence, the answer is yes, of course we would.
Seriously, watch the full interview, where The world's worst house guest is technically correct here: in the past Wikileaks has published information from U.S. intelligence sources, but it would appear that Casper missed the point. Calling oneself a journalist while potentially aiding a political despot who kills journalists is hypocritical. Assange now
doxxes innocent people
with every data-dump on Wikileaks, a nefarious act that is antithetical to credible journalism.
Even Glen Greenwald, who worked closely with Wikileaks to release documents that detailed the extent of the NSA illegal spying operations, was critical of Assange's behavior in a recent interview.
...when WikiLeaks first began—one of the things that people have forgotten—they were actually very careful in redacting. In fact, there were tons of redactions when they were releasing Pentagon documents about the Afghanistan and Iraq wars. And they even wrote a letter to the State Department before they released the cables requesting the State Department's help in figuring out which information ought to be withheld. And I used to defend WikiLeaks all the time on the grounds that they were not indiscriminate dumpers of information; they were carefully protecting people's reputations. And they have changed their view on that—and no longer believe, as Julian says, in redacting any information of any kind for any reason—and I definitely do not agree with that approach and think that they can be harmful to innocent people or other individuals in ways that I don't think is acceptable.
But that too is total bullshit as Assange will redact things when they're critical of him, like that time Wikileaks deleted anti-semitic tweets because they made Assange look bad. Assange might look in the mirror and see a freedom fighting martyr, and he may even have decent intentions, but the rest of the world is starting to see a pale, paunchy hatchet man with a hidden agenda.
Dominic Gwinn
Dominic is a broke journalist in Chicago. You can find him in a dirty bar talking to weirdos, or in a gutter taking photos.