Watch Us Get Nekkid In Church and Dunkin Donuts: Your Florida Roundup
News
March 15, 2015 11:30 AM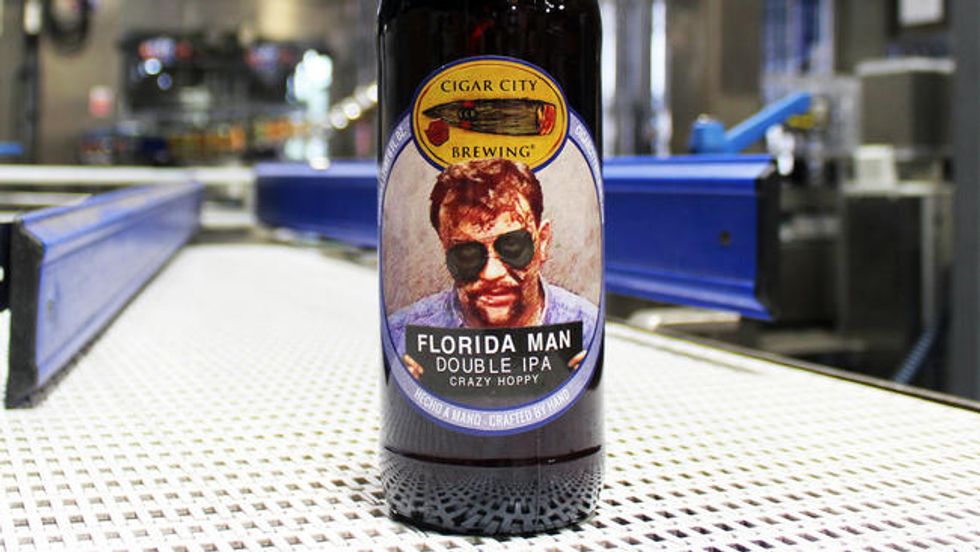 ---
See that guy up there? Yr Florida Correspondent has seen bigger.
A giant alligator that was recently spotted on a Florida golf course has become a social media star.

The huge gator, described as "a dinosaur looking reptile" on the club's Facebook page, appeared at the Myakka Pines Golf Club in Englewood, Fla. on March 6. … Myakka Pines Golf Club General Manager Mickie Zada told FoxNews.com that the gator was 12 or 13 feet long, and is one of dozens of alligators on the club's grounds.
OK, it is not true that Yr Florida Correspondent has seen bigger. But we have seen more than our share of big-ass alligators wandering waaaaay too close, and we try to avoid ponds and swamps and alligator habitats whenever possible, which is not often possible because we live in a giant swamp buried under concrete and McMansions.
In not-quite-related news, here's a secret monkey-breeding facility:
Florida is at the center of a controversy making international headlines, which is not all that unusual. What is unusual, however, is that this one involves a secret monkey-breeding facility that's been proposed for Hendry County. … In 2013, a company called SoFlo Ag bought 34 acres in rural Hendry County and proceeded to fence it in, apply for permits to use millions of gallons of water at the site and held meetings with Hendry County elected officials to get approval to build a facility that will house 3,200 captive macaque monkeys, which will reportedly be bred on site.
But We Can Draw Dicks With Airplanes, And That's Something
Aviation fans who on Thursday night happened to check FlightRadar24 — the popular site that gives users the ability to track the flight paths of planes around the world — might have noticed an odd pattern that a private plane made above Florida.
That odd pattern? This.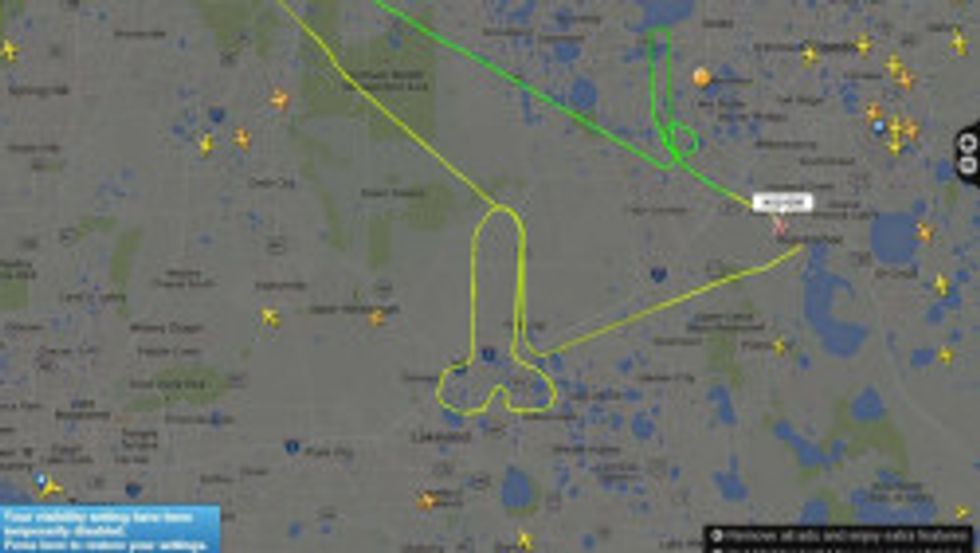 No word yet on who this genius pilot is, but if he (and it's gotta be a he, right?) were to come forward, Yr Wonkette would be happy to buy him a beer.
Here Is The Part Where God Makes Florida Man Do Weird Shit
Item 1: Man tells police God told him to vandalize costume store
Andre Yokers, 42, is now in custody. He's believed to be behind a series of attacks against the business over the past few weeks.

What was once thought to be a group of mischievous teenagers, now shown to be a grown man working alone.

Perhaps more shocking is what store owner Jennifer Duvall says the man told police after he was finally caught.

"He did not deny doing it, he admitted that he did it and said that he has a problem with witches and God told him to do it and he was doing God's work," said Duvall.
Sounds reasonable.
Item 2: Video shows girl held down, paddled in school
That headline actually undersells the story. The girl, who is now 18, was running in the halls. Her teacher decided that was a paddlin', and since this was a private Jesus school in Jacksonville — Duval County, which is basically the most right-wing large city you can find outside of, I don't know, Oklahoma, outlawed paddling a decade ago because, surprise, only the black kids were getting beat, but those rules don't apply to private schools — that was A-OK. So the teacher had the girl's peers and classmates hold her down, and had about a hundred students watching, with some videotaping, while she paddled the girl.
Here is the video, in case you wanted to watch: