Watch Us Get Nekkid In Church and Dunkin Donuts: Your Florida Roundup
News
March 15, 2015 11:30 AM
---
See that guy up there? Yr Florida Correspondent has seen bigger.
A giant alligator that was recently spotted on a Florida golf course has become a social media star.

The huge gator, described as "a dinosaur looking reptile" on the club's Facebook page, appeared at the Myakka Pines Golf Club in Englewood, Fla. on March 6. … Myakka Pines Golf Club General Manager Mickie Zada told FoxNews.com that the gator was 12 or 13 feet long, and is one of dozens of alligators on the club's grounds.
OK, it is not true that Yr Florida Correspondent has seen bigger. But we have seen more than our share of big-ass alligators wandering waaaaay too close, and we try to avoid ponds and swamps and alligator habitats whenever possible, which is not often possible because we live in a giant swamp buried under concrete and McMansions.
In not-quite-related news, here's a secret monkey-breeding facility:
Florida is at the center of a controversy making international headlines, which is not all that unusual. What is unusual, however, is that this one involves a secret monkey-breeding facility that's been proposed for Hendry County. … In 2013, a company called SoFlo Ag bought 34 acres in rural Hendry County and proceeded to fence it in, apply for permits to use millions of gallons of water at the site and held meetings with Hendry County elected officials to get approval to build a facility that will house 3,200 captive macaque monkeys, which will reportedly be bred on site.
But We Can Draw Dicks With Airplanes, And That's Something
Aviation fans who on Thursday night happened to check FlightRadar24 — the popular site that gives users the ability to track the flight paths of planes around the world — might have noticed an odd pattern that a private plane made above Florida.
That odd pattern? This.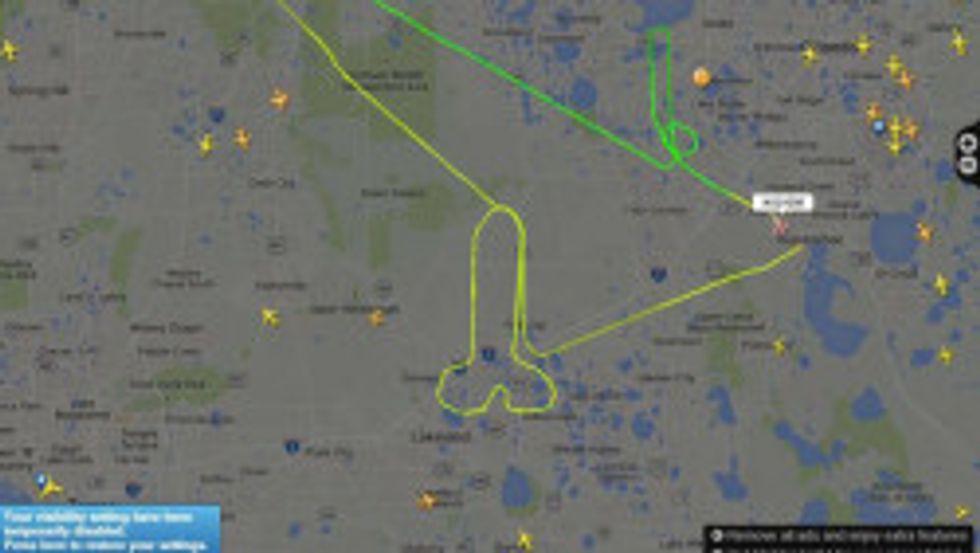 No word yet on who this genius pilot is, but if he (and it's gotta be a he, right?) were to come forward, Yr Wonkette would be happy to buy him a beer.
Here Is The Part Where God Makes Florida Man Do Weird Shit
Item 1: Man tells police God told him to vandalize costume store
Andre Yokers, 42, is now in custody. He's believed to be behind a series of attacks against the business over the past few weeks.

What was once thought to be a group of mischievous teenagers, now shown to be a grown man working alone.

Perhaps more shocking is what store owner Jennifer Duvall says the man told police after he was finally caught.

"He did not deny doing it, he admitted that he did it and said that he has a problem with witches and God told him to do it and he was doing God's work," said Duvall.
Sounds reasonable.
Item 2: Video shows girl held down, paddled in school
That headline actually undersells the story. The girl, who is now 18, was running in the halls. Her teacher decided that was a paddlin', and since this was a private Jesus school in Jacksonville — Duval County, which is basically the most right-wing large city you can find outside of, I don't know, Oklahoma, outlawed paddling a decade ago because, surprise, only the black kids were getting beat, but those rules don't apply to private schools — that was A-OK. So the teacher had the girl's peers and classmates hold her down, and had about a hundred students watching, with some videotaping, while she paddled the girl.
Here is the video, in case you wanted to watch:
Item 3: Yr Florida Correspondent Has Finally Found A Church
[contextly_sidebar id="ci61iwq3zQgbXPNt5vFUOeyvzXnxxTSx"]
Life Center: A Spiritual Community — an absolutely-legit-no-funny-business-here House of the Lord in Panama City Beach — lost its tax exemption (a fate that should befall lots of churches, but we digress), but not for politicking (haha no that doesn't happen). No, Life Center lost its tax exemption for being a very special house of worship:
A local church that has been hosting naked paint parties and slumber-party Sundays with the "sexiest ladies on the beach" will now have to pay taxes on the property as officers investigate the church's practices, authorities said Tuesday. …

Since a Facebook post from BCSO questioned the integrity of the club, highlighting that the club often hosts adult entertainment, Club Amnesia has shut down its website. However, when the website was available, it boasted a Sunday night event called "Slumber," a pajama and lingerie party hosted by "the sexiest ladies on the beach." Raves take place weekly along with an "Anything But Clothes" paint party. And Wednesday nights are reserved for an event called "Wet n Wild," a water-themed event where "white water meets Tabernacle PCB with a little twerkin'," the website stated.

"I've been in a lot of nightclubs and I've been in a lot of churches," said PCBPD Chief Drew Whitman. "That isn't a church.".
We have been in a lot of churches, too, chief. This one looks way more fun.
And Sometimes We Do Weird Shit For Less-Divine Reasons
Also in Nekkid News: Woman sat outside Dunkin' Donuts naked for a dare, police say
Apparently Shakara Martin wanted to join a dance troupe. And apparently this dance troupe either a) didn't want her and is just kinda mean about it, or b) has one hell of a hazing ritual.
A woman arrested for sitting on a bench outside a Dunkin' Donuts with no clothes on told police she did it on a dare as part of joining a dance troupe, according to a Greenacres Department of Public Safety arrest report. … The officer asked if she was all right and if she needed medical attention, according to the report. Martin apologized and said she purposely came to the Dunkin' Donuts naked for a dare that was part of pledging the dance group.
Florida Man Finally Gets the Recognition He Deserves
Cigar City — which in Yr Florida Correspondent's humble opinion is the state's best brewery, though in part that's because this is Florida and, while there are exceptions, we make a lot of shit beer — has a "crazy hoppy" double IPA called Florida Man, showing the same picture that is the avatar for the totally awesome Florida Man Twitter feed (which the Roundup, ahem, borrows from on occasion).
Florida Man responded: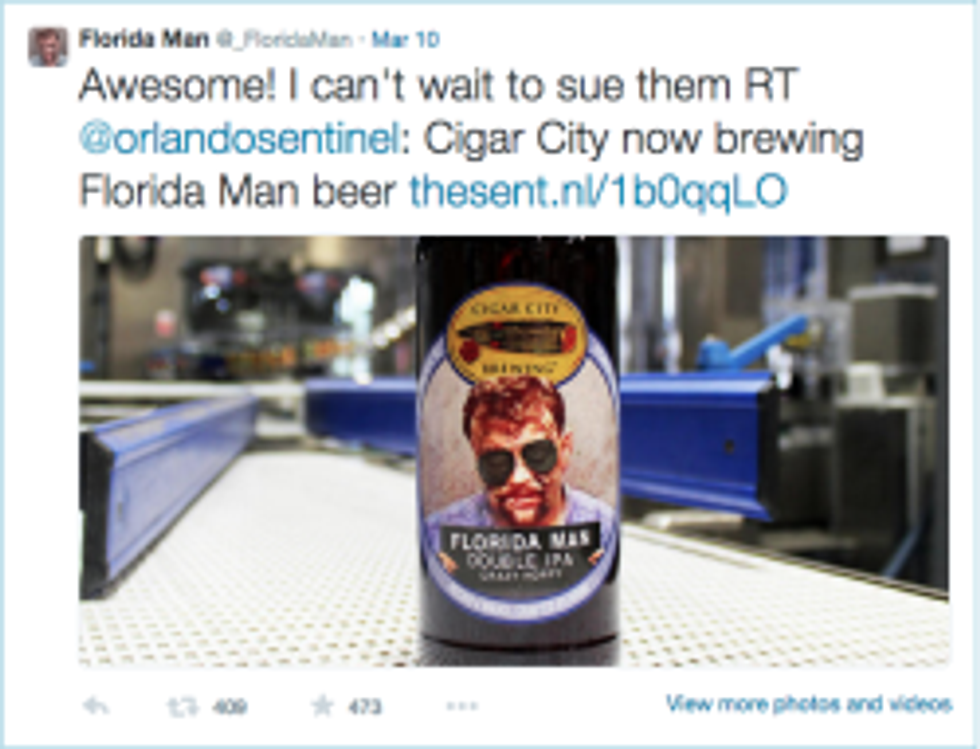 And here is something we did not know:
Ironically enough, the mugshot most widely associated with "Florida man" is actually that of Ricky Lee Kalichun, an Indiana resident. Kalichun was arrested in 2011 after police say he painted his face with black magic marker and tried to attack a man with a sword, according to the Evansville Courier & Press.
Florida Man Fiddles While Miami Drowns
Last week, you might recall, we Wonksplained at you about how Gov. Rick "Voldermort" Scott has decided that climate change — which will sink us into the sea, hooray — is not a True Fact, and as such, all of his scientists are forbidden from even saying the words.
[contextly_sidebar id="KHVWnmNf60BExizL9ePJM5OdoUmztaWB"]
"We were told not to use the terms 'climate change,' 'global warming' or 'sustainability,'" said Christopher Byrd, an attorney with the Florida Department of Environmental Protection's Office of General Counsel in Tallahassee from 2008 to 2013. "That message was communicated to me and my colleagues by our superiors."

Kristina Trotta, a former DEP employee in Miami, said her supervisor told her not to use the terms "climate change" and "global warming" in a 2014 staff meeting.

"We were told that we were not allowed to discuss anything that was not a true fact," she said.
Rick Scott denied that this was an actual policy — sure, pal — but then we learned that it wasn't just the Department of Environmental Protection that was ordered to go Full Ostrich. It was, basically, the entire state government.
Florida's ban on using the words "climate change" and "global warming" in official communications goes beyond just the state's Department of Environmental Protection to other government agencies under Gov. Rick Scott (R), according to a new report by the Florida Center for Investigative Reporting. …

Until last year, Bill Taylor was a manager at the Florida Department of Transportation's office in Fort Lauderdale. He said that at a meeting in 2012 or 2013 -- Scott took office in 2011 -- "it was mentioned very casually that in our future dealings with the public, we were not to use the terms 'climate change' or 'global warming.' But it was OK to talk about sea-level rise, because for some projects that had to be taken into consideration."

A former employee at the South Florida Water Management District had a similar story.

"It was widely known that you couldn't put those words into a report," the former employee told FCIR. "They just wouldn't make it through the editing process."

A Florida scientist who co-authored a study about how climate change affects a certain marine food-borne illness told The Washington Post that the state Department of Health told her to excise every mention of "climate change" from her paper.
And so on.
But Rick Scott was not — for once — the politician who made the biggest ass of himself. That honor belongs to our friend, and your next president, Marco Rubio:
[contextly_sidebar id="F02ycGvQO2twylLhxZHAHw1sx8R6wmMx"]
During a tense exchange with Kerry at a Senate Foreign Relations committee on Wednesday, Rubio confronted the former Massachusetts senator. "I believe that much of our strategy with regards to ISIS is being driven by a desire not to upset Iran so they don't walk away from the negotiating table on the deal that you're working on," the potential GOP presidential candidate declared. "Tell me why I'm wrong."

Kerry responded forcefully. "Because the facts completely contradict that," he said.
John Kerry is the best.
Here is the video, if you want to point and laugh at Marco Rubio (and you do):
That's all for this week, Florida. (And Yr Florida Correspondent is taking next week off, so you will just have to deal.) Keep walking that dinosaur.