We Read Devin Nunes's WaPo Libelslander Suit And Boy Is Our Brain Stupid
Legal
March 03, 2020 12:12 PM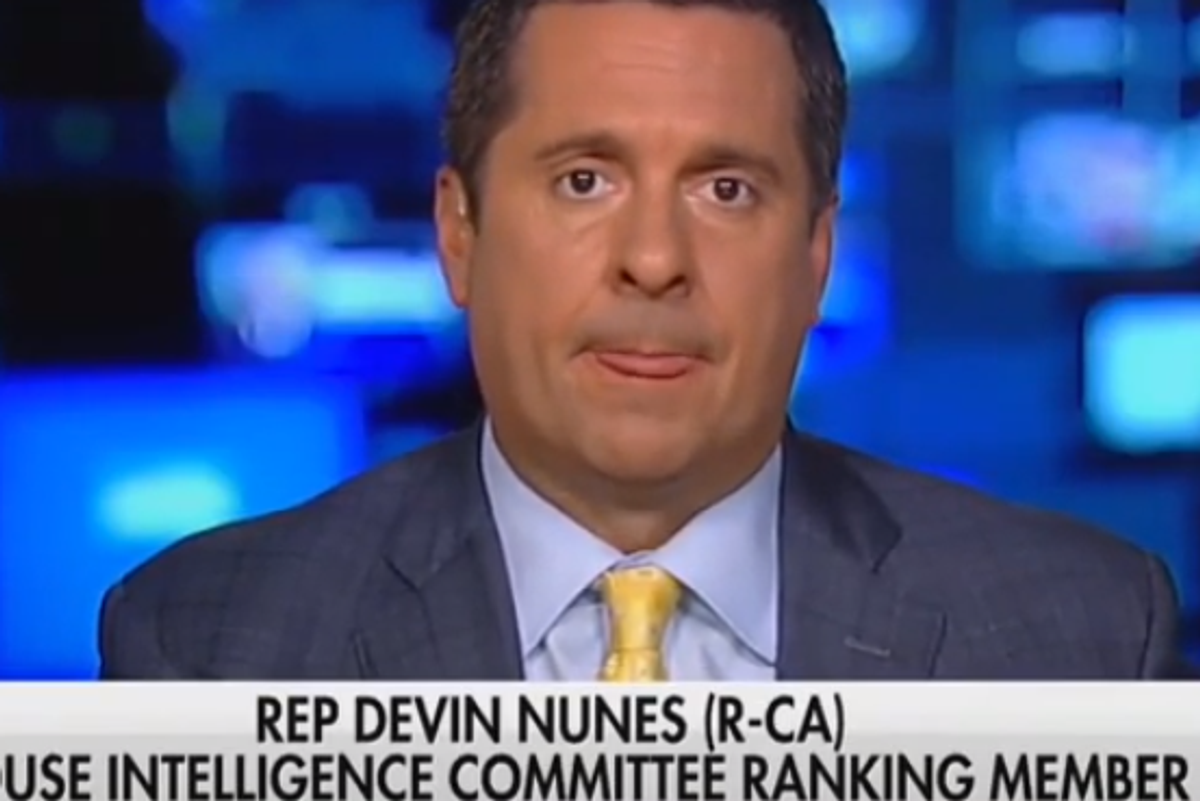 Have you read the latest Devin Nunes defamation suit filed, as always, by his stupendous libelslander lawyer Steven Biss? It's like a bowl of peyote mixed with sweet lead paint chips. Delicious! It starts out accusing Jeff Bezos of buying the Washington Post in an attempt to influence elections.
Billionaire, Jeff Bezos ("Bezos"), purchased WaPo in 2013 for the purpose of using WaPo's mighty pen to influence Federal elections. Bezos failed to defeat the GOP in 2016, in spite of WaPo's notoriously libelous reporting. Bezos' WaPo heavily promoted the Russian "collusion" hoax between 2017 and 2019, in spite of the fact that there was no evidence that any member of the Trump campaign colluded with any "Russian" to influence the 2016 Presidential Election. This is 2020. As this case illustrates, Bezos and his printing press remain desperate to defame the President of the United States and his allies in Congress. This defamation must end.
And then never mentions him again! Because this is a screed against one man alone, the dastardly intelligence and national security reporter Shane Harris of the Washington Post, who conspired with evil Adam Schiff to destroy poor Devin's sterling reputation.
Harris is well-known as a puppet of the FBI and CIA, employed to selectively leak talking points and classified information and to smear targets. Harris is the "national security" reporter who infamously and falsely declared that the "[Steele] dossier was not used as the basis for a FISA warrant on Carter Page". Harris has a reputation in the community in which he works for being very untruthful.
You are probably wondering if Shane Harris can sue Steven Biss for defamation now, but sadly, no! Allegations made in lawsuits are covered under "litigation privilege." Anyway, Devin is GRRRRR SO MAD about a story from February 21, 2020, titled "Senior intelligence official told lawmakers that Russia wants to see Trump reelected," by Ellen Nakashima, Shane Harris, Josh Dawsey, and Ann Gearan. Remember when Trump fired (acting) Director of National Intelligence Joseph Maguire and refused to nominate him permanently after finding out that senior US intelligence official Shelby Pierson had told the House Intel Committee that Russia was interfering again to get Trump re-elected? The Post broke the story, although Harris isn't even the first named reporter on the piece, and none of his co-authors are named defendants. But this is a Steven Biss joint, so just take another hit and don't think too hard, okay?
The WaPo Hit Piece imputes to Plaintiff criminal conduct in violation of Title 18 U.S.C. § 1001(a), dishonesty, deceit, sharp and unethical practices, and independently actionable tortious acts, all of which severely impugns Plaintiff's integrity and prejudices him in the performance of his duties as a United States Congressman.
UH HUH.
For context, Roger Stone was just convicted under 18 U.S.C. § 1001(a) for his false statements to Congress. Exactly what "criminal conduct" does Nunes stand accused of? Well, here's the particular passage of "Harris's" story that seems to have chapped Devin's udders.
Trump learned about Pierson's remarks from Rep. Devin Nunes (Calif.), the committee's ranking Republican and a staunch Trump ally, said one person familiar with the matter. Trump's suspicions of the intelligence community have often been fueled by Nunes, who was with the president in California on Wednesday when he announced on Twitter that Grenell would become the acting director, officials said.

A spokesman for Nunes did not respond to requests for comment.

"Members on both sides participated, including ranking member Nunes, and heard the exact same briefing from experts across the intelligence community," a committee official said. "No special or separate briefing was provided to one side or to any single member, including the chairman."
None of which appears to be criminal in the least. Nor does it suggest that Nunes was the source of Trump's erroneous belief that Pierson gave Democrats a separate briefing. Nonetheless Nunes rebuts this non-assertion by insisting that he could not possibly have told Trump about the Pierson briefing because he was in Oklahoma at the time. Here, see for yourself this INCONTROVERTIBLE PROOF to which Biss linked in his lawsuit!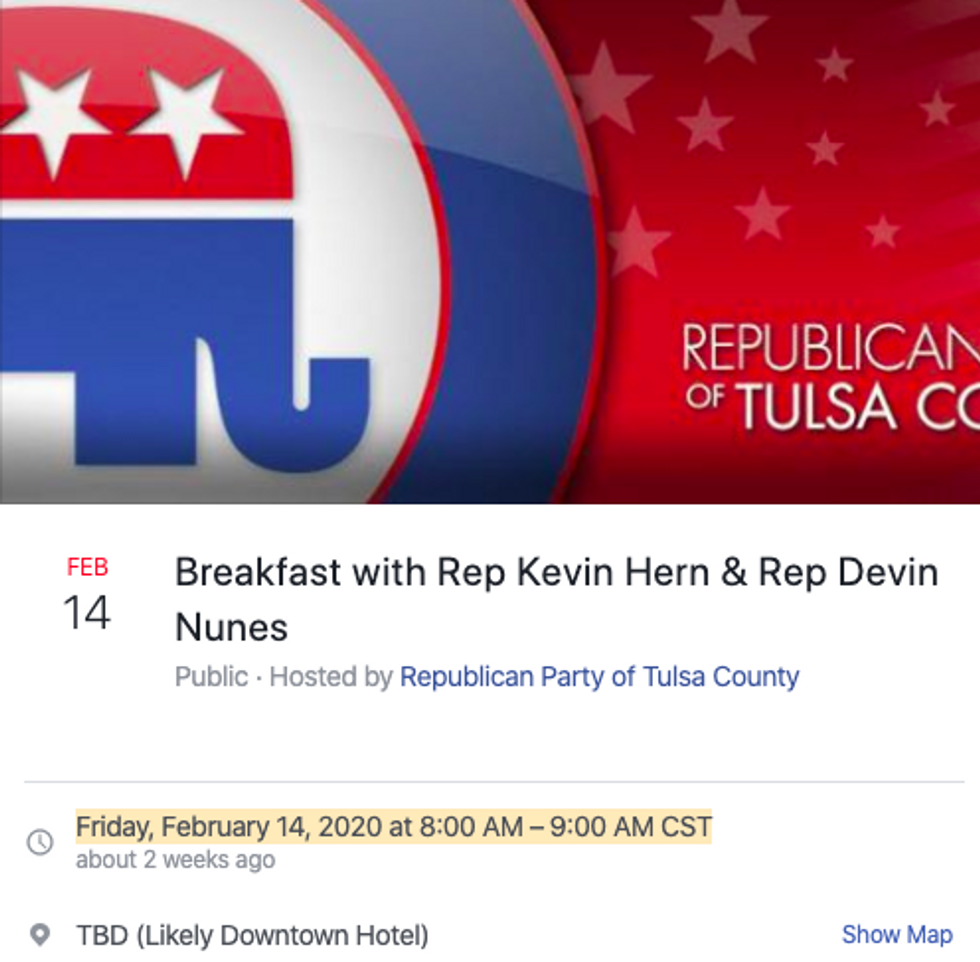 And perhaps in a world without cellphones or air travel, Nunes's presence at a breakfast meeting in Tulsa on Friday the 14th would mean he couldn't possibly have been Trump's source for internal HPSCI info. But as it happens, the article says Nunes was with Trump in California on Wednesday the 19th when he tweeted out the Grenell announcement.
And so was Nunes, who told Sean Hannity that he planned to discuss FISA reform with the president during their meeting.
But why would Harris (and Nakashima, and Dawsey, and Gearan) concoct such a story?
Beginning on or before February 13, 2020, WaPo and its agents (including Harris), combined, associated, agreed or acted in concert with House Democrats (including members of their staff or agents acting within the scope of their authority and at their direction) for the express purpose of defaming and injuring Plaintiff. House Democrats manufactured a statement – that Shelby Pierson had given an "exclusive" briefing to Schiff. They then falsely attributed that statement to Plaintiff, and claimed that Plaintiff had told the President that Pierson had given an "exclusive" briefing to Schiff. House Democrats then gave WaPo and Harris quotes that supposedly proved that Plaintiff's putative statement to the President was false. WaPo and Harris agreed to publish the House Democrats' false statements as part of the joint scheme to defame Plaintiff. WaPo and Harris communicated with House Democrats and their staff members and agents, and carried out the conspiracy via email, text messages or telephone between February 13, 2020 and February 21, 2020. WaPo, Harris and House Democrats (whose identities are as yet unknown) pursued a common scheme, which was to injure Plaintiff's reputation.
That just makes too much sense! The Post and Adam Schiff were cahootsing to destroy Nunes and Trump, so they fabricated a story about Trump being a fucking moron who always loses the plot, blamed Nunes for it (no, they didn't!), and then ... PROFIT!!!!
WaPo and Harris betrayed the truth for the sake of their institutional bias against Plaintiff and President Trump. The WaPo Hit Piece is another example of opposition research published by WaPo and Harris acting as alter egos for others, including Schiff. Rather than minimize harm, WaPo and Harris set out to inflict maximum pain and suffering on Plaintiff in order to harm Plaintiff's reputation and undermine the President. WaPo never once considered the long-term implications of the extended reach and permanence of its various publications. WaPo and Harris refuse to be accountable; refuse to acknowledge their mistakes; refuse to retract; refuse to correct; and, of course, refuse to apologize.
So Harris and the Post simultaneously worked to "inflict maximum pain" while "never once" stopping to consider the "extended reach and permanence" of their articles? Yeah, that tracks.
Got proof of that?
WaPo and Harris harbor an institutional hostility, hatred, extreme bias, spite and ill-will towards Plaintiff, the GOP and President Trump, going back many years. WaPo and Harris' enmity towards Plaintiff is evidenced, inter alia, by the many leaks of information by Harris to undermine Plaintiff in his role as Chairman of the House Intelligence Committee.
Shane Harris, a reporter at the Washington Post, leaked information about Devin Nunes? Ummm ... NEVER MIND. Okay, enough foreplay. Let's cut to the chase here. How much money do these clowns want?
As a direct result of WaPo and Harris' defamation, Plaintiff suffered presumed damages and actual damages, including, but not limited to, insult, pain, embarrassment, humiliation, mental suffering, injury to his reputation, special damages, costs, and other out-of-pocket expenses, in the sum of $250,000,000 or such greater amount as is determined by the Jury.
Neat-o! Hey, didn't a judge in the very same federal courthouse warn Bisslast week that he was going to get sanctioned if he kept coming back and filing frivolous motions? LOL, good luck buddy!
[Nunes v. WP Company and Shane Harris / WaPo]
Follow Liz (AKA your FDF) on Twitter!
Please click here to show us some love for wading through all this cowshit!
Liz Dye
Liz Dye lives in Baltimore with her wonderful husband and a houseful of teenagers. When she isn't being mad about a thing on the internet, she's hiding in plain sight in the carpool line. She's the one wearing yoga pants glaring at her phone.