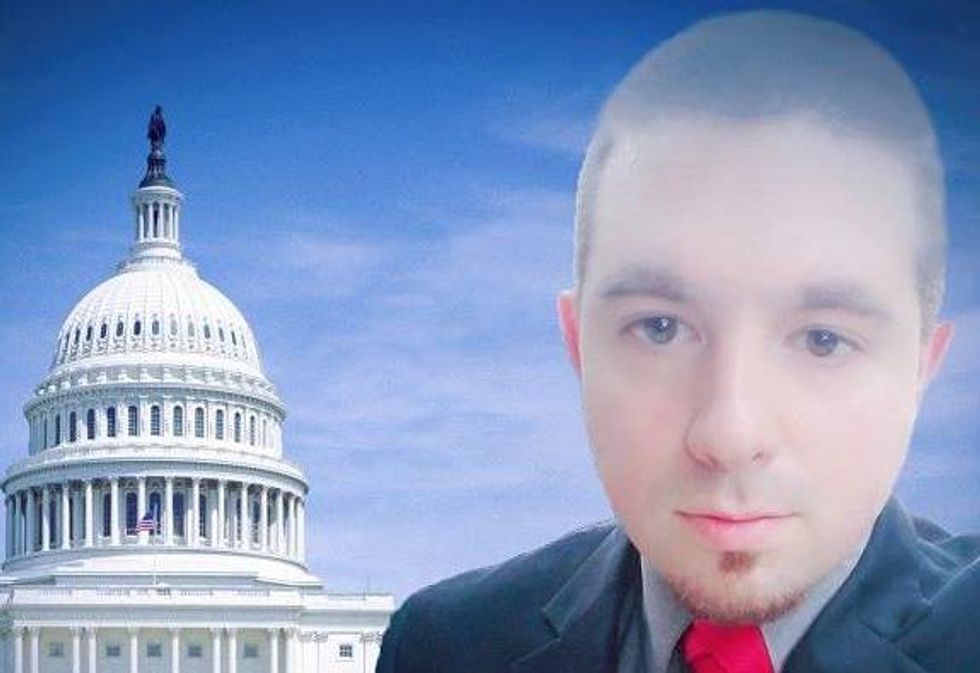 This is not our photoshop. This is the picture he actually uses on his Facebook campaign site.
---
Meet Craig Brittain! He is hoping to replace Jeff Flake and be the next senator from Arizona. He is also, if not the actual worst human being on the planet, a strong competitor for the title.
From 2011 until 2013, Brittain operated the revenge porn website "Is Anybody Down?" -- a blatant copy of fellow revenge porn douchebro Hunter Moore's site "Is Anyone Up?" -- where men could post nude pictures of their ex-girlfriends, along with their names, addresses and phone numbers. It was shut down by the FTC, but not because of the revenge porn -- rather because Brittain also put up fake lawyer ads on the site from a guy named "David Blade III, The Takedown Lawyer" who claimed he would be able to help women get their pictures taken down for $250 a pop.
In emails to attorney Marc Randazza, "David Blade III" claimed to be a college friend of Brittain and a New York-based public defender (although in an interview with CBS, Brittain claimed to not actually know who the mystery lawyer even was).
He also claimed that his revenge porn site was actually doing all these women and society a mitzvah:
"We actually think the fact they're taking these pictures is a good thing, and an acceptable thing. We're not trying to shame them or scrutinize them. We're trying to entertain the world. And also to take away a lot of the stigma that's associated with this, because we don't believe these people should be shamed. It may be tough for some of the first people that have been posted. But as time goes on and this gets bigger, this will become more and more of an acceptable thing in society."
Surprise, all of the emails sent by "David Blade III" were sent from the same IP address as Brittain's Colorado Springs home. Whoops! So yes, it was a big extortion scheme, and not a plan to make the world a better and less shameful place by posting nude pictures of women without their consent.
In 2015, in hopes of repairing his image, Brittain sent a notice to Google demanding that they scrub the internet of all information related to him and his revenge porn site and the FTC's actions against him. That did not work out so well!
You may not think it is possible for Craig Brittain to be worse than that, but you would be mistaken! In March of 2017, Mic reported that Craig had flown into a racist rage against a New York-based venture capitalist who had reached out to him in order to ask why Craig had been sending so many requests to his female friends on Facebook.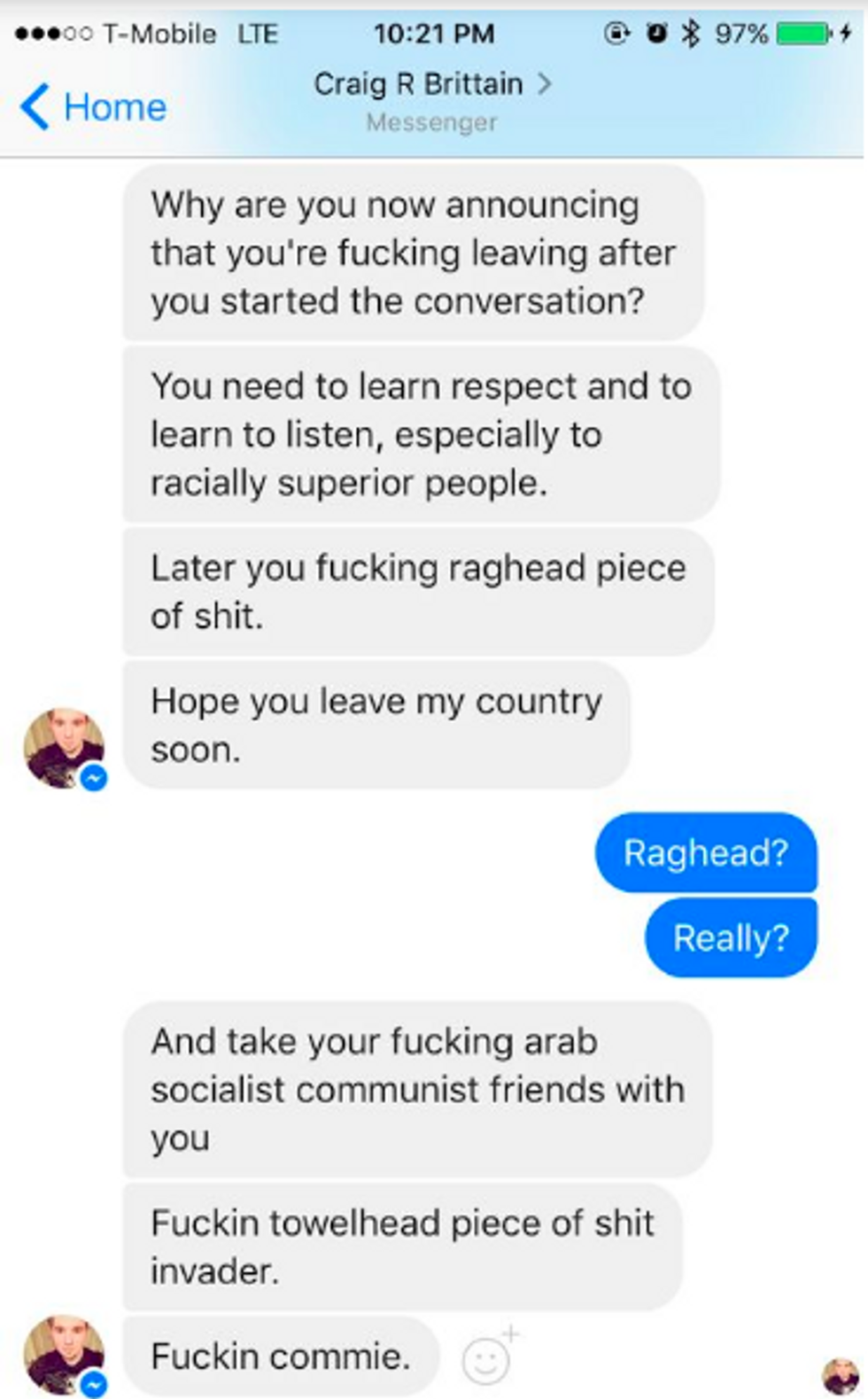 "Anyone who's butthurt by a friend request is a loser anyway," Brittain responded. He said they should "find a safe space," and that "they should be honored to even be in my presence. ... I'm a fucking genius and a legend."
He also said:
If [these women] have problems, they can message their problems to me and I'll tell them where they can shove their problems. :)

Otherwise, talking in circles, it's really cowardly and unprofessional, so fuck their opinions.

Women in general should be grateful that men are now allowing them to have opinions.

Yay for progress and diversity, allowing less qualified women to participate in what is traditionally a qualified men's world.
And:
"You'll have to deal with guys like me soon. Middle America will take over California. And we don't do the PC bullshit. You'll have to fucking include us one way or another. So you better get over your fucking feelings. We're fine with your progressive bullshit in our space, but you're not going to cast out our views. Free speech is our right."
Oh my, what a pleasant human being!
As reported by Dean Sterling Jones at Shooting The Messenger, following Brittain's announcement that he would be running for Jeff Flake's Arizona seat, social media expert Michael Palladino shared threatening messages that Brittain had sent a year ago to a woman he had seen on Tinder.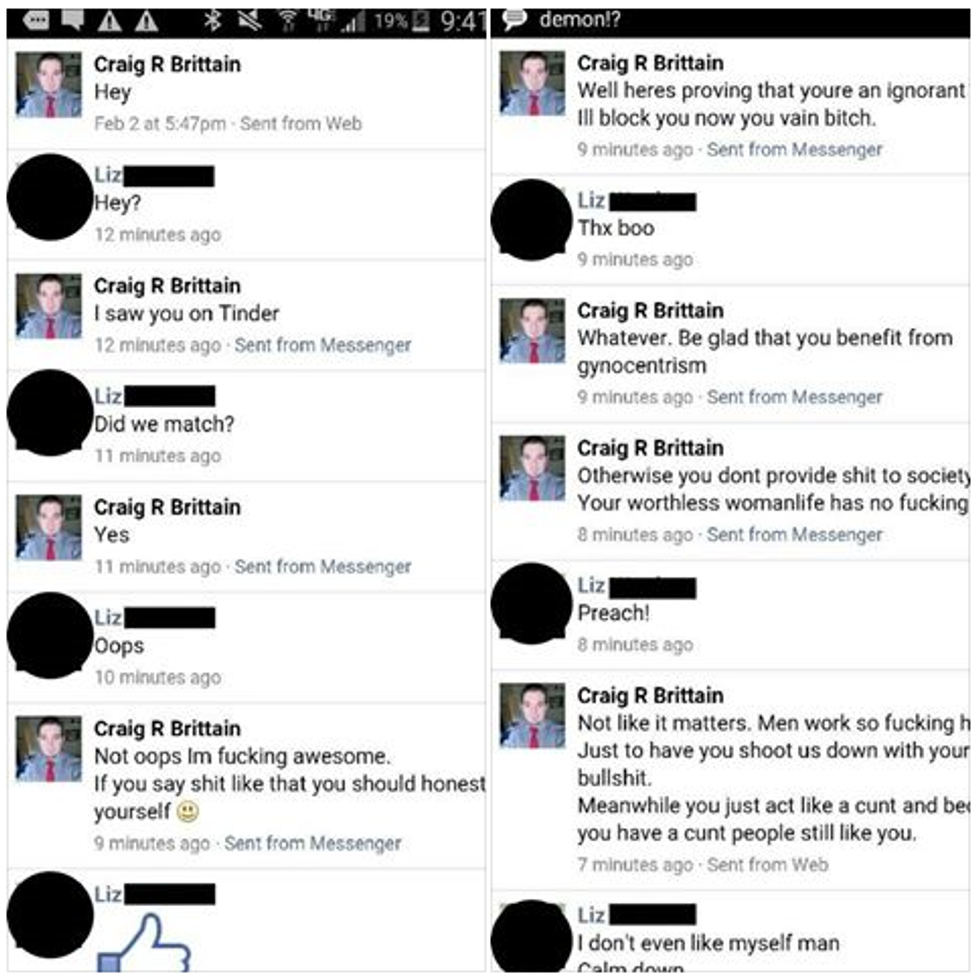 In response, Brittain claimed that the messages from "Craig R. Brittain" were not really from him and that someone was pretending to be him in order to ruin his sterling reputation.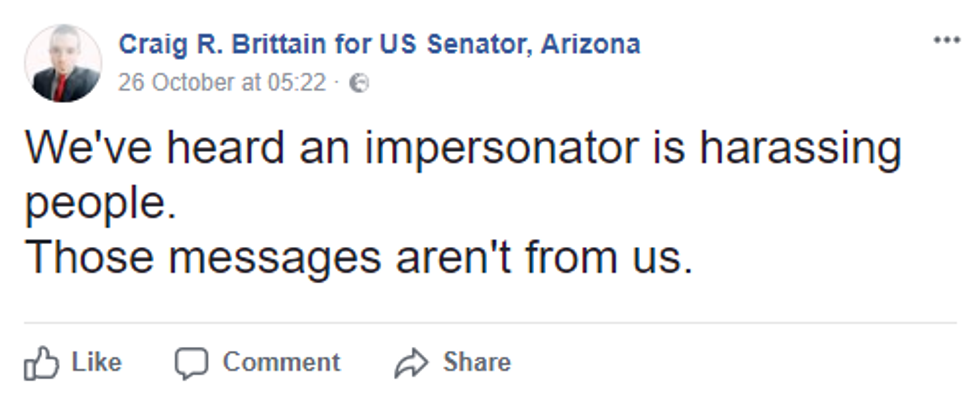 He then reported the profile to Facebook.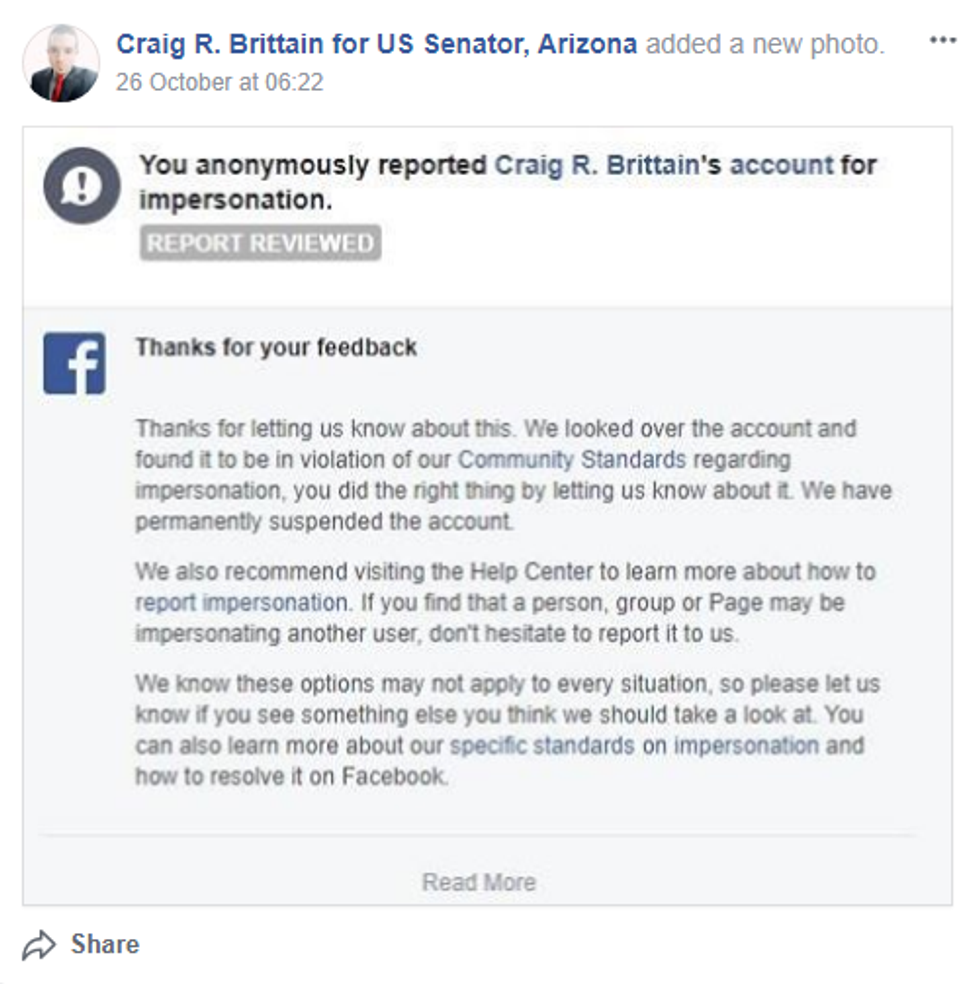 This would all be very believable, of course, if the alleged impostor had not been the Facebook admin for Brittain's failed ridesharing service, Dryvver.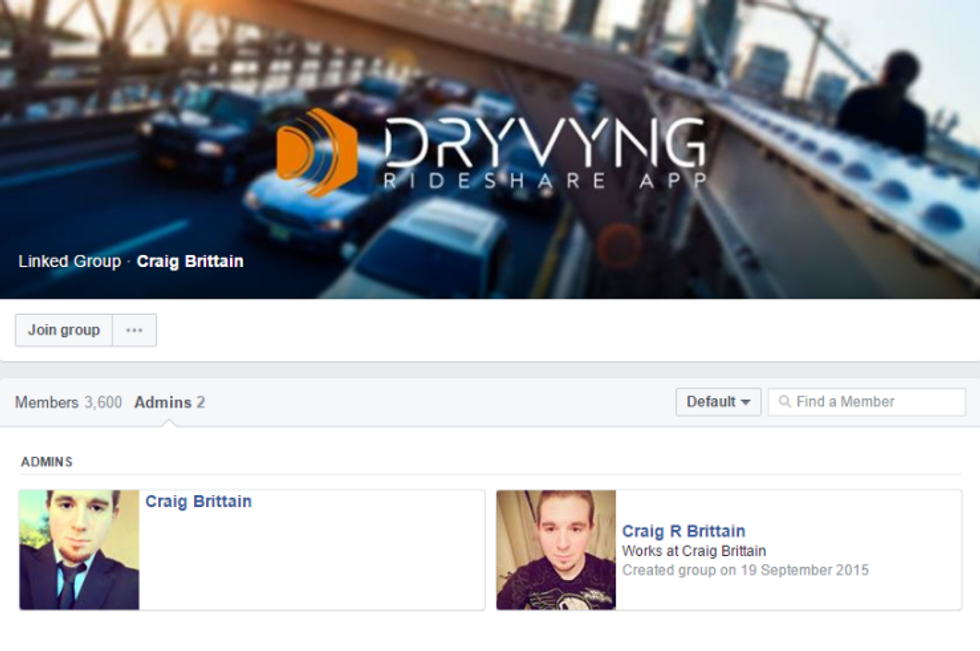 Whoops, AGAIN.
But hey. Let's give Craig the benefit of the doubt for a moment. Maybe, despite being a terrible person otherwise, he has really awesome political views and ideas that would make him a great senator.
Ha! Just kidding, he does not. Keeping with his theme of "everything that sucks about the internet," Craig Brittain is an anarcho-capitalist running on a platform of "taxation is theft."
For those of you unfamiliar with this particular brand of stupid, let me break it down for you. Over the past several years, sociopathic internet assholes have fallen madly in love with the economic and social policies of political theorist Murray Rothbard. What they want is for literally everything in society to be privatized -- and yes, this includes fire departments and the police. They want all social safety nets abolished, and they want to not ever have to pay taxes for anything, because "taxation is THEFT."
Here is a thing Rothbard wrote about how parents should be allowed to starve their children to death, and also sell their children in a "free baby market." What could possibly go wrong!
Applying our theory to parents and children, this means that a parent does not have the right to aggress against his children, but also that the parent should not have a legal obligation to feed, clothe, or educate his children, since such obligations would entail positive acts coerced upon the parent and depriving the parent of his rights. The parent therefore may not murder or mutilate his child, and the law properly outlaws a parent from doing so. But the parent should have the legal right not to feed the child, i.e., to allow it to die. The law, therefore, may not properly compel the parent to feed a child or to keep it alive. (Again, whether or not a parent has a moral rather than a legally enforceable obligation to keep his child alive is a completely separate question.) This rule allows us to solve such vexing questions as: should a parent have the right to allow a deformed baby to die (e.g., by not feeding it)? The answer is of course yes, following a fortiori from the larger right to allow any baby, whether deformed or not, to die. (Though, as we shall see below, in a libertarian society the existence of a free baby market will bring such "neglect" down to a minimum.)
He was also an advocate of historical revisionism who palled around with Holocaust deniers. Internet trolls LOVE him.
Here is the part where Craig gets rid of taxation, and yet somehow still has a budget to balance:
Ending Taxation and the Federal Reserve. Protecting Speech.

Craig will work to repeal the 16th Amendment and the Federal Reserve Act. He will also push for a revolutionary but economically sound balanced budget via a Debt Brake.

The Federal Government, like the citizens it governs, cannot be allowed to spend money that it does not have and "pass the buck" to the working and middle class who are already stretched thin.

Craig believes the First Amendment protects all speech without limits. He will repeal many unconstitutional regulations on speech.
And here is the part where he replaces the VA by "allowing" veterans "immediate access to private healthcare," and also build the wall, with no tax money:
Immediate Care for Veterans. Peace and Security for Citizens.

No more waiting for the VA for care. Craig's platform includes a bill that will give veterans immediate access to private healthcare.

Craig will work directly with President Trump, Vice President Pence and others to make sure No Veteran is Left Behind.

Craig also strongly believes in the US military as a defensive force and not the world's police. We will bring the troops home and stop fighting Endless Wars.

He will also author a bill allowing citizens to defend their borders according to Trump's "Build The Wall" plan.
Or maybe there will be tax money to pay for these things, but only for things people choose to pay taxes for.
Craig will author a Constitutional Amendment which allows individuals to opt out of any government program that they do not wish to participate in or give money to, including Medicare, Medicaid, and Social Security, and guarantee full immediate refunds to citizens who paid into government programs.
What if people don't want to pay for the wall though? What if they don't want to pay for private healthcare for veterans? Or are the veterans supposed to pay for the private healthcare themselves? I mean, if we're going with a totally free market here, where no one has to pay taxes, that's what should happen, right? Also, if all taxation is voluntary, what if no one wants to pay for Craig Brittain to be a senator?
They never really figure out the details of this stuff on 4chan and Reddit for some reason! Mostly just the parts where they don't have to pay taxes and get to smugly watch poor people die from lack of "personal responsibility." But still, they want it desperately -- and I'm convinced there are enough of them that they are going to be a problem in the future.
Craig Brittain is an astoundingly bad human being, in nearly every way it is possible to be a bad human being. Before Donald Trump was elected, I'd say he had no shot at becoming a senator; these days I'm not so sure. There are more of him than anyone realizes, their numbers are increasing, and sometimes I worry that the only thing that's going to stop them from wanting horrible things is when they finally get them. And that's not going to be a very good time for the rest of us, either.
Robyn Pennacchia
Robyn Pennacchia is a brilliant, fabulously talented and visually stunning angel of a human being, who shrugged off what she is pretty sure would have been a Tony Award-winning career in musical theater in order to write about stuff on the internet. Follow her on Twitter at @RobynElyse