We Read Today's Entire SCOTUS Slut Pills Transcript So You Didn't Have To
News
March 23, 2016 04:30 PM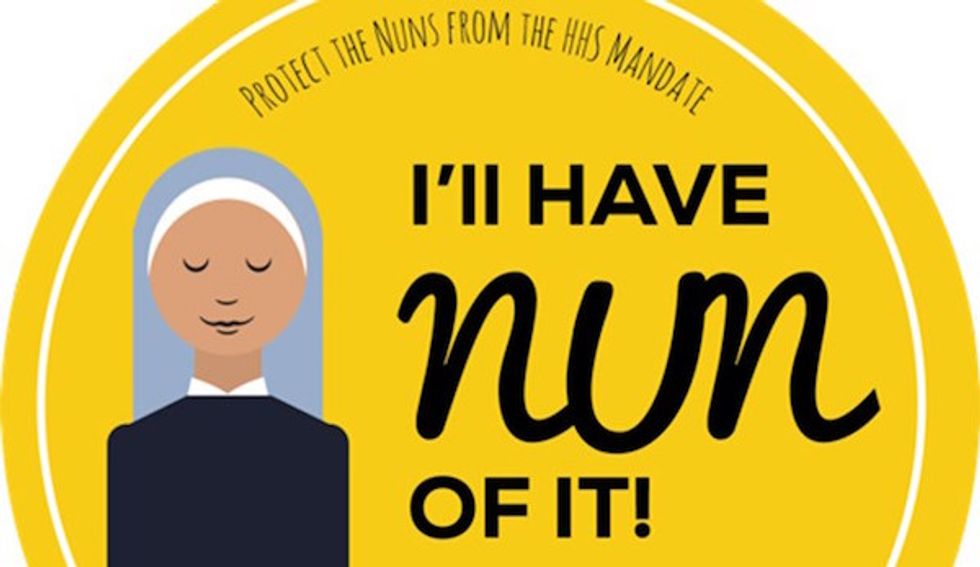 somebody actually paid an ad agency to do this.
---
You may have forgotten that the Supreme Court of These Here Yoonited States actually hears cases, since for the last several weeks, its main functions seem to be (1) providing a rich source of material for conspiracy theorists who are pretty certain Scalia didn't just die in bed because there were pillows involved, and those are never in beds; and (2) for GOP senators to abdicate that "advice and consent" part of their jobs, put their fingers in their ears, and loudly yell NANANANANA I CAN'T HEAR YOU whenever someone mentions that maybe they could at least talk to Obama's nominee, Merrick Garland. But SCOTUS does actually have a job to do, even if the GOP would like to eliminate the judicial branch and just have mob rule.
So on Tuesday, the justices all put on their Big Boy Pants (or, in the case of Ruth Bader Ginsburg, her Big Girl Neck Doily) and tried to tackle Zubik v. Burwell, which you may know as the Little Sisters of the Poor case. That's the one about whether or not certain types of god-botherers need to let someone else entirely give their employees slut pills. If you need a refresher on this Neverending Story, you should go read Kaili explaining how the original stupid accommodation came about and how, initially, a federal court told the nuns to fuck off.
[contextly_sidebar id="k5VQ7C408LJZy3rSxeS6iZfjb0VyHg3b"]Haha you are too lazy to do that, so let's explain in brief here. Basically, way back when, all sorts of churches whined about how Obamacare would make them give slut pills to their lady employees, so the Obama administration said "fine, fine, whatever, churches don't have to. Are you happy now?" But then organizations like Little Sisters of the Poor, who aren't, strictly speaking, a church, but are more of a conglomeration of do-gooders that also too would like to tell you about Jesus, said that they also could not give slut pills to their employees. So the Obama administration again displayed no spine whatsoever and said "fine, fine, whatever, Little Sisters of the Poor. You don't have to. You just have to sign this fucking piece of paper, and then the insurance company will give your lady employees slut pills. Are you happy now?" And the Little Sisters of the Poor howled NOOOOOOOOOO and that brings us to today at SCOTUS.
On one side, we've got Paul Clement for the Jesus lovers. Clement was the solicitor general under George W. Bush, so you pretty much know what he stands for. Some other flavors of annoying Christians hired Noel Francisco to blather for them. The government is contractually obliged to trundle up current Solicitor General Donald Verrilli for cases like these. Verrilli is not the most dynamic dude in the world, but gotdamn, he saved Obamacare so let the man do his thing.
Did we read the entire transcript already today? You betcha! Here is your CliffsNotes of what happened so you can sound smart tonight when you talk to your other cool liberal friends.
We kicked things off with an incomprehensible discussion of whether an objection to objecting is a thing that the government can mandate, and this included a discussion of conscientious objections, and then everyone lost the thread, and then Justice Kennedy wandered in late to literally ask what everyone was talking about.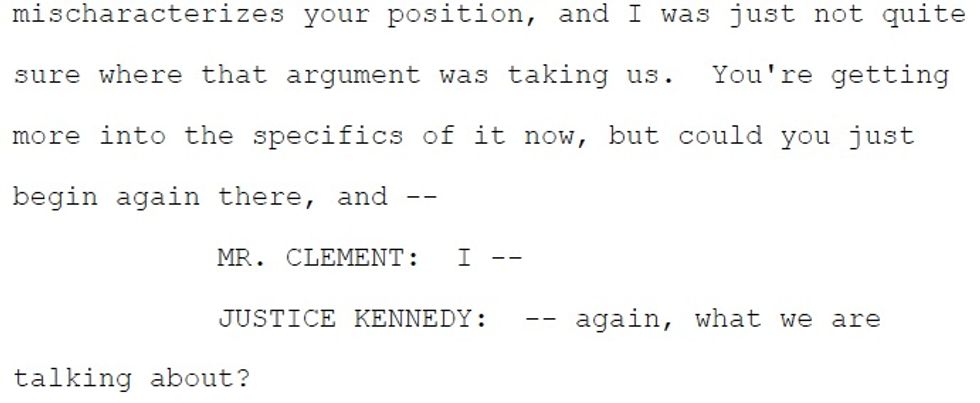 Oh dear. Is anyone else thinking of this now?
Things got slightly better from there as Justice Kagan tried to point out that signing a form that lets other people give ladies slut pills is not really all that burdensome, perhaps? This only led to Clement making mouth noises about the government "hijacking" their healthcare plan and driving it, apparently, to Slutpillsville, USA. He also tried to explain that merely giving the government the name of their insurer and their third-party plan administrator was a substantial burden.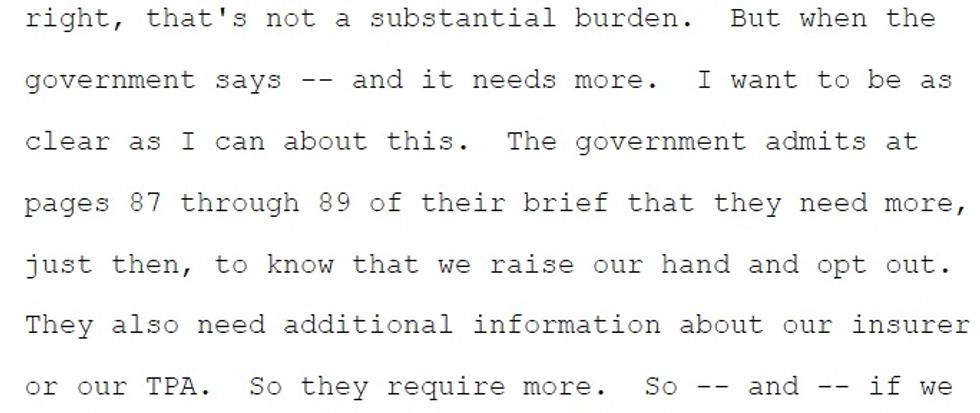 Oh my god. The government needs you to tell them two things, both of which are likely about three words long. The horror!
Did you want us to get to the part of this argument that will make you pitch your computer across the room? We're there!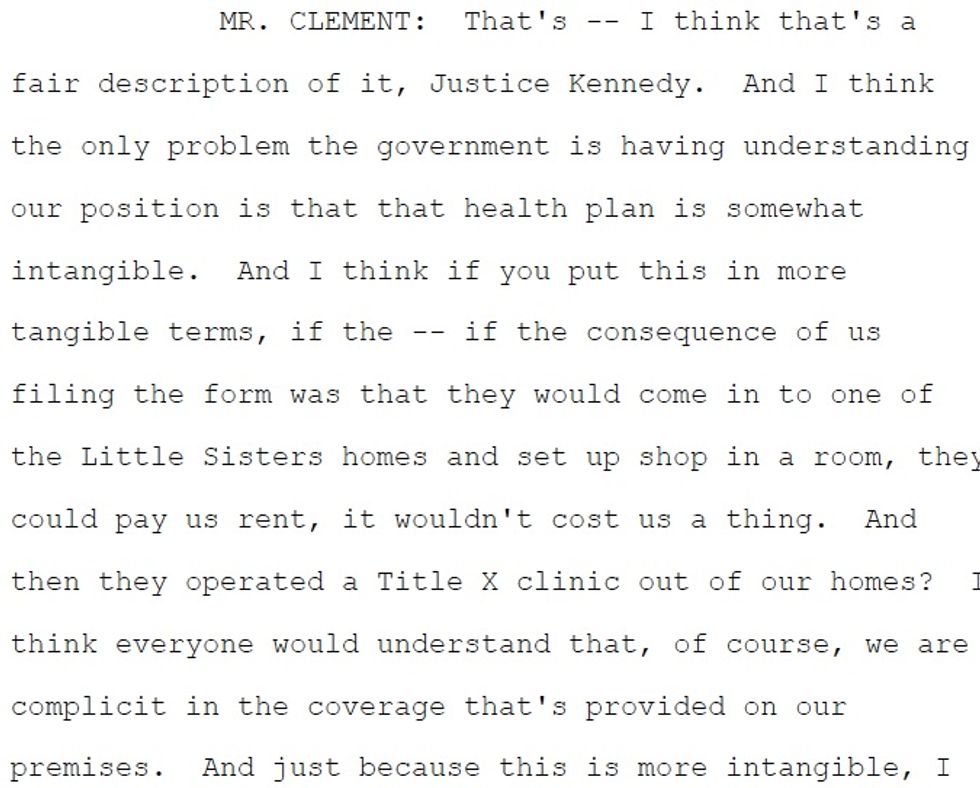 Yes, you're reading that right. Signing a form so that you are free from the terrible sin of giving people birth control is exactly the same as if someone came to your house and made you sell birth control out of the basement. Sure. Great. Makes total sense.
Justice Breyer decided he should mention that he has read some religious texts and also the tax code. Huh? No, he actually had a point, which is that if we love religious freedom exemptions so much we want to gay marry them, where does it stop? For example, why didn't we give the Quakers the right not to pay taxes during the Vietnam War since the Quakers were most definitely against the Vietnam War?
There ... is really no good answer to that question, except to yell about slut pills some more.
[contextly_sidebar id="FttgrnPiNvg3oFmYiV6iY4LoQI7WfPCb"]When Noel Francisco, whose name sounds like a character in one of those high-end children's books you buy for your kid when you think they're precocious, toddled up to the mic, he got hit with the justices asking him where on earth a line is, because if we already drew the line at "churches don't need to provide slut pills" and now we move the goalposts to "people that really really love Jesus but aren't actually a church don't need to provide slut pills," where does it stop? And that's when Justice Kennedy revealed what Justice Kennedy really cares about here, which is Justice Kennedy.


Hey now, big shooter. Who says you're gonna get to write this? Let's remind you that this thing might go 4-4 anyway, in which case none of this matters and the lower court decision stands, you fucking glory hound. (Unless, of course, you want to write this and make it 5-3 in favor of the government and tell the Little Sisters to get bent, in which case, carry on.)
Francisco closes out by explaining that they'd be totally fine if the solution was that ladies just had to get an entirely different slut pill only healthcare plan from one of the exchanges, which the justices latched onto for long enough that they wanted to bug Verrilli about it when he got up there too.
It was at that point that everyone in the room realized that these justices have no idea how private insurance works because they are provided with sweet sweet gubmint health care.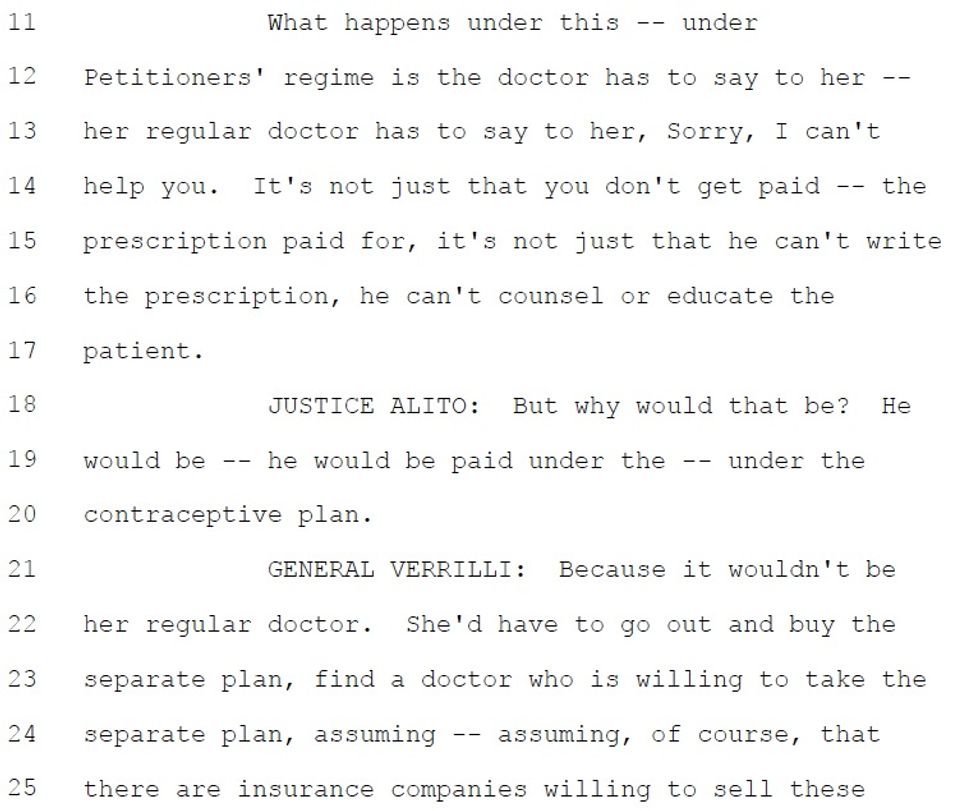 Yes, Justice Alito, you may be surprised to learn that not every doctor takes every plan, and that sometimes it is difficult for people to deal with buying more than one plan, and that making ladies run around the goddamn city to get birth control, which is functionally preventative care, is exactly what Obamacare was supposed to do. You probably do not understand these things because you are a massive asshole.
A large chunk of the rest of Verrilli's time is spent trying to explain to the conservative wing of the court that for real, signing a form and letting an insurance company take care of the rest is not the same as driving to the convent and making nuns perform back-alley abortions on the altar or whatever it is nuns have instead of an altar. After all that goes down, Verrilli is yet again forced to revisit explaining the basics of healthcare insurance to the Court and then there was rebuttal from both Clement and Francisco, but by that time we'd given up on reading the transcript and were lying in a dark room with a washcloth over our eyes.
Bottom line: Chief Justice Roberts and Alito were dicks as always. Kennedy tried to sound even-handed because damn, he wants to write this thing because he wants to write all big opinions. Kagan, Sotomayor, and Ginsburg are the metaphorical Tiger Moms of birth control and will do anything to make sure ladies get it, and Breyer read some St. Benedict and loves Quakers. Oh, and Justice Scalia remains dead. Thank God.