We Want To Believe Mike Espy Can Beat 'Confederate Cindy' In Mississippi Senate Rematch
2020 Congressional Elections
August 16, 2020 11:00 AM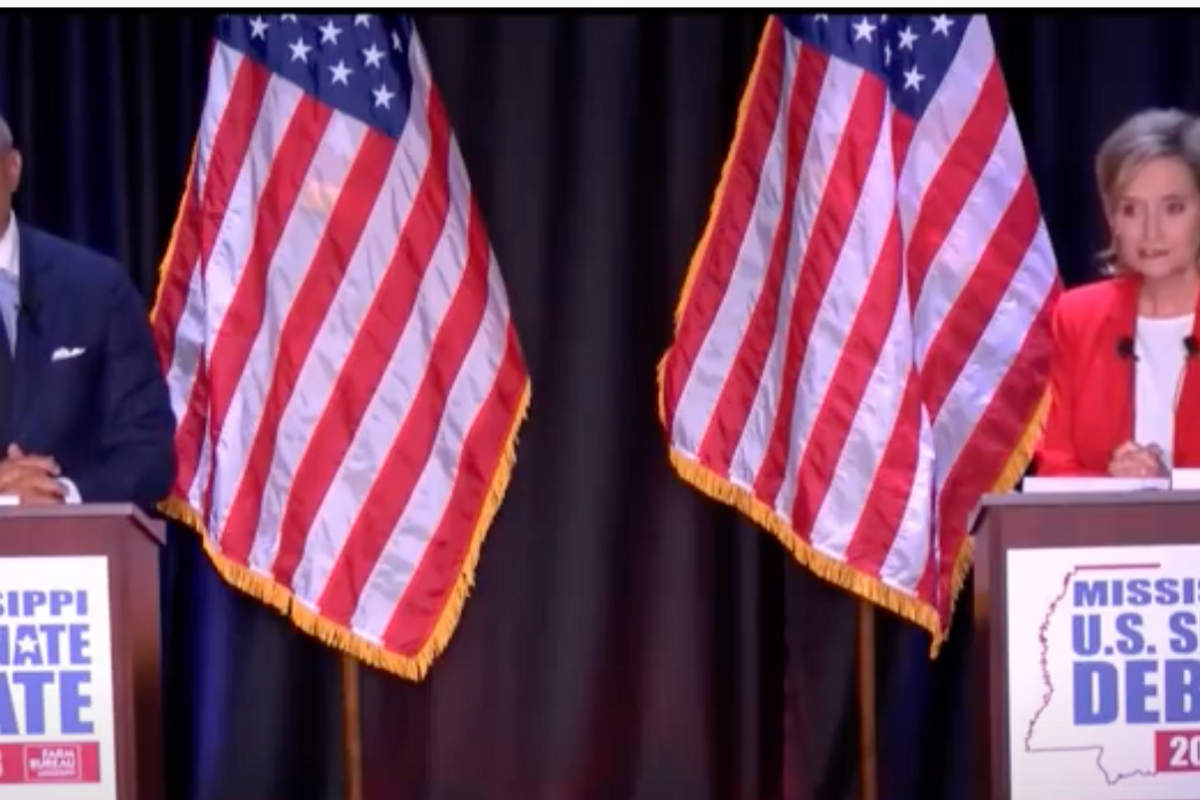 Democrat Mike Espy is going for a rematch against incumbent Republican Senator Cindy Hyde-Smith. The 2020 election, if it takes place, looks bad for Donald Trump, but he's not entirely a lost cause in Mississippi.
The campaigns released dueling polls last week that differed on how badly Espy is losing. Hyde-Smith's internal poll shows her with a comfortable 20-point lead. Espy's internal poll has him losing by only five points. It's a pretty optimistic poll, because it implies that some of Donald Trump's supporters would split the ticket and back Espy, who is both a Democrat and Black. That's theoretically legal in the state, but the combination doesn't usually offer a path to electoral success.
The Hyde-Smith campaigned responded in a statement denouncing the poll's methodology and reinforcing that the senator's chief priority is Donald J. Trump and not the people of Mississippi.
---
From the oxymoronic Mississippi Today:
"If Trump wins Mississippi by 10 points, there are not many paths to victory for Espy," the statement said. "It's hard to imagine many, if any, voters deciding to vote for Trump and then on the next line of the ballot deciding to not vote for one of Trump's best allies in the Senate."
Espy's poll has him leading Hyde-Smith among independents by eight points. He's even tied with her among white voters aged 18 to 34. His positive rating (40 percent) is higher than Hyde-Smith's (37 percent), and his negative rating (22 percent) is lower than hers (34 percent). That's a lousy showing for an incumbent. She should stop treating the president as her sole constituent.
Unfortunately, Espy's only has about 85 percent Black support. Putting this into context: Doug Jones won the 2018 Alabama Senate election with 90 percent of the Black vote. Ralph Northam had 87 percent Black voter support during the 2017 Virginia governor's race, and that was before we learned of his past as a method Michael Jackson impersonator. The Hyde-Smith campaign couldn't resist gloating: "A well-known African-American candidate who just ran last cycle should be getting more than 85 percent of the African-American vote." It's bad when your opponent's campaign is dragging you for not doing better against the racist lady.
Espy plans to plan race a major issue in November's election. The Mississippi state legislature passed a bill this summer retiring the Confederate-themed state flag. Mississippians will get to vote on a new, non-overtly racist flag. That should spark turnout, but Espy needs to do better among Black voters. He has to remind them that he's the Black Democrat and Hyde-Smith is the Republican who spoke fondly of public hangings and voter suppression.
"We do have the numbers, and we can win," Espy said. "We will not only take down the flag in November, we're going to take out Confederate Cindy and send her back to the museum."
Oooh, cold diss, yo.
Last month, the Democratic-controlled House of Representatives passed a spending measure that would remove Confederate traitor statues from the Capitol of the government they attempted to overthrow. Seems reasonable. Hyde-Smith is the chair of the Republican-controlled Senate appropriations subcommittee that will consider the measure. This has cast a spotlight on Mississippi's historic grossness. In 1864, Congress allowed each state to display two statues at the Capitol of citizens "illustrious for their historic renown or for distinguished civic or military services."
Mississippi is the only state to choose two Confederate scumbags: Jefferson Davis and James Zachariah George. Davis was president of the Confederacy for about as long as Donald Trump has been. George was a member of the secession committee and later a Confederate colonel. As punishment for his treason, George was condemned in 1881 to spend the remainder of his life as a US Senator from Mississippi. No, wait, that doesn't seem like punishment at all.
George was a fierce opponent of the Lodge Bill, which would've provided federal supervision of elections. He was the lead architect for the 1890 Mississippi Constitutional Conviction, which reduced the number of qualified Black voters from 147,205 to 8,615 and created a white electoral majority in every county. Apartheid was officially the law of the land. (Trump probably has George's picture on his pillowcase.)
Hyde-Smith has avoided personally calling for the removal of the Davis and George statues.
From Roll Call:
"There are clear rules and procedures set for the designation, receipt, and placement of statues in the United States Capitol," Hyde-Smith said. "Any state, including Mississippi, can avail itself to that process if it wants to exchange statues. How to best depict the history of our nation is always up for debate, but it is not the role of Congress to dictate to states which statues should be placed in the Capitol."
This is the same tired Confederate-sympathizing shuck-and-jive. Honoring traitors isn't "depicting history." Students should learn about Davis and George and even take field trips to the men's graves to practice their loogie-hocking skills. But the US Capitol shouldn't memorialize men whose greatest "achievement" was waging war against the nation and actively denying Americans their constitutional rights.
We need to remove three Confederate relics from the Capitol — Davis, George, and Hyde-Smith.
Donate to Mike Espy here.
[Mississippi Today / Roll Call]
Follow Stephen Robinson on Twitter.
Do your Amazon shopping through this link, because reasons.
Yr Wonkette is 100 percent ad-free and entirely supported entirely by reader donations. That's you! Please click the clickie, if you are able!
Stephen Robinson
Stephen Robinson is a writer and social kibbitzer based in Portland, Oregon. He writes make believe for Cafe Nordo, an immersive theatre space in Seattle. Once, he wrote a novel called "Mahogany Slade," which you should read or at least buy. He's also on the board of the Portland Playhouse theatre. His son describes him as a "play typer guy."